YOU ARE $125.00 AWAY FROM FREE U.S. SHIPPING!
YOU ARE $125.00 AWAY FROM FREE U.S. SHIPPING!





+6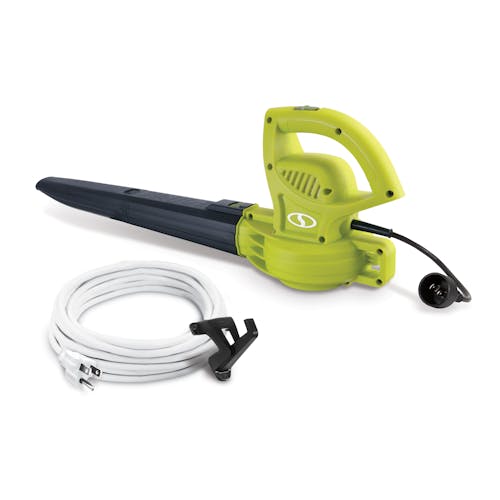 Sun Joe Complete Electric Leaf Blower Bundle | W/ Ext. Cord + Wall Bracket
SBJ597E - Sun Joe All Purpose Electric Blower | 155 MPH | 6 Amp
THE LIGHT CHOICE IS THE RIGHT CHOICE! When a big blower is simply too much for the job, this diminutive dynamo's 6-amp motor packs a powerful 155 mph punch. It's just the right size for light-duty household applications like sweeping porches, patios, walkways, decks and garages - and even light snow! You'll want to take it everywhere, and when you're done, it's small enough to stow away quickly and easily in the car trunk, deck box or broom closet. Bigger isn't always better - when sometimes all you need is small!
SJWB - Snow Joe + Sun Joe Universal Wall Bracket with Hardware
GET HOOKED. When the doing is done, give the tools a place to hang out with the Sun Joe® wall bracket storage system. Molded from a single piece of heavyweight, molded plastic for added strength and durability, the bracket holds up to an impressive 22 lbs, and comes complete with wall anchors and screws for quick and easy installation. It's the perfect place to hang your Sun Joe (or Snow Joe®) yard and garden tools. No more stumbling over tools left lying on the floor or leaning against the wall – the Sun Joe wall bracket gets them up off the floor – freeing up room and extending the life of your leaf blower, pole saw, trimmer, shovel, hedger, tiller… and much more. The Sun Joe wall bracket fits most Sun Joe + Snow Joe yard and garden hand tools. Make the most out of your garage or storage space with the bracket built to work as hard as you do. When it comes to storage solutions – don't trash your tools – stash your tools – with the Sun Joe wall bracket storage system!
PJEXT20-163-WHT - Snow Joe + Sun Joe Vinyl Landscape Outdoor UL Rated Extension Cord | 20-Foot
PUT THE POWER WHERE YOU NEED IT. For those times when there's never an outlet when - or where - you need it most, Snow Joe® + Sun Joe® introduces the Indoor Outdoor Extension Cord (PJEXT20-163-WHT). Ideal for outdoor lighting, animated holiday displays and outdoor power tools, Power Joe® provides up to 20-feet of reach to bridge the gap between outlet and appliance. Rated up to 125-Volts/13-Amps/1625-Watts and made from sturdy, flexible vinyl, Sun Joe's cord comes in three colors: green, white, and black.
Download Manuals
Features
SBJ597E - Sun Joe All Purpose Electric Blower | 155 MPH | 6 Amp
Best use: sweeping patios, driveways, decks and garages
Air speed (max): 155 mph
No load speed: 14,000 rpm
Motor: 6 amp
Weight: 3.9 lbs
Certifications/Warranties: ETL/2 years
SJWB - Snow Joe + Sun Joe Universal Wall Bracket with Hardware
Convenient storage solution
Heavyweight, molded plastic – holds up to 22 lbs
Includes mounting hardware
For use with most Snow Joe® + Sun Joe® yard and garden tools
PJEXT20-163-WHT - Snow Joe + Sun Joe Vinyl Landscape Outdoor UL Rated Extension Cord | 20-Foot
Grounded plug and receptacle
Suitable for indoor/outdoor use
Convenient 20-foot length
Electrical Rating: 125-Volts/13-Amps/1625-Watts
Weather guards for protection when not in use
16/3-gauge general purpose grounded extension cord
UL/CUL listed