YOU ARE $125.00 AWAY FROM FREE U.S. SHIPPING!
YOU ARE $125.00 AWAY FROM FREE U.S. SHIPPING!





+27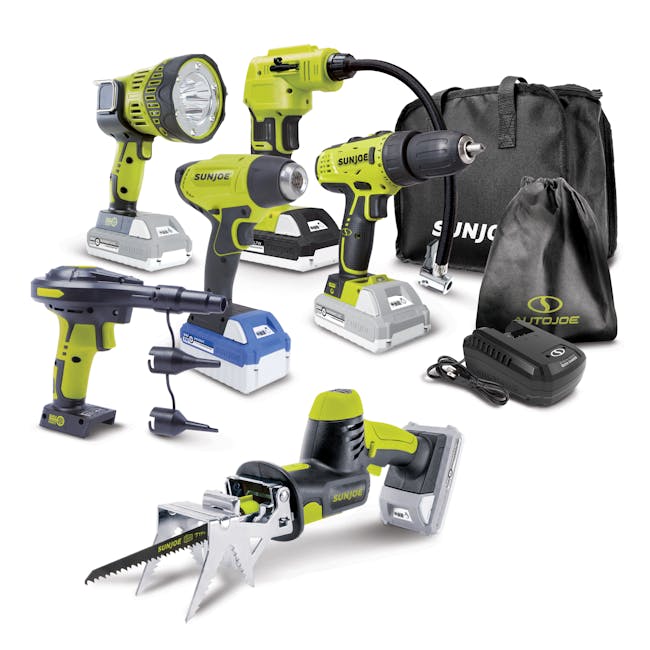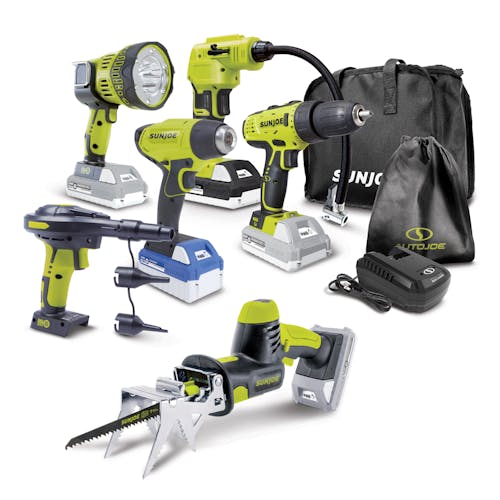 Sun Joe Complete Power Tool Bundle
*Initial no-load voltage, at full charge, peaks at 24V; nominal voltage with typical load is 21.6V
24V-DD-LTE - Sun Joe 24-Volt* IONMAX Cordless Drill Driver Kit | W/ 2.0-Ah Battery and Charger
Powered by the 24-Volt* IONMAX Battery System, the 24-Volt* Max Cordless Drill/Driver provides cord-free, gas-free, rechargeable power with up to 265 in-lbs of torque! Includes a variable speed trigger, 2-speed gear box, keyless chuck with auto-lock spindle, and selectable 24-position clutch that includes 23 screw settings + 1 drill setting. More features: built-in bubble level; onboard magnetic tray for screws, nuts and bolts; 1 W LED light.
24V-HG100 - Sun Joe 24-Volt* IONMAX Cordless Heat Gun Kit | w/ 4.0-Ah Battery and Charger
With a max 1020°F temp, the Sun Joe 24V* Cordless Heat Gun is great for stripping paint, shrink-wrapping, removing vinyl adhesive or peel-and-stick floor tiles, thawing frozen pipes, drying damp wood, bending PVC + plastic, and more! Powered by the 24V* IONMAX System with a 4.0 Ah lithium-ion battery, it includes a Reflector Hook nozzle for dispersing heat flow evenly around work surfaces, Flat nozzle for concentrated heat across a narrow + wide field, Concentrated nozzle to direct a narrow stream of heat on a small surface area. Compact + portable design.
24V-1500FL-LTE - Sun Joe 24-Volt* IONMAX Handheld Flashlight/Spotlight/Flood Kit | W/ 2.0-Ah Battery and Charger
If you're stuck without power, trying to work in a dark, dreary basement or at the worksite or campsite at night, turn on the 24V* Cordless LED Handheld Spotlight from Sun Joe. Powered by the 24-Volt* IONMAX system, with a 2.0 Ah battery! Includes different light modes: Spotlight illuminates tight spaces | High Floodlight brightens up a dark room | Spot + Floodlight light up the darkest spaces | Warning signals for help | Low Floodlight for a soft glow. With up to 1500 lumens max of power, Sun Joe casts light up to 700 yards away. Also includes an adjustable multi-angle head, and onboard easy-access hook + kickstand.
24V-MPSWVG-LTE-SJG - Sun Joe 24-Volt* IONMAX Cordless All-Purpose Reciprocating Saw Kit | w/ 2.0-Ah Battery and Charger
This pruning saw boasts 4 different cutting blades—2 metal + 2 wood—to blast through branches and stems. Features a powerful 150-watt motor, handheld design with minimized vibration, a 24-volt* lithium-ion battery + charger, V-shaped branch jaw clamp, and safety-lock button.
24V-AJC-MAX - Sun Joe Cordless Portable Air Compressor Kit | W/ 1.3-Ah Battery, Nozzle Accessories, and Storage Bag
Compact and convenient, this power-packed rechargeable pump is perfect at the park, pool, on the road, wherever! Keep tires at the perfect pressure, inflate a bike tire, pool float or sport ball in seconds. Just set the PSI on the digital display and pull the trigger. Sun Joe automatically stops at your preset pressure.
24V-AJV-CT - Sun Joe 24-Volt* IONMAX High-Volume Inflator
The High-Volume Inflator Kit is perfect for pool toys, air mattresses, rafts, and more, and is powered by SUN JOE's IONMAX lithium-ion battery system. Pump up a sport ball, refill a pool float, reinflate a river raft, and more in seconds — just squeeze the trigger! The 0.5" adapter, 0.19" adapter, and 0.17" adapter are tethered together. Quickly converts from air inflator to rapid deflator.
Features
24V-DD-LTE - Sun Joe 24-Volt* IONMAX Cordless Drill Driver Kit | W/ 2.0-Ah Battery and Charger
0.5" bit size + keyless chuck with auto-lock spindle
24V* 2.0 Ah IONMAX lithium-ion battery + charger
24-position clutch 2-speed gear box
Variable speed trigger switch
Built-in bubble level
Magnetic screw tray
1 W LED light
Direction of rotation selector switch
Soft storage case + double-ended driver bit
Weighs 5 lbs (2.3 kg)
Certifications/warranty: ETL/2 years
24V-HG100 - Sun Joe 24-Volt* IONMAX Cordless Heat Gun Kit | w/ 4.0-Ah Battery and Charger
Includes a 24-Volt* 4.0 Ah Battery + Charger
Heats up to 550°C with a max heat output of 1100BTUs
Great for stripping paint, shrink-wrapping, removing stickers or adhesive floor tiles, thawing frozen pipes, drying damp wood, bending PVC + plastic
Trigger lock delivers continuous heat without strain or fatigue
Includes Reflector Hook, Flat, Concentrated nozzles
Weighs 5.5 lbs 
24V-1500FL-LTE - Sun Joe 24-Volt* IONMAX Handheld Flashlight/Spotlight/Flood Kit | W/ 2.0-Ah Battery and Charger
2.0 Ah battery + charger
1500 Lumens MAX power illuminates up to a 10x10 space
5 Light Modes: Spotlight, High Floodlight, Spot + Floodlight, Warning, Low Floodlight
Powerful light beam shines up to 700 yards away
Great for workshop, worksite, camping or blackouts!
Kickstand + easy-access hook
Weighs 3.3 lbs
2-year warranty/ETL Listed
24V-MPSWVG-LTE-SJG - Sun Joe 24-Volt* IONMAX Cordless All-Purpose Reciprocating Saw Kit | w/ 2.0-Ah Battery and Charger
Saw and 2 metal + 2 wood cutting blades
24V* lithium-ion battery + charger
150-watt motor
Cutting capacity max: wood 3.14", metal 0.39"
0.87" stroke length
V-shaped jaw clamp
Safety-lock button
Measures 15.75"L x 6.2"W x 2.36"H
ETL listed; 2-year warranty
24V-AJC-MAX - Sun Joe Cordless Portable Air Compressor Kit | W/ 1.3-Ah Battery, Nozzle Accessories, and Storage Bag
Battery Charge Time Max: 3 hours

Exclusive EcoSharp® technology for no-fade power + performance

Compact, cordless convenience

Includes Teflon Tape, Metal Connection, Rubber Connection, Inflatable Needle, Air Blow Gun, Auto Tire Chuck

Includes 24V* Lithium-iON Battery

Perfect for brad nailing, air brushing, stapling and other light-duty applications

Weighs 2.5
24V-AJV-CT - Sun Joe 24-Volt* IONMAX High-Volume Inflator
IONMAX 24-Volt* System Compatible
2-in-1 inflator/deflator tool converts in seconds
Powerful pump provides 36 CFM of max air flow and 188.8 MPH air speed
3 tethered inflation adapters: 017", 0.19", 0.5"
Inflates a twin-sized air mattress in 35 seconds
Lightweight + portable; perfect for road trips, camping, and poolside fun. Weighs 2.1 lbs!
ETL Certified/2-year warranty