YOU ARE $125.00 AWAY FROM FREE U.S. SHIPPING!
YOU ARE $125.00 AWAY FROM FREE U.S. SHIPPING!




+9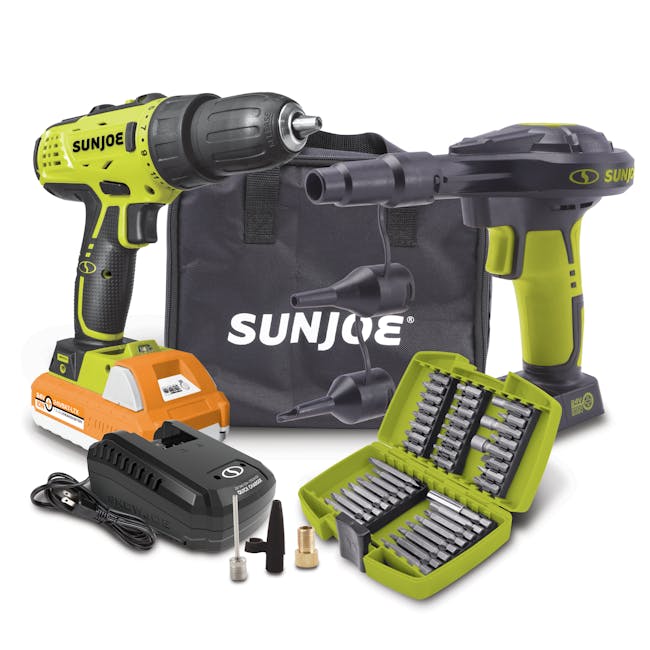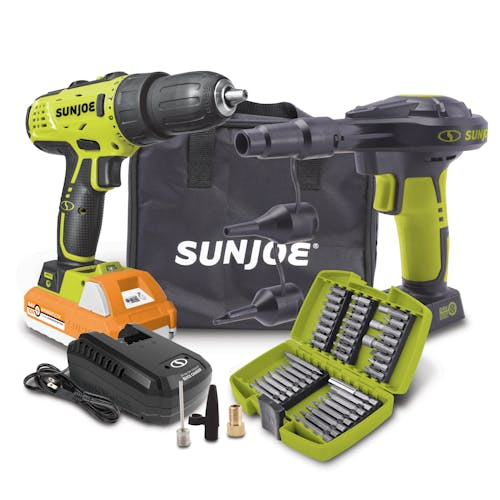 Sun Joe Cordless Drill + High-Volume Inflator Bundle
24V-DDK-LTX - Sun Joe 24V iON+ Cordless 2-Speed Drill Driver Kit | W/ 1.5-Ah Battery & Charger
TACKLE TOUGH HOME + HOBBY PROJECTS!  Put power control at your fingertips with this super handy 24-Volt Cordless Drill/Driver with 40-Pc Bit Set and Storage Case from Sun Joe®. Powered by the exclusive 24-Volt iON+ Battery System, this cordless drill/driver provides no-fade, gas-free and rechargeable power + performance!
265 IN-LBS OF TORQUE puts the power in the palm of your hand, to tackle your toughest fastening tasks.
And Sun Joe's 24-POSITION CLUTCH includes 23 screw settings 1 drill setting, so you have exactly the power you need to suit your DIY jobs. Assemble furniture, hang pictures and paintings, and be a do-it-yourselfer wherever the work takes you.
The included 40-PIECE BIT SET and STORAGE CASE make it easy to keep everything you need close at hand.
And with the VARIABLE SPEED TRIGGER and 2-SPEED GEAR BOX, you'll have all the control you need to take on tasks around the house, workshop, garage and worksite with 24 volts of pure cordless convenience.
Special Sun Joe® innovative features include a BUILT-IN BUBBLE LEVEL and the means to keep screws, nuts and bolts close at hand with the onboard MAGNETIC TRAY.
Plus, a 1 W LED LIGHT improves visibility in dark or tight spaces. Choose forward/reverse drill function, too. Comes with a 2-year warranty. Available in pink!
So, when the going gets tough, Go With Joe® for the power performance you demand. The 24V-DDK-LTX 24-Volt Max* Cordless Drill/Driver from SUN JOE®.
GET EQUIPPED®.
24V-AJV-CT - Sun Joe 24-Volt iON+ High-Volume Inflator
PUMP IT UP! Save your breath with 24-Volts of cordless portable inflation power with SUN JOE's High-Volume Inflator Kit. Equipped with three tethered inflation nozzle adapters, this powerful handheld pump is perfect for pool toys, air mattresses, rafts, and more! Powered by SUN JOE's exclusive iON+ lithium-ion battery system, add a 1.3-Ah battery and charger (sold separately). Pump up a sport ball, refill a pool float, reinflate a river raft, air mattress and more in seconds — just squeeze the trigger and pump it up! The included 0.5" adapter, 0.19" adapter, and 0.17" adapter are tethered together, so you always have the right inflation tip close at hand. And when the fun is done or it's time to pack up the air mattress, Sun Joe quickly converts from air inflator to rapid deflator. So, when the air is low, pump it up and Go With Joe®. The 24V-AJV-CT 24-Volt Cordless High-Volume Inflator Kit from SUN JOE®. GET EQUIPPED®.
AJC-PIN3 - Sun Joe Universal Inflation Accessories 3 Piece Needle Pin Set
Replacement pin set for 24V-AJC Cordless Air Compressor.
Features
24V-DDK-LTX - Sun Joe 24V iON+ Cordless 2-Speed Drill Driver Kit | W/ 1.5-Ah Battery & Charger
24V iON+ System: 24BAT-LTX Battery + 24CHRG-QC Charger included
40-pc driver bit set with storage case
0.5" bit size and keyless chuck with auto-lock spindle
Battery voltage max*: 24V D.C.
Battery capacity: 1.5 Ah
Battery charge time max: 40 min
24-position clutch 2-speed gear box
Variable speed trigger switch lets you start slow and speed up as you go
Built-in bubble level and magnetic screw tray
1 W LED light improves visibility in dark or tight spaces
Direction of rotation selector switch
Available in a variety of stylish colors
Weight: net 4.9 lbs / gross 6 lbs
2-year warranty
*Initial no-load voltage, when fully charged, peaks at 24 volts; nominal voltage under typical load is 21.6 volts.
24V-AJV-CT - Sun Joe 24-Volt iON+ High-Volume Inflator
iON+ 24-Volt System — Add any iON+ Battery and charger from Snow Joe + Sun Joe to power up!
2-in-1 inflator/deflator tool converts in seconds
Powerful pump provides 36 CFM of max air flow and 188.8 MPH air speed
3 tethered inflation adapters: 017", 0.19", and 0.5"
Inflates a twin-sized air mattress in 35 seconds
Lightweight and portable; perfect for road trips, camping, and poolside fun. Weighs just 2.1 lbs!
ETL Certified/2-year warranty
AJC-PIN3 - Sun Joe Universal Inflation Accessories 3 Piece Needle Pin Set
For use with 24V-AJC Cordless Air Compressor and other air compressors