YOU ARE $125.00 AWAY FROM FREE U.S. SHIPPING!
YOU ARE $125.00 AWAY FROM FREE U.S. SHIPPING!




+17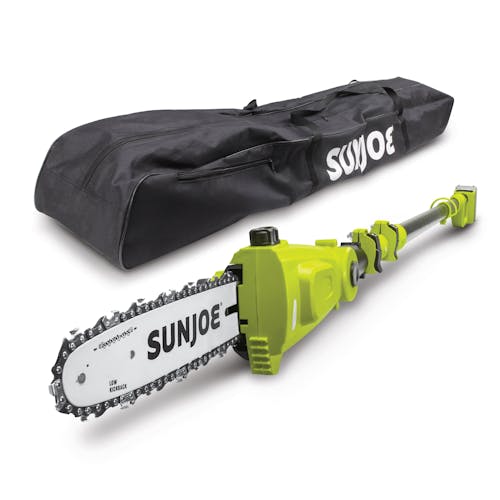 Sun Joe Cordless Pole Saw Carry Bag Bundle | Cordless Pole Saw + Storage Bag
Sun Joe 24V-PS10-LTE 24-Volt iON+ Cordless Telescoping Pole Chainsaw Kit
Cut your tree trimming tasks down to size and tackle those tough-to-reach branches with ease with the 24-Volt 10-Inch Cordless Pole Chain Saw from SUN JOE. Powered by SUN JOE's exclusive 24-Volt iON+ Battery System! iON+ offers the all of the power and performance of a gas tool with the best of cordless convenience for all your outdoor chores — and no emissions, fumes, fuss, or tangled extension cords. Cut The Cord® and cut a cord of wood or trim a load of limbs, anywhere power is at a premium, and all while standing safely on solid ground.
Sun Joe SWJ8-CSB Carry + Storage Bag for Pole Chain Saw
When the work is done, protect your investment and keep your pole saw safe and secure with the SUN JOE SWJ8-CSB Carry Storage Bag. Made of rugged, durable, rip-resistant canvas, it's tough enough to take years of abuse in the yard while keeping your equipment safe and protected from dust, dirt and debris so your saw is always ready when you need it. Heavy-duty woven nylon handles help balance the load for ease of travel and transport. Includes convenient zippered side pocket for bar and chain storage.
Download Manuals
Features
Sun Joe 24V-PS10-LTE 24-Volt iON+ Cordless Telescoping Pole Chainsaw Kit
iON+ 24-Volt Battery System compatible — Includes a 2.0 Ah Battery and Charger
10 in. auto-lubricating bar + chain with 1.7 fl oz oil tank capacity and oil level window (Oil sold separately)
Multi-angle head adjusts from 0º to 30º
Battery charge time (max): 5 hours
Swiftly slices through branches up to 9.5 in. thick
Telescoping pole extends from 3.6 ft to 6.9 ft
Weight: 8.8 lbs
Certifications/warranty: ETL/2 year
Sun Joe SWJ8-CSB Carry + Storage Bag for Pole Chain Saw
Protect your saw from dirt, dust and debris
Side pocket for bar storage
Rugged, heavy-duty canvas
For SUN JOE Pole Chain Saws including: SWJ800E | SWJ802E* | SWJ803E | SWJ805E | SWJ806E | SWJ807E | 24V-PS8-LTE | 24V-PS10-LTE | iON8PS2*