YOU ARE $125.00 AWAY FROM FREE U.S. SHIPPING!
YOU ARE $125.00 AWAY FROM FREE U.S. SHIPPING!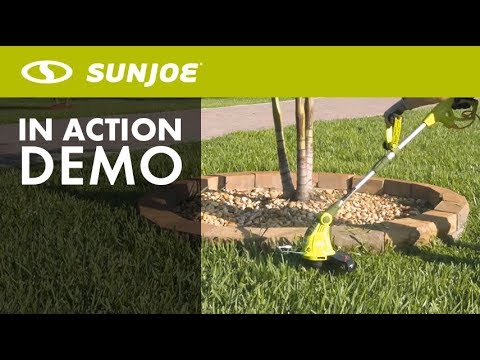 +17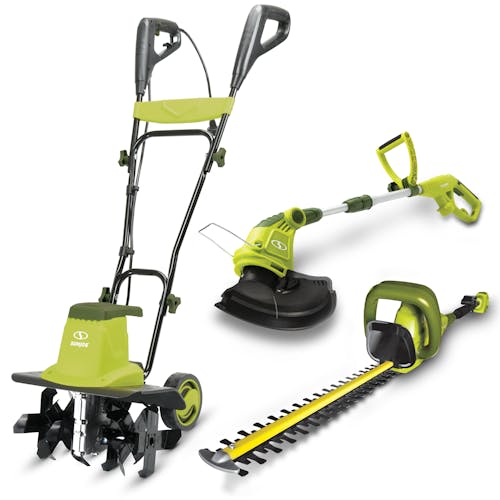 Sun Joe Electric All-Purpose Yard Bundle | Grass Trimmer + Hedge Trimmer + Cultivator
TRJ13STE - Sun Joe Electric Grass Trimmer | 13-Inch
TRIM DOWN AND SHAPE UP YOUR YARD - FAST! For a fast, easy and effective way to keep your lawn looking its best, try the Sun Joe® TRJ13STE Electric Trimmer Edger. Sun Joe® starts instantly and reliably with the push of a button. And because it's electric, there's never a need to mess with gas, oil or tune-ups, or worry about maintenance and toxic emissions. The powerful 4-amp motor cuts a crisp, 13-inch swatch, making quick work of overgrown grass and heavy weeds. Weighing just 5 lbs, Sun Joe® is easy to maneuver in tight spaces, and the rotating head quickly converts from trimming to edging with four degrees of cutting, combining the convenience of two tools in one dynamic device. Sun Joe's® convenient auto-feed feature ensures you'll always have the right length of line to continue cutting without interruption. Sun Joe® is ETL approved and backed by a full 2 year warranty for performance and reliability you can count on, season after season. 
For trouble-free trimming, Go with Joe: the TRJ13STE Electric Trimmer Edger from Sun Joe. Get Equipped®.
SJH904E - Sun Joe Multi-Angle Telescoping Convertible Electric Pole + Hedge Trimmer | 19-Inch
Give your tallest hedges clean cut-edges with SUN JOE. Is your yard out of shape? Is your garden overgrown? Ditch the ladder and shape up the shrubs while you stand safely on solid ground with the 2-in-1 SUN JOE SJH904E Convertible Electric Pole Hedge Trimmer. Lightweight at less than 10 lbs, SUN JOE makes it safe, simple and easy to conveniently clip tall bushes, and shear shrubs and hedges just beyond your reach. Plus, it's also great for grooming in tight spaces where a traditional hedge clipper simply can't cut it – like between the house and the hedges, or beneath the bushes.
SUN JOE's powerful 4.5-amp motor and multi-angle pivoting head allows for precise trimming of most tall bushes and hedges. SJH904E's 19-inch dual action, rust-resistant steel blades cut efficiently in both directions, and the telescoping pole adjusts from 3.8 ft to 5.9 feet for up to 12 feet of overhead reach. And when you're ready to go low, simply detach the cutting head and handle to quickly swap from pole hedge trimmer to handheld hedge trimmer in seconds.
Sun Joe SJH904E comes equipped with a built-in dual-handle safety switch to prevent accidental starts, a protective sheath for safe blade storage when the day's work is done, and a full two year warranty for worry-free operation and reliable performance, season after season.
*Compatible with GTS4000E-8CS-CGY Chain Saw Attachment 
TJ603E - Sun Joe Electric Garden Tiller/Cultivator | 16-Inch
THE DIRTY LITTLE SECRET OF GREAT GARDENS. Dig it - and experience the one tiller that's truly up to the task! Introducing a greener, cleaner way to get dirty with the Sun Joe® TJ603E Electric Tiller + Cultivator. A powerful 12-amp motor quickly pulverizes dirt, effortlessly slicing through the soil at 340 RPM, ensuring maximum aeration and perfectly preparing the seedbed for planting. Cultivate an area 16-inches wide and up to 8-inches deep in seconds. Control weeds where needed - Sun Joe® tames the toughest yard and garden tasks with more comfort and less strain. Rear wheels make it easy to maneuver wherever it's needed - and its collapsible handle makes it a cinch to store when it's not.
The TJ603E comes with a full two-year warranty.
Features
TRJ13STE - Sun Joe Electric Grass Trimmer | 13-Inch
Powerful 4-amp motor
13-inch maximum cutting swath
Ergonomic handle adjusts for comfort
Flower guard protects against accidental trimmer contact
Rotating shaft instantly converts to edging function: 0, 15, 30, and 45 degree cutting options
Telescoping pole extends from 41" - 50"
Maintenance free
Full 2-year warranty; ETL approved
SJH904E - Sun Joe Multi-Angle Telescoping Convertible Electric Pole + Hedge Trimmer | 19-Inch
Great for trimming large and small hedges, shrubs and bushes
Quickly swaps from electric pole hedge trimmer to handheld hedge trimmer in seconds
Telescoping pole adjusts from 3.8 ft to 5.9 feet for up to 12 feet of overhead reach
Dual-action blades cut efficiently with up to 40% less vibration 
Lightweight - just 9.5 lbs (pole) and 6.2 lbs (handheld)
ETL approved; Full 2-year warranty
TJ603E - Sun Joe Electric Garden Tiller/Cultivator | 16-Inch
Powerful 12-amp motor cultivates up to 16 in. (40.6 cm) wide x 8 in. (20.3 cm) deep
6 durable steel angled tines for maximum durability and performance
Handle folds for convenient storage and easy transport
3-position wheel adjustment
Maintenance free
Full 2-year warranty; ETL approved