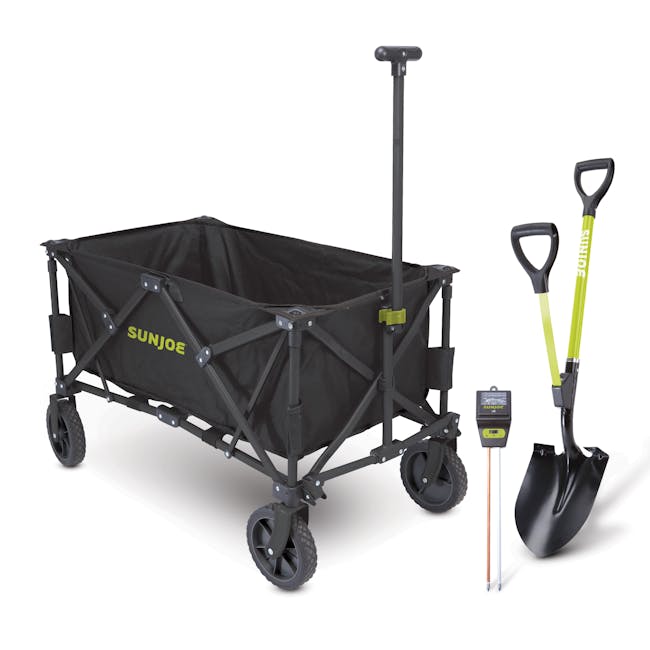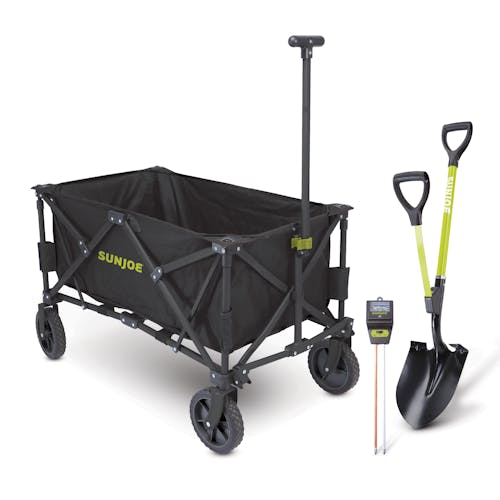 Sun Joe Garden Care Bundle | Folding Garden Wagon + Soil Meter + Garden Shovel
Sun Joe SJ-HDFC1 Heavy-Duty Metal Framed Garden Utility Wagon
Make light work of hauling heavy loads around the yard, garden, or beach with the Multi-Purpose Utility Wagon from SUN JOE®. Made with a rugged, collapsible steel frame, the heavy-duty 4.8 cubic foot wagon is perfect for trips to the big box stores, transporting hauling heavy loads of garden supplies, sports equipment, camping tools and more - up to 150 lbs in a single load. With 360° easy-glide swivel front wheels for maximum stability and mobility, it's easy to maneuver around obstacles to go where the work is. And when the work is done, it collapses neatly into the included storage bag.
Sun Joe SJ-MMPH1 3-In-1 Soil Meter
Keep your soil + plants in peak health with the convenient SJ-MMPH1 3-IN-1 SOIL METER from SUN JOE. The secret of great gardens and gardeners, this powerful 3-in-1 tool tests for proper moisture, pH and sunlight for healthier soil + happier plants. Designed for easy indoor/outdoor use, it's great for testing condition and plant care in lawns, gardens, greenhouses and homes – no batteries required! Just water before testing and select your desired soil testing mode and you're all set! When finished, simply remove the probes from the soil and wipe them clean.


Sun Joe SJ-SHLV06 Shovelution Strain-Reducing Utility Round-Point Digging Garden Shovel
Dig in - and give your back a break in the yard garden, and shovel smarter - not harder! No more heavy lifting or lower-back strain with the Sun Joe Shovelution 44" Round Point Utility Digging Shovel. The rugged, forged steel point 9-inch blade easily pierces both sod and soil, while the ergonomically-designed spring-assist handle sends lifting leverage to the lower hand to easily lift heavy loads of dirt and mulch, or dig up shrubs, plant trees and cut trenches with minimal effort. Shovelution greatly reduces the effort, strain and potential injury involved in shoveling, using the powerful muscles of your upper body to do the lifting and throwing to reduce back strain by up to 30%, so you can lift more, and throw farther. Just spring it and fling it! SHOVELUTION captures the expended energy from throwing sod and soil, and rapidly recoils to instantly reset the shovel, ready for the next load. So, get a handle on your garden chores and Go With Joe® — and dig in with the ultimate strain-reducing shovel.
Download Manuals
Features
Sun Joe SJ-HDFC1 Heavy-Duty Metal Framed Garden Utility Wagon
Multi-purpose utility wagon: ideal for camping, gardening, the beach, sporting events, shopping and more
Load capacity: 150 lbs (68 kg)
Easy portability: Collapsible design with convenient storage bag for compact storage
Great durability: Steel frame + rip-resistant polyester fabric
Adjustable locking handle and 360° swivel wheels for maximum stability + mobility
Expanded Dimensions: 25.2" H x 33.5" W x 19.7" D
Weight: 23.4 lbs (10.6 kg)
Full 2 year warranty
Sun Joe SJ-MMPH1 3-In-1 Soil Meter
3 Modes: moisture, light, pH
Light sensor: measures light intensity levels, 0-2000 LUX
Moisture sensor: 7.9" copper probe for 10 moisture levels
pH sensor: 7.9" aluminum probe, 3.5-8pH scale
Gauge readout for easy monitoring
No batteries required
Lightweight at just 2 oz


Sun Joe SJ-SHLV06 Shovelution Strain-Reducing Utility Round-Point Digging Garden Shovel
Flexible, spring-loaded assist handle acts as a fulcrum - changes shoveling mechanics and reduces strain
Sends lifting leverage to the lower handle to lift heavier loads with ease
Back-saving design - improves posture, reduces the need to bend
Steel round point shovel head: 9 in. (22.9 cm)
Comfortable, ergonomic D-Grip handles
Measures 44 in. L (1.1 M)
Weight: 4.4 lbs (2.1 KG)
Warranty: 2 Year