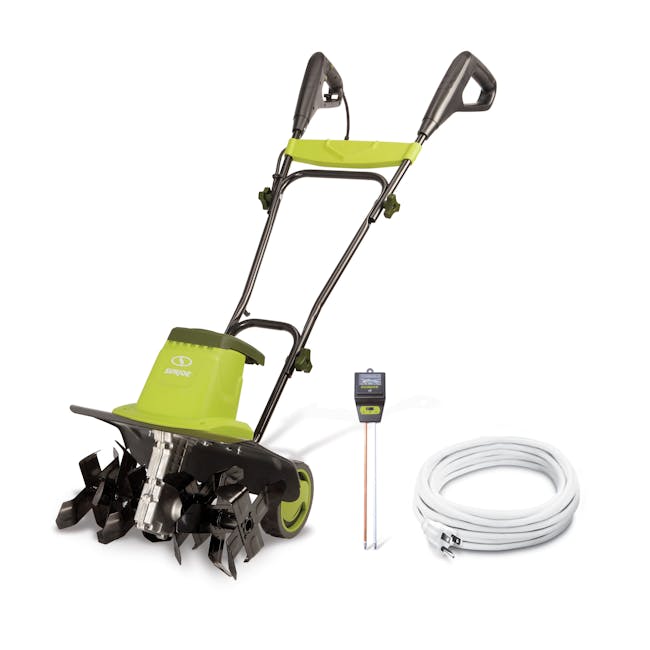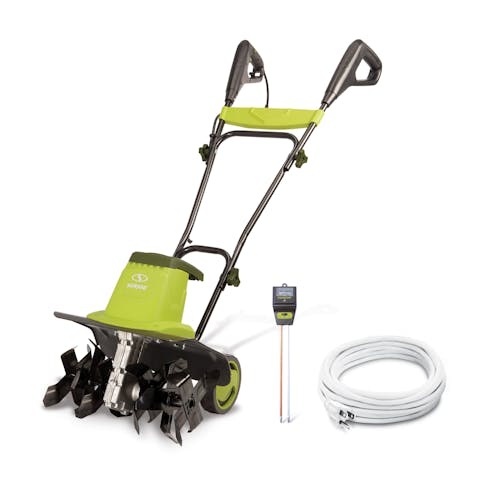 Sun Joe Garden Cultivating Bundle | Tiller + Soil Meter + Extension Cord
TJ604E - Sun Joe Electric Garden Tiller/Cultivator | 16-Inch
THE DIRTY LITTLE SECRET OF GREAT GARDENS. Experience the one tiller that's truly up to the task! Introducing a greener, cleaner way to get dirty with the Sun Joe® TJ604E Electric Tiller Cultivator. A powerful 13.5-amp motor quickly pulverizes dirt, effortlessly slicing through the soil at 370 RPM, ensuring maximum aeration and perfectly preparing the seedbed for planting. Cultivate an area 16-inches wide and up to 8-inches deep in seconds. Control weeds where needed - Sun Joe® tames the toughest yard and garden tasks with more comfort and less strain. 3-position, height-adjustable rear wheels make it easy to maneuver wherever it's needed - and its collapsible handle makes it a cinch to store when it's not. The TJ604E comes with a full two-year warranty.
SJ-MMPH1 - Sun Joe 3-In-1 Soil Meter | w/ Moisture, pH, and Light Meter
GROW WITH JOE!  Keep your soil + plants in peak health with the convenient SJ-MMPH1 3-IN-1 SOIL METER from SUN JOE. The secret of great gardens and gardeners, this powerful 3-in-1 tool tests for proper moisture, pH and sunlight for healthier soil + happier plants. Designed for easy indoor/outdoor use, it's great for testing condition and plant care in lawns, gardens, greenhouses and homes – no batteries required! Just water before testing and select your desired soil testing mode and you're all set! When finished, simply remove the probes from the soil and wipe them clean. 
PJEXT20-163-WHT - Snow Joe + Sun Joe Vinyl Landscape Outdoor UL Rated Extension Cord | 20-Foot
PUT THE POWER WHERE YOU NEED IT. For those times when there's never an outlet when - or where - you need it most, Snow Joe® + Sun Joe® introduces the Indoor Outdoor Extension Cord (PJEXT20-163-WHT). Ideal for outdoor lighting, animated holiday displays and outdoor power tools, Power Joe® provides up to 20-feet of reach to bridge the gap between outlet and appliance. Rated up to 125-Volts/13-Amps/1625-Watts and made from sturdy, flexible vinyl, Sun Joe's cord comes in three colors: green, white, and black.
Features
TJ604E - Sun Joe Electric Garden Tiller/Cultivator | 16-Inch
Powerful 13.5-amp motor cultivates up to 16 in. wide x 8 in. deep
6 durable steel angled tines for maximum durability and performance
Handle folds for convenient storage and easy transport
3-position wheel adjustment
Maintenance free
Full 2-year warranty; ETL approved
SJ-MMPH1 - Sun Joe 3-In-1 Soil Meter | w/ Moisture, pH, and Light Meter
3 Modes: moisture, light, pH
Light sensor: measures light intensity levels, 0-2000 LUX
Moisture sensor: 7.9" copper probe for 10 moisture levels
pH sensor: 7.9" aluminum probe, 3.5-8pH scale
Gauge readout for easy monitoring
No batteries required
Lightweight at just 2 oz
PJEXT20-163-WHT - Snow Joe + Sun Joe Vinyl Landscape Outdoor UL Rated Extension Cord | 20-Foot
Grounded plug and receptacle
Suitable for indoor/outdoor use
Convenient 20-foot length
Electrical Rating: 125-Volts/13-Amps/1625-Watts
Weather guards for protection when not in use
16/3-gauge general purpose grounded extension cord
UL/CUL listed