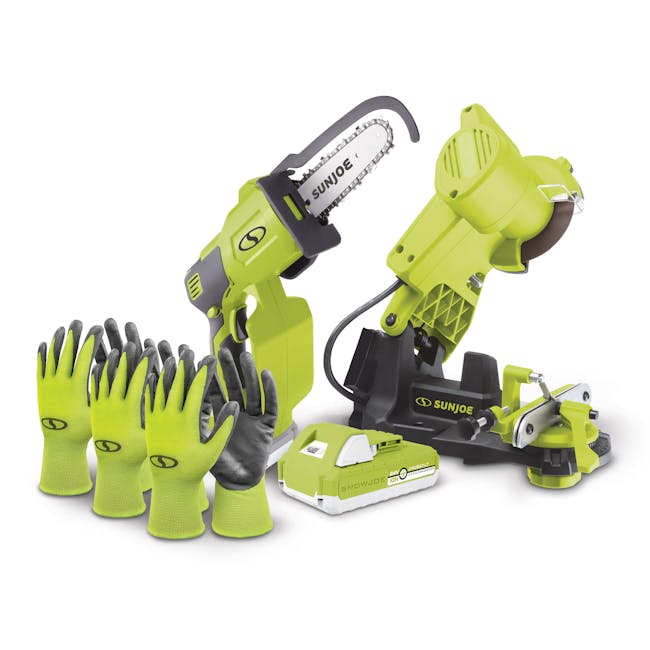 Sun Joe Handheld Chainsaw Bundle | W/ Sharpener, Gloves, & Extra Battery
24V-HCS-LTE-P1 - Sun Joe 24-Volt* iONMAX Cordless Handheld Chainsaw
SEE IT? SAW IT! Trim overgrown branches with the 24V* Cordless Handled Pruning Saw from SUN JOE®. Powered by the exclusive 24V* iONAMX System, the included 24-volt* lithium-ion battery provides ample runtime and works with 150+ other home, yard + garden tools! No more struggling with a cord or pruning by hand. Now you can shape up the shrubs without the strain!
Ultra-compact and lightweight, this 5" pruning saw slices through branches, thatch, and topiaries up to 4.5" thick. The easy, one-handed operation makes it easier than ever to trim, saw, cut, and prune even the unruliest of plants! Ideal for green wood, woody stems, twigs and branches, SUN JOE provides a clean, precise cut to allow your plant to heal, while eliminating the stress and strain associated with squeezing conventional manual pruners. Cutting is as simple as squeezing the trigger! Plus, every Sun Joe iONMAX tool is backed by our rock-solid 2-year warranty, for worry-free operation, season after season.  
24V-CSSHRP-CT - Sun Joe 24-Volt* iONMAX Cordless Mountable Chain Saw Sharpener
Dull chains are dangerous and difficult to work with, and taking trips to the hardware store to get them sharpened wastes time and money. So, next time your chain saw or pole chain saw pulverizes wood and can't cut cleanly any more, reach for the 24V-CSSHRP-CT 24-Volt* Cordless Chain Sharpener from SUN JOE®! Designed to work with virtually all saw chains, 24V-CSSHRP is the perfect tool to keep your chain in top cutting condition. Simply position your dull chain along the guide, set your swivel angle from -30º to +30º left or right, and use the 100 grit, aluminum oxide grinding wheel to keep your tool's cutting teeth razor sharp! Adjust the grinding depth with a quick twist of the knob for a precise cut every time! The powerful 65.5 watt motor spins the grinding wheel at up to 6,500 RPM, sharpening your worn chains in less time and with less effort than manual sharpeners. The sturdy base mounts securely on any table or bench for maximum control during use. Plus, 24V-CSSHRP is perfect for use anywhere power is at a premium – with the cordless convenience of iONMAX: SUN JOE's exclusive, eco-friendly 24-Volt* lithium-ion battery system. And iONMAX provides rechargeable runtime with no-fade power + performance, and is compatible with Snow Joe + Sun Joe's complete 24-Volt* Cordless tool universe (Battery Sold Separately in Core Tool Version). So, skip the trip to the garden center and maintain your chain with the 24V-CSSHRP-CT 24-Volt* Cordless Chain Saw Sharpener from SUN JOE. GET EQUIPPED®.
24VBAT-LT - Snow Joe + Sun Joe EcoSharp® LITE Lithium-Ion Battery
Power up. Power your cordless iON tools the eco-friendly way with the 24-Volt* iONMAX 24VBAT-LT lithium-ion battery. Compatible with all Snow Joe® + Sun Joe® 24V* iONMAX models, the 24VBAT-LT features high capacity 2.5 Ah lithium-ion cells that deliver no-fade power for maximum job performance.
Simply insert iONMAX LITE into your 24-volt* tool of choice and power up instantly without having to mess with gas, oil, pull-cords, or tangled extension cords! Breathe easily and confidently while working with your 24VBAT-LT since rechargeable battery pack provides cleaner, emission-free air during operation. Although run-times will vary depending on the tool used and the job performed, iONMAX LITE charges up for the task in just 100 minutes max.
The fuel gauge indicator lights on iONMAX LITE will also let you easily monitor your battery's charge capacity while it is in use. When it is time to charge, simply slide the 24VBAT-LT into its dedicated 24VCHRG-AC or 24VCHRG-QC charger. The 24VBAT-LT holds its charge well in storage and will retain up to 65% charge for six months.
Easy, convenient, reliable, and super-lightweight (just 1 lbs!), the 24-Volt* iONMAX 24VBAT-LT is the smart way to battery pack for your power trip.
GGNP-S3 - Sun Joe Nitrile-Palm Reusable/Washable Gloves
Keep your hands safe and clean with the All-Purpose Reusable Nitrile-Palm Gloves from Sun Joe. The durable set-of-three nitrile-coated palms provide an excellent non-slip grip. With a cool-fabric shell, these gloves are naturally antibacterial and puncture and abrasion-resistant to keep your hands clean, dry, and safe during use. Easy to clean, wash, and re-use, these gloves are unlike disposable versions that can only be used once before tossing. Perfect to take for any long trips, transportation, shopping, workshop or garden activities where personal protection & safety cannot be compromised.
Features
24V-HCS-LTE-P1 - Sun Joe 24-Volt* iONMAX Cordless Handheld Chainsaw | 5-inch Pruning Saw Kit | W/ 2.0-Ah Battery and Charger
iONMAX 24-VOLT* SYSTEM includes 2.0 Ah lithium-ion battery and charger
TRIPLE-ACTION PRUNING POWER: 230 W motor cuts quicker, cleaner, and quieter than traditional chain saws.
5" COMPACT BAR + CHAIN starts up with just the squeeze of a trigger
IDEAL FOR PRUNING green, growing branches, and woody stems up to 4.5" thick
BUILT-IN SAFETY FEATURES like chain + hand guards, and a safety switch to prevent accidental starts
REFILLABLE OIL BOTTLE: 0.7 fl oz capacity
INCLUDED BATTERY recharges in just 5 hours
LIGHTWEIGHT + COMPACT at just 5.5 lbs!
24V-CSSHRP-CT - Sun Joe 24-Volt* iONMAX Cordless Mountable Chain Saw Sharpener
Sturdy base mounts securely to any table or workbench
iONMAX 24-Volt* Battery System compatible — 2.0 Ah battery (Sold Separately)
Durable 100 grit, 4.25 in. diameter, 1/8 in. thick aluminum oxide grinding wheel
Powerful 65.5 watt motor rotates grinding wheel up to 6,500 rpm
Chain gauge: 0.05 in. – 0.07 in. (1.3 mm – 1.8 mm)
Compatible with 1/4 in. + 3.8 in. + 0.325 in. chain pitches
Features grinding depth adjustment + locking knob for a precise cut every time
Swivel angle adjusts from -30º to +30º left or right
Chain guide lock keeps chains securely in place while working
Recommended for use with SUN JOE pole + chain saw chains
Compatible with most chain saws
Lightweight at under 5 lbs!
24VBAT-LT - Snow Joe + Sun Joe EcoSharp® LITE Lithium-Ion Battery | 24-Volt* | 2.5-Ah
24V* exclusive EcoSharp® lithium-ion technology – High capacity cells with no-fade power for maximum job performance
No memory effect – Charge whenever you want without having to drain the battery or wait for full charge before use
Cord-free operation – No gas, oil, tune-ups, pull-cords, or tangled extension cords!
Eco-friendly – Zero emissions for cleaner air
Reliable performance – 2.5 Ah (60 Wh)
For use with all Snow Joe® and Sun Joe® cordless 24V* iONMAX models
GGNP-S3 - Sun Joe Nitrile-Palm Reusable/Washable Gloves
Set of 3 pairs
One size fits most
Reusable & washable design
Breathable and all-purpose with nitrile-coated palm for secure non-slip grip
Lightweight and flexible
Made from woven rayon fabric and bamboo fibers