YOU ARE $125.00 AWAY FROM FREE U.S. SHIPPING!
YOU ARE $125.00 AWAY FROM FREE U.S. SHIPPING!




+12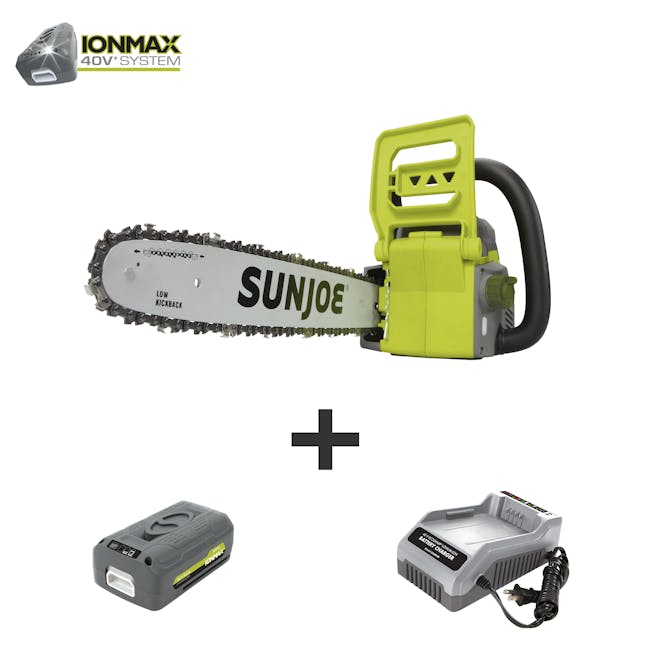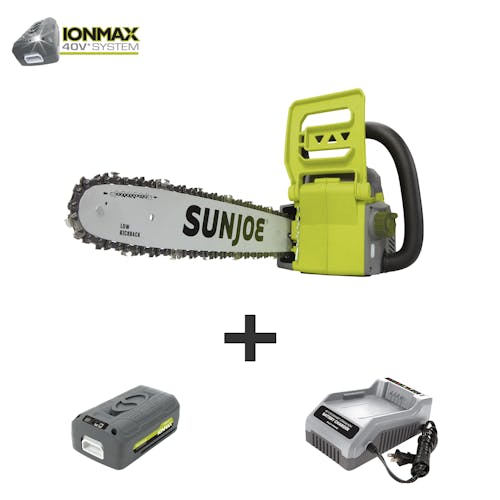 There is a newer model of this item:
There is a newer model of this item:
Sun Joe 24V-X2-CS16 48-Volt iON+ Cordless Chain Saw Kit | 16-Inch | W/ 2 x 2.0-Ah Batteries and Charger
CUT OFF. Tackle tough cutting jobs with the newest addition to the iON tool series – the Sun Joe® iON16CS cordless chain saw! Powered by the same interchangeable 40 V iONMAX lithium-ion battery system utilized by the other iON tools, the iON16CS with zero carbon emissions for cleaner air. This cordless dynamo is also engineered with a powerful 600 W brushless motor for increased battery efficiency, optimal motor performance and extended motor life to keep your iON chain saw sawing strong season after season.
Ideal for cutting thick limbs, firewood, logs and branches, the iON chain saw starts instantly with a simple push of a button and its lightweight, ergonomic design (only 12.8 lbs!) maximizes user comfort during use. Featuring a self-lubricating 16-inch Oregon cutting bar and chain, the iON chain saw can easily saw through the most stubborn tree limbs, up to 15.5-inches thick! And, its tool-less chain adjustment system makes operation virtually maintenance free! Safety features include a hand guard with kickback brake, a protective sheath for safe blade storage, and a built-in safety switch to prevent accidental starting. Backed by a full 2-year warranty and marked with the ETL and Energy Star seal of approval, the Sun Joe® iON16CS 40-volt 16-inch cordless chain saw makes it easy to GET EQUIPPED® for a variety of outdoor cutting chores.
Features
40 V 4.0 Ah iONMAX rechargeable lithium-ion battery
Featuring exclusive EcoSharp® technology for no fade power and maximum performance
No pull-cords, gas, tune-ups, carbon emissions or tangled extension cords
Powerful 600 W brushless motor increases battery efficiency, maximizes motor performance and decreases noise and vibration to extend motor life
Ideal for cutting limbs, firewood and logs up to 15.5 in. thick
16-inch self-lubricating Oregon bar and chain with protective sheath for safe blade storage
Lightweight design with ergonomic handle to maximize user comfort
Full 2-year warranty; ETL approved; Energy Star certified