YOU ARE $125.00 AWAY FROM FREE U.S. SHIPPING!
YOU ARE $125.00 AWAY FROM FREE U.S. SHIPPING!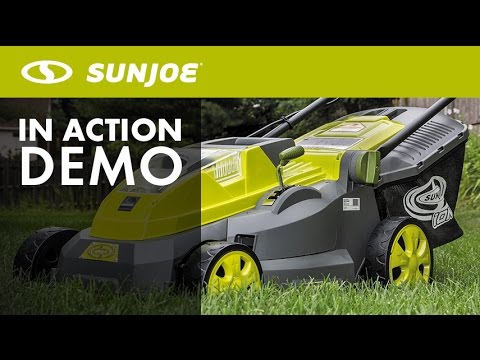 +5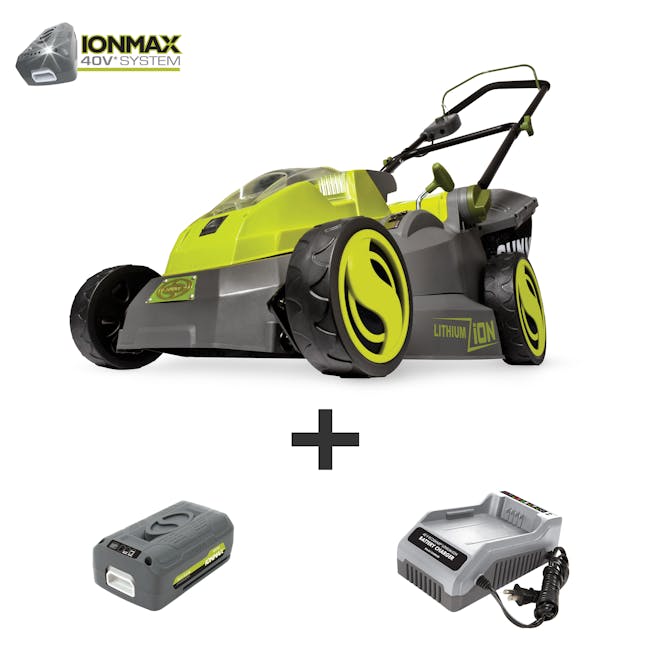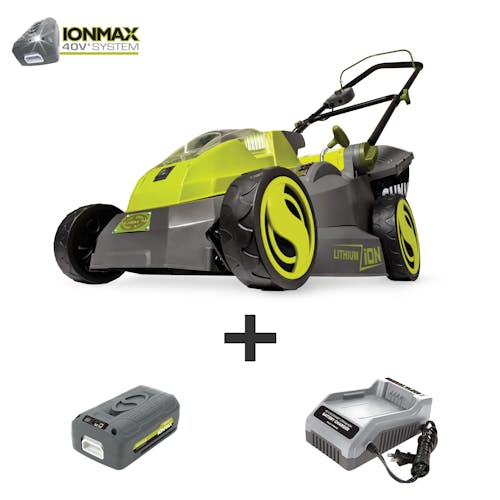 Sun Joe iON16LM 40-Volt iONMAX Cordless Brushless Lawn Mower Kit | 16-Inch | W/ 4.0-Ah Battery and Charger
There is a newer model of this item:
There is a newer model of this item:
Sun Joe 24V-X2-17LM 48-Volt iON+ Cordless Lawn Mower Kit | 17-inch | 6-Position | W/ 2 x 4.0-Ah Batteries, Dual Port Charger, and Collection Bag
MOW POWER TO YA! Ditch the gas, oil, noxious fumes, pull-cords, and extension cords and meet the newest addition to the iON tool series - the Sun Joe® iON16LM cordless lawn mower! Powered by the same rechargeable 40 V iONMAX battery system, the iON16LM utilizes the most advanced lithium-ion technology with zero carbon emissions for cleaner air. This cordless dynamo is also engineered with a powerful brushless motor for increased battery efficiency, optimal motor performance and extended motor life (up to 2000 hours!) to keep your iON mowing strong season after season.
Ideal for small to mid-sized lawns, the iON16LM starts instantly with a simple push of a button and its ergonomic handle maximizes user comfort during use. Its compact design features rugged front and rear all-terrain wheels that make it easy to maneuver in tight spaces. Quickly adjust the cutting height of your grass with the 6-position height adjustment lever, which tailors cutting heights from 1.18 inches up to 3.15 inches. The 9.25-gallon grass bag conveniently detaches to dispose of grass clippings. The iON16LM is backed by a full two-year warranty, is ETL approved, and Energy Star certified. GET EQUIPPED® this spring with the Sun Joe® iON16LM – the easy, convenient and cord-free way to care for your lawn.
Download Manuals
Features
40 V 4.0 Ah iONMAX rechargeable lithium-ion battery is compatible with all iON tools
Featuring exclusive EcoSharp® technology for no fade power and maximum performance
No pull cords, gas, oil, tune-ups, carbon emissions or tangled extension cords
Powerful brushless motor increases battery efficiency, maximizes motor performance, decreases noise and vibration and extends motor life
Compact design ideal for small to mid-sized lawns
6-position height adjustment lever tailors grass cutting height from 1.18 to 3.15 inches
Full 2-year warranty; ETL approved; Energy Star certified