YOU ARE $125.00 AWAY FROM FREE U.S. SHIPPING!
YOU ARE $125.00 AWAY FROM FREE U.S. SHIPPING!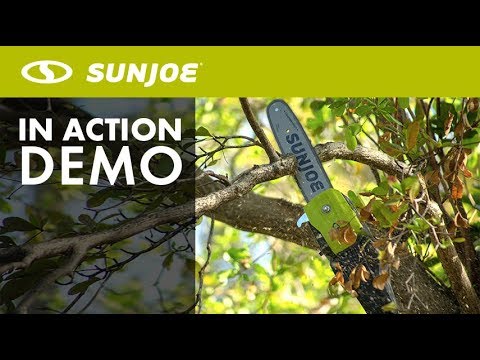 +2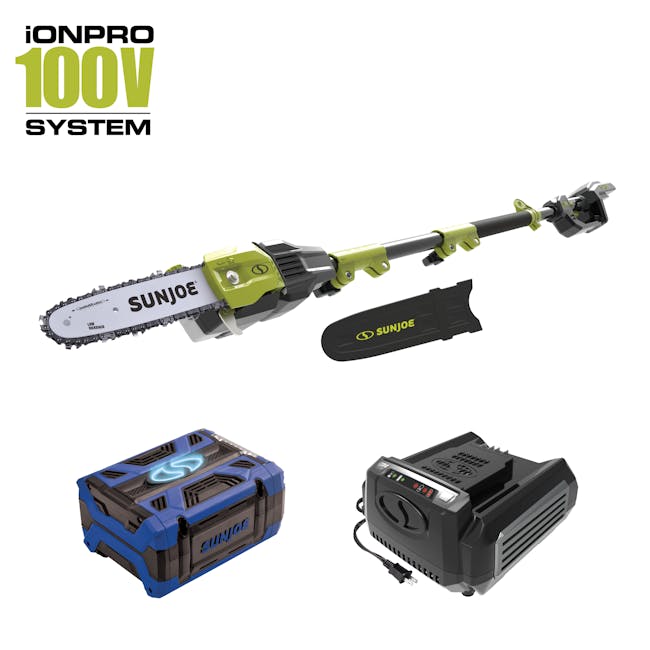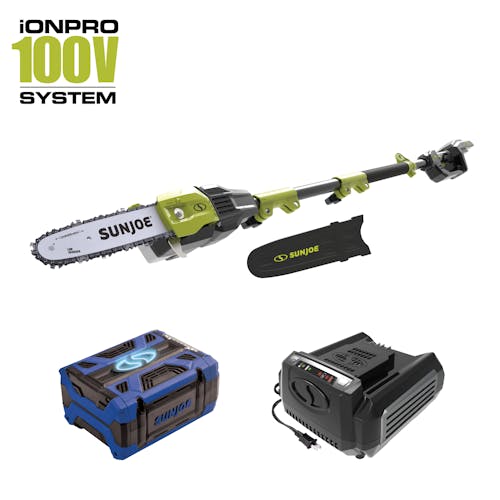 Sun Joe iON100V-10PS 100-Volt iONPRO Cordless Modular Pole Chain Saw Kit | 10-Inch | W/ 3.0-Ah Battery and Charger
There is a newer model of this item:
There is a newer model of this item:
Sun Joe 24V-PS10-LTE 24-Volt* IONMAX Cordless Telescoping Pole Chainsaw Kit | 10-inch | W/ 2.0-Ah Battery + Charger
Meet the next-generation in limb-trimming technology in the legendary line-up of iON yard and garden tools:  iON100V 10" Cordless Pole Chain Saw, from SUN JOE.
Stop straining for those hard-to-reach branches and stand safely on solid ground with the iON100V-10PS electric pole chain saw from Sun Joe.
Ideal anywhere power is at a premium, iON100V is powered by the latest revolution in the iON series featuring high-capacity, rechargeable 100-Volt lithium-ion batteries for no-fade, eco-friendly power performance, and zero carbon emissions for cleaner air.
LET GRAVITY DO THE WORK®, and let iON take the danger and difficulty out of trimming your overgrown trees. The adjustable pole easily extends up to nearly 9 feet to reach high branches, and overhanging limbs.
iON100V's powerful 650 watt brushless motor even makes light work of logs, and the premium 10 inch bar and chain slices cleanly through dense brush and fallen branches up to 9-and a half inches thick.
An onboard auto oiler keeps the chain fully lubricated for continuous cutting when you're in the thick of things; plus, SUN JOE's top-notch safety features include a padded, non-slip soft grip for added stability; a shoulder strap for added comfort and control; a built-in safety switch to prevent accidental starts, and a sheath for safe bar and chain storage when the work is done.
 And every iON100V Pole Chain Saw is backed by SUN JOE's complete 2-year warranty, for worry-free performance, season after season.
So, supercharge your tree-trimming with the cutting-edge in cordless pole chain saws: the iON100V-10PS-CT 10" Cordless Pole Chain Saw from SUN JOE®. Get Equipped®
Features
IONMAX 100-Volt Battery System compatible — Includes one 3.0 Ah Battery and Charger
100V battery features carrying handle, integrated USB ports and onboard LED emergency light ideal for camping power failures
Ideal for cutting overhanging limbs, branches, brush and thin logs
Modular pole extends up to 8.9 feet
Powerful 650 watt brushless motor cuts up to 9.5-inches thick
Durable 10-inch cutting bar and chain with automatic lubrication
Full 2-year warranty