YOU ARE $100.00 AWAY FROM FREE U.S. SHIPPING!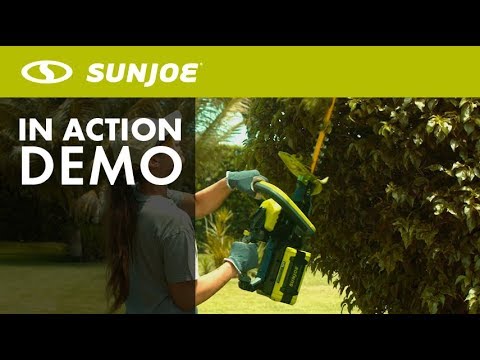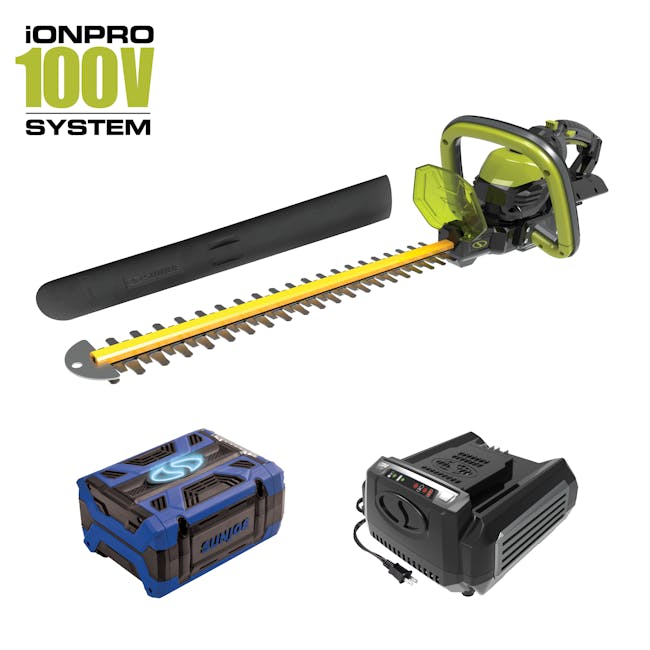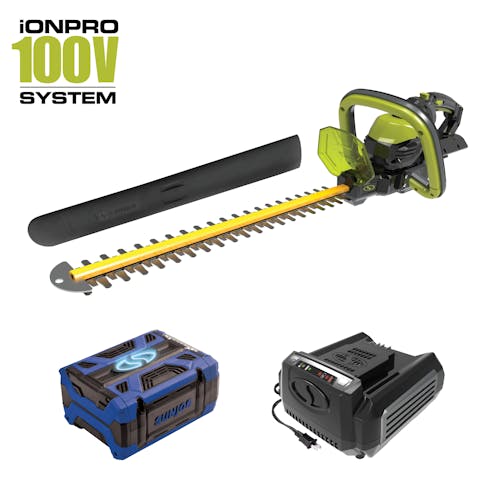 2 YEAR WARRANTY
ADD A PROTECTION PLAN:
Meet the next-generation of hedge-trimming tech in the legendary line-up of iON yard and garden tools:  iON100V-24HT 100-Volt Cordless Hedge Trimmer from SUN JOE®. Ideal anywhere power is at a premium, iON100V is powered by the latest revolution in the iON series featuring high-capacity, rechargeable 100-Volt lithium-ion batteries for no-fade, eco-friendly power performance, and zero carbon emissions for cleaner air.
Shape up your shrubs, clip tall bushes, and groom your overgrown yard garden; SUN JOE's pro-grade 350-watt brushless motor provides the power and performance you demand to tackle your toughest shrubbing, hedging and trimming tasks. iON100V's dual-action, 24-inch rust-resistant steel blades cut efficiently in both directions while providing up to 40% less vibration than single action blades. iON will quickly become your go-to tool to shear cleanly through shapeless shrubs and give your hedges clean-cut edges. For vertical trimming and extended cutting sessions, SUN JOE's innovative rear handle rotates to maximize user comfort and control with less wrist strain. And with thoughtful, user-friendly features like a dual-handed safety switch and a sheath for safe storage, iON100V-24HT virtually eliminates dangerous accidental blade contact for enhanced user safety. Plus, every iON 100-Volt Cordless Hedge Trimmer is backed by SUN JOE's full two-year warranty, for reliable performance, season after season.  So, supercharge your hedge-trimming tasks with 100-volts of shrub-shearing power: iON100V-24HT 100-Volt Cordless Hedge Trimmer from SUN JOE®. Get Equipped®
Features
iON+ 100-Volt Battery System compatible — Includes one 3.0 Ah Battery and Charger
100V battery features carrying handle, integrated USB ports and onboard LED emergency light ideal for camping power failures
Ideal for trimming branches, shrubs, and hedges up to 0.7" thick
Dual-action 24" rust-resistant steel blades
Powerful 350-watt brushless electric motor
Dual-handed safety switch prevents accidental starting
Innovative rear handle rotates to maximize user comfort and control with less wrist strain.
Dual-action blades reduce vibration by up to 40%
Includes blade safety cover