YOU ARE $125.00 AWAY FROM FREE U.S. SHIPPING!
YOU ARE $125.00 AWAY FROM FREE U.S. SHIPPING!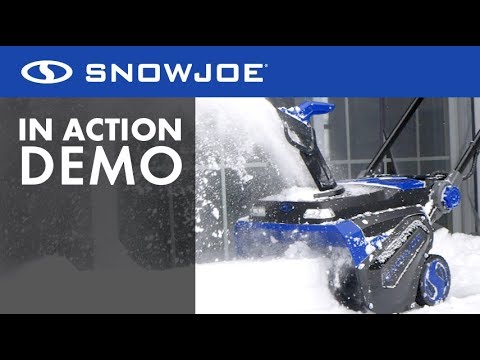 +26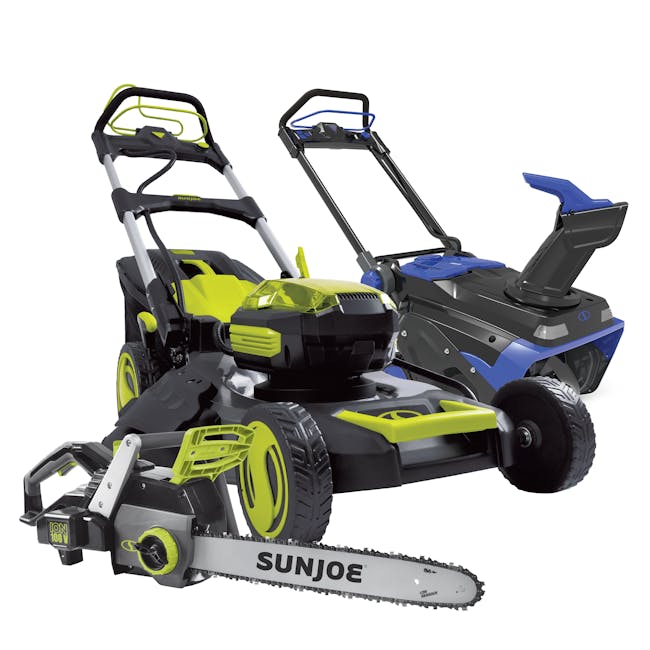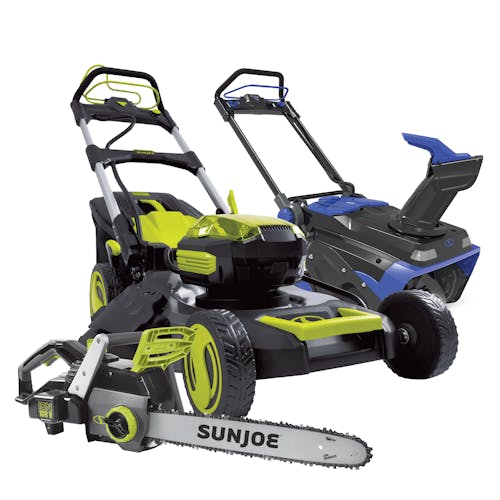 Sun Joe iON100V-POWERUP-BDL 100-Volt iONPRO POWERUP Bundle | W/ 100-Volt Snow Blower Kit, Lawn Mower, and Chainsaw
This exclusive bundle contains 1 iON100V 21-Inch SnowBlower, 1 iON100V 21-Inch Lawn Mower, 1 iON100V 18-Inch Chain Saw, 1 iON100V 5.0-Ah Battery, and 1 iON100V Rapid Charger. Details on each tool are listed below.
iON100V-21SB - 100-Volt iONPRO Cordless Brushless Variable Speed Snowblower
Meet the next-generation winter-weather warrior in the legendary line-up of iON snow-clearing tools:
Introducing the iON100V-21SB 100-Volt 21-Inch Cordless Snow Blower from SNOW JOE®. Powered by the latest revolution in the iON series, iON100V is designed with the same rechargeable power you know from iONMAX and iON series and features high-capacity 100-volt, 5.0 Ah lithium-ion cells that deliver no-fade power performance, with zero carbon emissions for cleaner air.
Equipped with a variable-speed heavy-duty 2-blade paddle auger featuring auger-assisted drive, iON's powerful 2800 W brushless motor shreds up to 16 tons of snow on a single 5.0 Ah battery charge, clearing a path 21-inches wide and 12-inches deep with each pass. Plus, the integrated scraper bar at the base of the unit lets you clear to the ground without damaging your deck, driveway or pavement!
Put the powder precisely where you want it! iON100V-21SB's digital control 180º auto-rotate chute lets you throw snow up to 30-feet away in any direction at the push of a button
Powered by the latest revolution in the legendary iON series, SUN JOE features high-capacity, 100-volt lithium-ion battery cells that deliver no-fade power performance, with zero carbon emissions for cleaner air. iON's 1000 Watt brushless motor is engineered for efficiency, providing you with maximum motor performance and extended motor life to keep your mower running stronger, longer. iON's adjustable speed settings let you set the perfect pace — choose how fast or slow you want to go with the integrated speed dial.
Customize your cutting height with iON's 7-position manual height-adjustment lever — choose from 1.2", 1.57", 1.97", 2.36", 2.76", 3.35", and 3.75" for the perfect, precise cut tailored to your yard. SUN JOE's included 13.2 gallon grass-collection bag makes disposing of lawn clippings quick and easy. Or switch in the included discharge chute to put the nutrient-rich trimmings back into your lawn! And when the work is done, simply fold down iON's telescopic, collapsible handle for compact, convenient storage.


Meet the next-generation in tree-trimming tech in the legendary line-up of iON yard and garden tools: iON100V 18" Cordless Chain Saw, from SUN JOE. iON100V offers the all of the power and performance of gas with the ultimate in cordless convenience for all your outdoor chores – to cut a cord of wood, or trim tree branches. 
iON100V's powerful 1500 watt motor makes light work a load of logs, and the premium 18 inch bar and chain slices cleanly through trunks and limbs up to 17-and-a-half inches thick, or to clear away dense brush and fallen branches.
An onboard auto oiler keeps the bar and chain fully lubricated for continuous cutting when you're on the thick of things, and a tool-less chain tensioner for a quick fix with just a twist, on-the-go.
Features
This exclusive bundle contains 1 iON100V 21-Inch SnowBlower, 1 iON100V 21-Inch Lawn Mower, 1 iON100V 18-Inch Chain Saw, 1 iON100V 5.0-Ah Battery, and 1 iON100V Rapid Charger


iON100V-21SB - 100-Volt iONPRO Cordless Brushless Variable Speed Snowblower
Equipped with a single, powerful 100-Volt 5.0 Ah battery featuring exclusive ECOSHARP® technology
Powerful 2800 W brushless motor increases battery efficiency, maximizes motor performance, decreases noise vibration, and extends motor life
Auger-assisted drive helps propel the unit forward through snow to clear more with less effort
Dual 2.5 W LED headlights provide increased visibility for nighttime snow removal
Integrated push-button display: 180º chute rotation, LED light, power ON/OFF, and variable speed control dial
2-blade paddle auger clears a path 21" wide x 12" deep in a single pass
Maximum auger speed moves up to 16 tons per charge, minimum auger speed moves up to 12.5 tons per charge
100V battery features carrying handle, integrated USB ports and onboard LED emergency light ideal for camping power failures
Weight (battery installed): 69 lbs
Certifications/warranty: TUV/2-year warranty
Powerful 1000 Watt brushless motor increases battery efficiency, maximizes motor performance, decreases noise vibration, and extends motor life
Self-propelled drive saves time and energy, moving the unit forward for an effortlessly beautiful lawn
Manual 7-position height-adjustment lever — 1.2, 1.57, 1.97, 2.36, 2.76, 3.35, and 3.75
20-inch cutting width max
Weight (without battery): 61.7 lbs (28 kg)
TUV approved/Warranty: 2 year
Powerful 1500 Watt motor and 18-inch bar chain cuts tree trunks, limbs and branches up to 17.5-inches wide
Tool-less tensioning tightens the chain with just a twist
Onboard auto-oiler keeps the bar and chain fully lubricated for continuous cutting
Safety features include: a protective hand brake for superior kickback control, and a built-in safety switch to prevent accidental starts