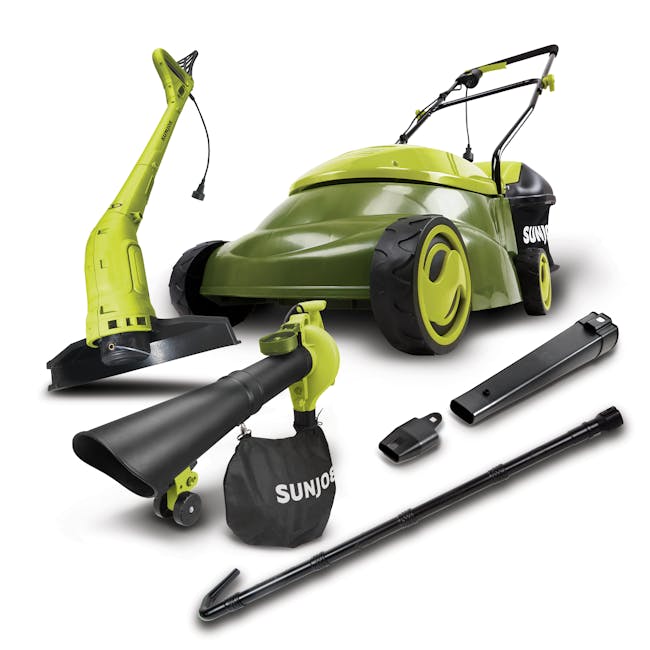 Sun Joe Lawn Lover Bundle | Electric Lawn Mower + Leaf Blower + String Trimmer
MJ401E - Sun Joe 14" Electric Lawn Mower
GREAT IN TIGHT SPACES! Responding to the need for an easy-to-use electric mower for smaller lawns, Sun Joe® developed the MJ401E. Compact and lightweight (only 29 lbs), the Sun Joe MJ401E is a lean, mean and green mowing machine that gets your yard chore done without polluting the atmosphere with toxic carbon emissions. Sun Joe starts instantly with the simple push of a button and its rugged all-terrain wheels make it easy to maneuver in tight spaces. Equipped with a durable steel blade, Sun Joe cuts a 14-inch wide swath with each pass. Tailor the grass cutting height with its 3-position manual height control, which adjusts from 1.18 inches to 2.52 inches. Its 10.6-gallon hard-top rear bag conveniently collects grass clippings and detaches easily for quick disposal. A collapsible handle allows for easy and compact storage when not in use. ETL-approved; Full 2-year warranty.
SBJ605E - Sun Joe 3-in-1 Electric Blower/Vacuum/Mulcher
MAKE LIGHT WORK OF LOADS OF LEAVES! Back-breaking lawn and leaf cleanups are a thing of the past. Lightweight, sleek and powerful, the Sun Joe® 3-in-1 Blower/ Vacuum/ Mulcher packs the power of a hurricane in your hand to make your yard work fun, quick, and easy. Featuring an interchargable tube design, the Blower Joe SBJ605E convert from a robust 250 mph blower to a mulcher with a superior 16:1 mulching ratio – to make light work even your largest leaf piles! With a cleaner, quieter 14-amp instant-start electric motor, you'll leave all your neighbors wondering where all the leaves went! 
TRJ608E - Sun Joe 10" Electric String Trimmer
THE LIGHT CHOICE IS THE RIGHT CHOICE! Shape up the yard and trim in tough-to-reach places the mower just can't get, with the 10" Electric Grass Trimmer from SUN JOE. Perfect for quick touch-ups around walkways, driveways, gardens, porches and patios, this ultra-lightweight trimmer cuts a crisp path 10-inches wide with each pass. Sun Joe's eco-friendly 2.8-amp motor means no more fussing with gas, maintenance, or noxious fumes. And the semi-auto feed spool makes it easy to advance the trimming line — simply stop and start the machine and the line is advanced automatically! Plus, the available 6-pack of replacement spools (sold separately) are the perfect addition to your Sun Joe trimmer. Weighing less than 4 lbs, Sun Joe's ergonomic armrest maximizes user comfort and control for simple one-handed operation. Just plug in, power up, and go! So, when you want your lawn to look its best, Go With Joe®. TRJ608E Electric String Trimmer from Sun Joe. GET EQUIPPED®.
Features
MJ401E - Sun Joe 14" Electric Lawn Mower
Maintenance free – No gas, oil or tune-ups
Powerful 12-amp motor cuts a 14-inch wide path
Tailor cutting height with 3-position height control
Detachable grass catcher for easy disposal of grass clippings
Compact and lightweight (only 29 lbs) for easy maneuvering around small lawns
ETL approved; Full 2-year warranty
SBJ605E - Sun Joe 3-in-1 Electric Blower/Vacuum/Mulcher
3-in-1 design: blower, vacuum and mulcher for fast leaf cleanup
Quick + easy convention: go from blowing to vacuuming in seconds!
Powerful 14-amp motor generates up to 250 mph of air flow
Durable, aluminum alloy impeller
6 adjustable wind speeds
Comes with standard 18 gallon bag
16:1 reduction ratio: high-impact resistant impeller shreds leaves up to 1/16th their original size
ETL approved; Full 2-year warranty
TRJ608E - Sun Joe 10" Electric String Trimmer
Ideal for trimming around small yards, town house lots, flower beds, walkways, patios and stones

Lightweight and compact – only 3.7 lbs

Powerful 2.8-amp motor cuts a 10-inch swath in one pass

Instant start – powers up with the push of a button

Ergonomic armrest handle maximizes comfort and minimizes wrist fatigue

Semi-auto feed spool advances cutting string automatically at start-up

SGS Approved; Full 2-Year Warranty