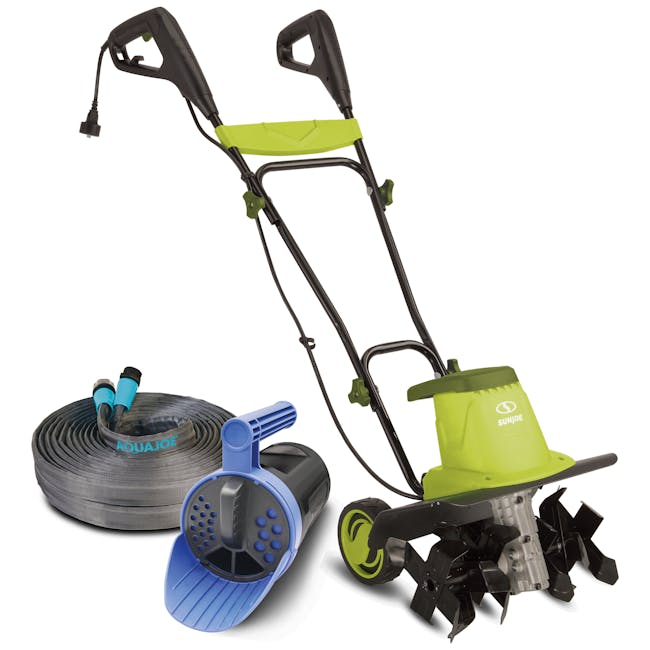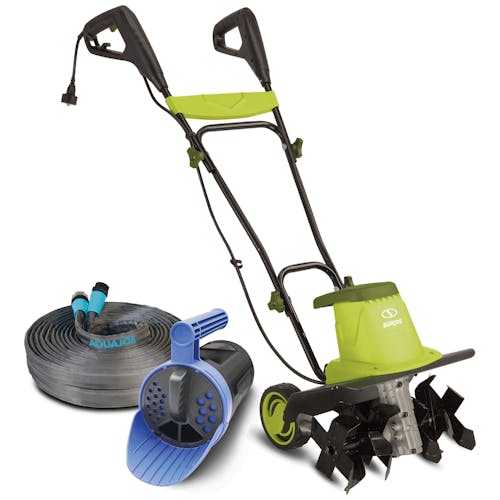 Sun Joe Lush Lawn Bundle | Electric Tiller + Hose + Multi-Purpose Spreader
TJ604E - Sun Joe Electric Garden Tiller/Cultivator | 16-Inch
THE DIRTY LITTLE SECRET OF GREAT GARDENS. Experience the one tiller that's truly up to the task! Introducing a greener, cleaner way to get dirty with the Sun Joe® TJ604E Electric Tiller Cultivator. A powerful 13.5-amp motor quickly pulverizes dirt, effortlessly slicing through the soil at 370 RPM, ensuring maximum aeration and perfectly preparing the seedbed for planting. Cultivate an area 16-inches wide and up to 8-inches deep in seconds. Control weeds where needed - Sun Joe® tames the toughest yard and garden tasks with more comfort and less strain. 3-position, height-adjustable rear wheels make it easy to maneuver wherever it's needed - and its collapsible handle makes it a cinch to store when it's not. The TJ604E comes with a full two-year warranty.
AJFJH50B - Aqua Joe Ultra Flexible Kink Free FiberJacket Garden Hose | 50-Foot
Say goodbye to tangled, kinked, and heavy hoses with the SUPERLIGHT FIBERJACKET® Garden Hose from AQUA JOE. Constructed from a rugged, marine-grade fiber jacket surrounding a half-inch, flexible inner core, AQUA JOE is abrasion-resistant, so it's safe on delicate and painted surfaces — no scratching, scuffing, or snagging! The innovative, dual-layer design is crush-proof and built to withstand the toughest treatment all while maintaining flexibility down to 35 degrees Fahrenheit. A standard garden hose will burst at a pressure of about 200 PSI. But, Aqua Joe FiberJacket is burst-rated to withstand 300 so it won't crack under pressure! Plus, AQUA JOE's innovative, dual-layer design is up to 50% lighter than conventional hoses. AquaJoe FiberJacket is the compact, heavy-duty hose that's easy to lift, but built to last! Plus, AQUA JOE is weather + mildew resistant and dries quickly, so you don't have to pick up a heavy, wet or slippery hose! Equipped with durable nylon fittings for a secure, leak-proof connection, AQUA JOE is kink-, twist-, and tangle-free for uninterrupted flow when watering your yard + garden. AQUA JOE FIBERJACKET comes in a variety of the most popular lengths to fit any size yard, auto, boat, and more! So GET EQUIPPED® with the last hose you'll need! The SUPERLIGHT FIBERJACKET® Garden Hose from AQUA JOE®.
SJSPD1 - Snow Joe + Sun Joe Handheld All-Season Multi-Purpose Spreader | 5 lbs
Spread your way around the yard with the Portable Handheld Multipurpose Spreader with built-in scoop from SNOW JOE. Ideal for year-round use, the smart adjustable dial changes from coarse to fine settings to suit a wide variety of materials: ice melt, grass seed, fertilizer, pool chemicals, weed killers, sand, pesticides, and more. Simply twist the locking lid to adjust the flow, or scoop-and-go for quick refills. With an extra-large 84.5 oz capacity to dispense your desired materials, you'll always have the right solution for every season. So, spread the word and Go With Joe®: the SJSPD1 Multi-Purpose Spreader from Snow Joe®. GET EQUIPPED®.
Features
TJ604E - Sun Joe Electric Garden Tiller/Cultivator | 16-Inch
Powerful 13.5-amp motor cultivates up to 16 in. wide x 8 in. deep
6 durable steel angled tines for maximum durability and performance
Handle folds for convenient storage and easy transport
3-position wheel adjustment
Maintenance free
Full 2-year warranty; ETL approved
AJFJH50B - Aqua Joe Ultra Flexible Kink Free FiberJacket Garden Hose | 50-Foot
BPA-free, Lead-free and Phthalate-free
Up to 50% lighter than conventional hoses
Great for the car + boat enthusiasts — rip- + abrasion-resistant fabric won't scratch or damage painted surfaces
Rugged, marine grade fiber jacket construction surrounding a half-inch flexible inner core
No scratching, scuffing or snagging!
1/2" Hose Diameter fits standard spigots and accessories
Maintains flexibility down to 35 degrees Fahrenheit
300 PSI burst rated
Kink-, twist- and tangle-free for uninterrupted flow
Durable nylon fittings for reliable connections
SJSPD1 - Snow Joe + Sun Joe Handheld All-Season Multi-Purpose Spreader | 5 lbs
Ideal for use with ice melt, grass seed, fertilizer, pool chemicals, weed killers, pesticides, and more
Easy-to-use twist + locking lid with built-in scoop for quick refills
Adjustable dial changes from coarse to fine settings for a wide variety of materials
Extra-large 84.5 oz capacity
Warranty: 2 year