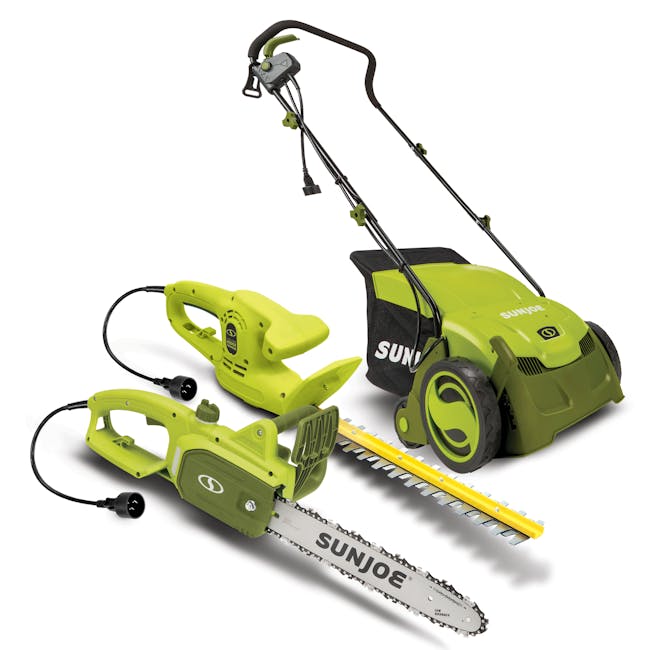 Sun Joe Master Cutter Bundle | Electric Dethatcher + Chainsaw + Hedge Trimmer
AJ801E - Sun Joe Electric Lawn Dethatcher w/ Collection Bag | 13-inch
LET YOUR LAWN BREATHE. Get your lawn in top green shape with the Sun Joe® Dethatcher Joe AJ801E 13-inch electric scarifier lawn dethatcher. Powered by a robust 12-amp motor, the Dethatcher Joe rakes a 13-inch wide path in a single pass to get your job done fast. Enhancing its raking ability is AirBoost technology, which maximizes thatch pickup with spring steel tines that stay sharp longer for reliable performance. Use the 5-position depth control knob to tailor the raking depth from -0.4 in. (10 mm below the soil) to 0.4 in. (10 mm above the soil), depending on your lawn's scarifying or dethatching needs. Scarifying your lawn at regular intervals cuts grass roots and encourages growth for thicker, healthier turf.
Thatch is a dense mat of roots, stems and grass clippings that accumulates on lawns over time, blocking the flow of water, oxygen and vital nutrients. It is important to periodically remove thatch in order to keep your lawn green and healthy. While ordinary manual rakes are tiresome to use and not very effective, the electric Dethatcher Joe starts instantly with the push of a button and easily gets the job done without polluting the atmosphere with toxic carbon emissions. No gas, oil or tune-ups make the Sun Joe® Dethatcher Joe your green choice for greening your lawn. ETL-approved. 2-year warranty.
HJ15HTE Electric Hedge Trimmer | 15-Inch
FIT TRIM. Are your shrubs out of shape? Do your hedges need a haircut? Garden looking overgrown? Count on SUN JOE to put your yard back in tip-top condition with the HJ15HTE 15-Inch Electric Hedge Trimmer. Shape up your shaggy shrubs and hedges with reliable results you can see — every time! SUN JOE's eco-friendly 3.8-amp electric motor provides the power and precision you need to give your garden the grooming it needs. HJ15HTE's rust-resistant, forged-iron dual-action blades cut efficiently in both directions while providing up to 40% less vibration than single action blades. Lightweight at less than 5 lbs, SUN JOE reduces the strain of those long cutting hours. And with thoughtful safety features like a blade sheath for safe storage, dual-handed grip, and front hand guard to protect against accidental blade contact, SUN JOE will quickly become your go-to tool for all of your garden-grooming and hedging tasks. So, GET EQUIPPED® and give your yard a makeover with the HJ15HTE 15-Inch Electric Hedge Trimmer from SUN JOE®.
SWJ599E Tree Limb Master Electric Handheld Chainsaw | 14-Inch
CUT BACK ON GAS! Take a pass on gas and choose the one chain saw that's a cut above the competition. Introducing a greener, cleaner way to maintain your yard and garden with the Sun Joe® Tree Limb Master SWJ599E 14-INCH 9-AMP ELECTRIC CHAIN SAW. The powerful 9-amp motor makes light work of limbs, and easily slices through branches and thick brush up to 13.5 inches thick. Quickly cut a cord of wood, collect a load of logs, or prune a pine tree with the simple push of a button. A built-in safety switch prevents accidental starting. And at just over 7.7 lbs, the SWJ599E is designed for maximum maneuverability around the yard or garden, without the need for gas. So, why lug a jug when you can go with a JOE?  Sun Joe Model SWJ599E comes with a full two-year warranty.
Features
AJ801E - Sun Joe Electric Lawn Dethatcher w/ Collection Bag | 13-inch
Ideal for revitalizing small to mid-sized lawns
Powerful 12-amp motor rakes a 13" wide path to get your job done faster
Scarifier function to cut grass roots for thicker growth, healthier lawns
AirBoost technology – spring steel tines for maximum thatch pickup
Maintenance free – No gas, oil or tune-ups
Tailor raking depth with 5-position depth control
Detachable thatch collection bag for easy disposal
ETL approved; Full 2-year warranty
HJ15HTE Electric Hedge Trimmer | 15-Inch
Powerful 3.8-amp electric motor provides superior cutting performance with zero carbon emissions for cleaner air
Forged-iron, rust-resistant 15-inch blades work in dual-action, for 40% less vibration than single-action blades
Dual-handed grip and onboard safety switch prevents accidental starting
Lightweight at just 4.6 lbs
Ideal for trimming, shaping and sculpting shrubs, bushes and hedges
Includes blade cover for safe storage
SWJ599E Tree Limb Master Electric Handheld Chainsaw | 14-Inch
14 in. (35.6 cm) Sun Joe bar chain
Ideal for trimming and pruning limbs and branches
Safety switch protects against accidental starts
Automatic oiler with window to gauge oil level
Self lubricating bar and chain for continuous cutting
Protective hand-guard with kickback brake function
Full 2-year warranty; ETL approved