YOU ARE $125.00 AWAY FROM FREE U.S. SHIPPING!
YOU ARE $125.00 AWAY FROM FREE U.S. SHIPPING!





+20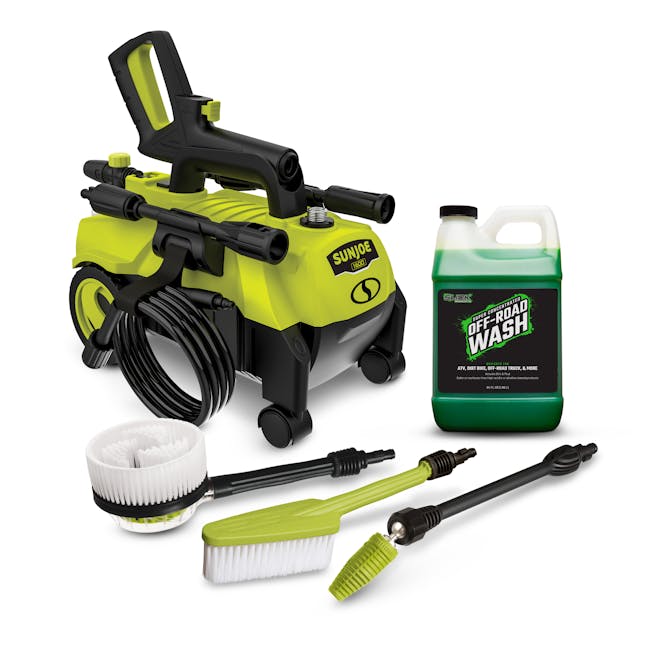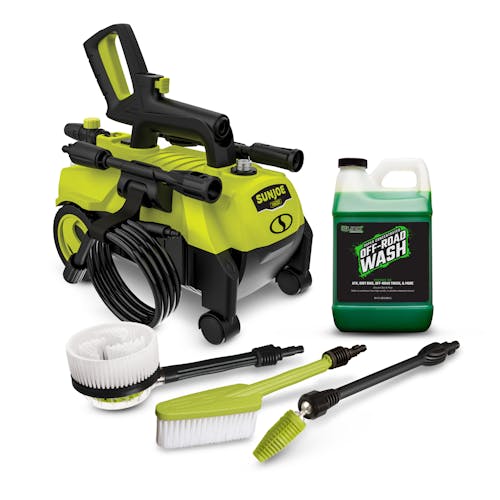 Sun Joe Off Road Pressure Washer Bundle | Portable Pressure Washer + Offroad Wash + Multi-Angle Wand + Rotary Brush + Universal Brush
Sun Joe SPX3160 Portable Electric Pressure Washer
You Name It. You Aim It. Grime Is Gone® Make your cleaning chores more mobile with the perfectly portable GO ANYWHERE Electric Pressure Washer from Sun Joe®. With a compact, lightweight design and sturdy swivel wheels, you'll be able to clean anywhere around your home with less hassle as you roll from one project to the next! Equipped with a peak-performance 11-amp motor, this portable powerhouse blasts up to 1600 PSI max to quickly eliminate greasy residue from concrete, heavy mildew stains, oil stains, caked-on mud, and other stubborn gunk and grime, and 1.45 GPM max to rinse it away. The convenient onboard, 10 fl oz foam cannon is perfect for transporting your favorite soapy solution when waging war on your toughest cleaning tasks, and aerating the foam for a thorough lather. With its 360º rotating wheels, this dirt-decimating dynamo provides maximum maneuverability. Adjust your spray to suit the task! The 0º-45º twist-adjust spray nozzle makes it easy to tackle a host of household chores, without wrestling with separate fittings.
Slick Products SP2005 Off-Road Extra Thick Foaming Cleaning Solution
Maintain the life, look, and value of your off-road vehicles with Slick Products Off-Road Wash cleaning solution, which is designed for exterior use on ATVs, dirt bikes, off-road trucks, and more. This super concentrated solution can quickly penetrate heavy dirt and mud, and must be diluted prior to use. Makes up to 16 gallons.


Sun Joe SPX-MARW1 Multi-Angle Rotary Spray Wand for SPX Series Pressure Washers
Multi-angle swivel tip ideal for maximum coverage in tight spots. Compatible with all SPX Series Pressure Washers.
Sun Joe SPX-RB1 Rotary Wash Brush Kit for SPX Series Pressure Washers
Spins and scrubs away stubborn dirt, debris, gunk and grime! Compatible with all SPX Series Pressure Washers.
Sun Joe SPX-UB1 Feather Bristle Pressure Washer Utility Brush for SPX Series
When your cleaning chores need a little extra elbow grease, reach for the SUN JOE SPX-UB1 Utility Brush attachment. Featuring durable, feathered bristles for a deep-down clean, this handy attachment provides a gentle scrubbing action to give your car, boat, BBQ, windows and more an extra cleaning boost! Perfect for patio furniture, it's gentle on fiberglass and fabric – the durable bristles lift and remove stubborn dirt, dust, pollen, mud and mildew without damaging delicate surfaces.
Download Manuals
Features
Sun Joe SPX3160 Portable Electric Pressure Washer
Ideal for a variety of outdoor cleaning tasks — the patio, porch, deck, fence, garage, car, boat, siding, driveway, windows and more!
360º, easy-glide wheels for maximum maneuverability!
0º-45º twist-adjust nozzle is perfect for tackling a variety of cleaning jobs
TSS (Total Stop System) – automatically switches off the pump when trigger is not engaged to save energy and prolong pump life
Onboard 10 fl oz foam cannon gives your cleaning blast a boost
Includes 34-inch extension wand, 20-foot high pressure hose, garden hose adapter, and 35-foot power cord with GFCI protection
Lightweight and easy to maneuver at only 11.9 lbs
Slick Products SP2005 Off-Road Extra Thick Foaming Cleaning Solution
PREMIUM WASH SOLUTION WITH PROFESSIONAL RESULTS : Slick Products off-road car care products contain high-quality ingredients designed to offer users a faster, safer, and easier cleaning experience wash after wash. Our Super Concentrated Off-Road Wash is exactly what you need to maintain the life, look, and value of your vehicle for years to come.
EASY HOME AND PRO USE : Whether you're a professional in car detailing or you want to wash your truck, dirt bike, or UTV at home, our off-road vehicle wash is perfect for you. The foamy auto detailing wash works to get rid of all the tough dirt and mud on surfaces making it easy to achieve a professional shine.
VALUE FOR YOUR MONEY : Getting a showroom shine doesn't have to take hours of detailing. Make your next dirt bike, truck, or car wash fast, fun, and spotless with our off-road motorsport cleaning solution. Just mix 4-8 ounces of the green soap with 1 Gallon of water. Our off-road concentrated wash works great with any foam cannon, foam gun, sprayer, or bucket for easy washing of your off-road vehicles.
SUPERIOR CLEANING: Maintain the life, look and value of your off road vehicles with our super concentrated cleaning solution. This Slick Products 

off-road wash quickly penetrates heavy dirt, mud and grime

.
SAFER ON SURFACES: This PH-neutral, less corrosive cleaner is safer on surfaces than high-acidic or alkaline-based products
Sun Joe SPX-MARW1 Multi-Angle Rotary Spray Wand for SPX Series Pressure Washers
Ideal for cleaning out-of-reach stains.
Transfer adapter included*
Sun Joe SPX-RB1 Rotary Wash Brush Kit for SPX Series Pressure Washers
Pressure-powered for maximum results with minimum effort.
Perfect for deep-cleaning patio furniture scrubbing cars, windows, siding, RVs - and more!
Transfer adapter included*
Sun Joe SPX-UB1 Feather Bristle Pressure Washer Utility Brush for SPX Series
Durable feathered bristles provide a deep-down clean

Ideal for cleaning patio surfaces, cars, boats, BBQs, windows and more

Perfect for patio furniture, it's gentle on fiberglass and fabric

Innovative design allows for a continuous water stream to flow through the brush while cleaning with your pressure washer

Compatible with your Sun Joe Cordless Pressure Washer + other Sun Joe pressure washers in the SPX series

Easily attaches to your pressure washer's spray wand with the

included transfer adapter