YOU ARE $125.00 AWAY FROM FREE U.S. SHIPPING!
YOU ARE $125.00 AWAY FROM FREE U.S. SHIPPING!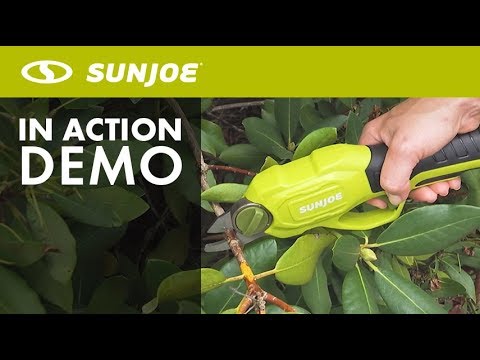 +5
Sun Joe PJ3600C-RM Cordless Rechargeable Power Pruner | 3.6 V | 2000 mAh | 0.6 Sec Rapid Cutting (Certified Refurbished)
Limit 10 Per Order.
PRUNE LIKE A PRO! Sun Joe® takes the ache out of one of gardening's most repetitive tasks. Prune your way to a greener yard and garden with Sun Joe PJ3600C-RM 3.6-Volt Cordless Pruner. Proper pruning encourages plants to thrive, and is key to maintaining, healthy flowering plants and fruit trees. Ideal for green wood, woody stems, twigs and branches up to 1/2-inch, Sun Joe's cordless pruner provides a clean, precise cut to allow your plant to heal, while eliminating the stress and strain associated with squeezing conventional manual pruners. Cutting is as simple as squeezing the trigger. An ergonomic handle provides a secure, comfortable grip, a built-in safety switch prevents accidental cuts, and dual onboard LEDs put a little light on the trimming task for enhanced visibility indoors. Give your green thumb a helping hand, and Go With Joe® - for perfectly pruned plants!
Download Manuals
Features
3.6-volt, 2000 mAh cordless rechargeable power pruner
Easily trim green wood, branches, twigs, and stems to help plants thrive
Trims branches up to 0.5 inches thick in less than 0.6 seconds 
Ideal for maintaining healthy, flowering plants and fruit trees
Safety features include dual onboard LED lights and a safety switch to prevent accidental cuts
Rapid charge in approximately 65 minutes