YOU ARE $125.00 AWAY FROM FREE U.S. SHIPPING!
YOU ARE $125.00 AWAY FROM FREE U.S. SHIPPING!




+8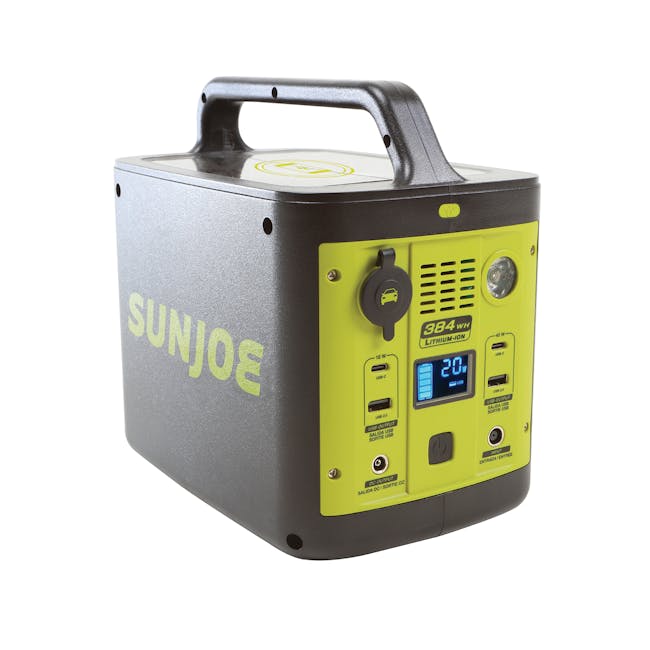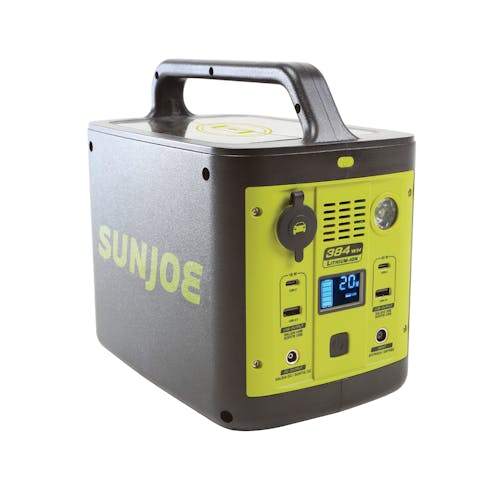 Sun Joe PPG400 384WH 6-Amp Portable Power Generator Station | w/ 1/110v 2.5-Amp Pure Sine AC Outlet, Wireless Charging, 1/5-V USB Type A, 2/5-V USB Type C, 1/10-Amp 12-V DC, LED Light, LCD Display
Ships Free
Ships Free
PAY AS LOW AS:
$3606
/Month
with
with
2 YEAR WARRANTY
ADD A PROTECTION PLAN:
GET CHARGED UP! Give your family peace-of-mind during power outages and while away from home with the 384 Wh Portable Power Station by SUN JOE®. Designed as a portable generator, this power-packed, multi-port dynamo works to quickly recharge your devices, so you'll never be without power again on the road or in a blackout. Just connect your devices to appropriate charging receptacles and get powered up!
Equipped with two onboard AC outlets, two USB-A ports + two USB-C ports, one 12V D.C. receptacle, a car port charger, an LED light for added safety, and even includes a convenient wireless smartphone charging dock. Charge a laptop, recharge a tablet, an e-reader or power a lamp – this all-in-one power solution has everything you'll need to keep your busy life running even when the power is out.
SUN JOE's eco-friendly Power Station charges up in just 12 hours to safely and reliably power a mini-fridge (up to 30 hours), mobile phones, lights, laptops + small appliances. Enjoy a lightweight, portable + compact power supply with multiple charging ports and over-voltage + short-circuit protection safety features – ideal for use camping, on boat, at the worksite, with the RV, or tailgating. Take the power where you want it with the one generator featuring countless cordless possibilities! GET EQUIPPED®.
Download Manuals
Features
384 Wh Portable Power Station
Includes AC adapter charger
Equipped with two 120V A.C. outlets, two USB-A ports + two USB-C ports, 12V car port, one 12V D.C. receptacle + wireless charging dock
Onboard 3W LED light
Battery capacity: 384 Wh, 30000 mAh
1.5" LCD Display
Lightweight: 10.6 LBS 
A.C output: 300W (500W Peak)
Power Station charge time max: 12 hours