YOU ARE $125.00 AWAY FROM FREE U.S. SHIPPING!
YOU ARE $125.00 AWAY FROM FREE U.S. SHIPPING!





+14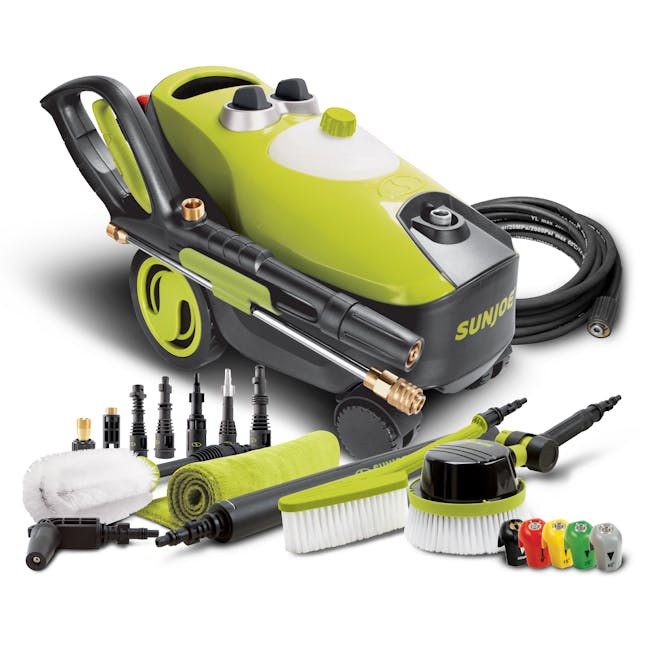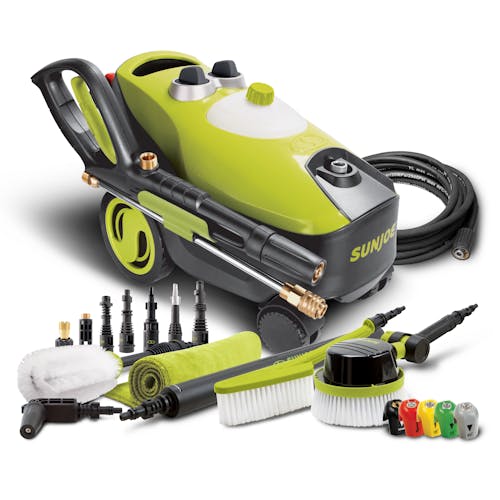 2 YEAR WARRANTY
ADD A PROTECTION PLAN:
Ships Free
SPX3220 - Sun Joe Follow Along 4-Wheeled Electric Pressure Washer
MADE TO MOVE. You Name it, You Aim it, Grime is Gone!® Make your cleaning chores more mobile with the perfectly portable GO ANYWHERE Pressure Washer from Sun Joe. With a compact, lightweight design and sturdy swivel wheels, you'll be able to clean anywhere around your home with less hassle as you roll from one project to the next! Equipped with a peak-performance 13-amp motor, this portable powerhouse blasts up to 1.6 GPM (with nozzle open at minimum pressure) to quickly eliminate greasy residue from concrete, heavy mildew stains, oil stains, caked-on mud, and other stubborn gunk and grime. The convenient onboard, 27 fl oz detergent tank is perfect for transporting your favorite soapy solution when waging war on your toughest cleaning tasks. With its 360º rotating wheels, this dirt-decimating dynamo provides maximum maneuverability, and the included extension wand makes accessing tight spaces — like beneath decks, behind gutters, or between the hedges and house — a breeze!
SPX3220 comes equipped with Pressure Select Technology, letting you choose from two powerful cleaning options — Low/1050 PSI for everyday dirt and grime, or High/1800 PSI (at initial discharge per CSA internal pressure testing) to tackle your toughest cleaning tasks. And the onboard five Quick-Connect tips allow you to tailor your spray to suit any cleaning task. Quickly swap interchangeable nozzles to go from a high-pressure 0° pencil point jet to a 40° fan spray, or simply use the soap nozzle to give your cleaning spray a sudsy boost. Fight back against dirt with the SPX3220 — and Go With Joe®.
SPX-ACS-MAX - Sun Joe Auto Cleaning System
Tackle your toughest grime with the Universal Pressure Washer Auto Cleaning System from SUN JOE®. This complete auto cleaning system is packed with tools to give you a showroom shine: a Utility Bristle Brush which features feathered bristles for provide gentle scrubbing action, a Rotary Wash Brush to spin away gunk + grime, a Wheel + Rim brush with fine bristles to scrub stubborn rim residue, an Extension rod + the 90° angled nozzle for cleaning under cars and other hard-to-reach areas, and a microfiber cloth to help you clean and polish thoroughly without damaging surfaces. Simply connect any of the 4 tools to your pressure washer with the included universal adapter, and get cleaning! Get a Sun Joe® shine with the Universal Pressure Washer Auto Cleaning System. GET EQUIPPED®
Download Manuals
Features
SPX3220 - Sun Joe Follow Along 4-Wheeled Electric Pressure Washer
Powerful 13-amp motor
2300 PSI max at initial discharge per CSA internal pressure testing
Rated pressure LOW 1050 PSI | HIGH 1800 PSI under typical load
1.6 GPM max with nozzle open at minimum pressure
Rated flow LOW 0.82 PSI | HIGH 1.1 PSI under typical load
TSS (Total Stop System) — automatically shuts off the pump and power when the trigger is not engaged to save energy and prolong pump life
5 Quick-Connect spray tips (0º, 15º, 25º, 40º, soap) tackle light, medium and heavy-duty cleaning tasks
Onboard detergent tank holds up to 27 FL OZ of your favorite soapy mixture to give your cleaning blast a boost
Front wheels swivel 360º for maximum maneuverability to follow wherever you go
Weight: 26.4 lbs
SPX-ACS-MAX - Sun Joe Auto Cleaning System
UTILITY BRISTLE BRUSH: Durable, feathered bristles provide gentle scrubbing action
ROTARY WASH BRUSH: 5.7" diameter brush with 0° to 180° adjustable head spins away gunk + grime
WHEEL + RIM BRUSH: Connect to your pressure washer to remove tough road grime on tires
TURBO NOZZLE + 20" ROD: Extension rod + 90° angled nozzle are perfect for cleaning under cars and other hard-to-reach areas
MICROFIBER CLOTH: 16" x 16" washable, reusable cloth