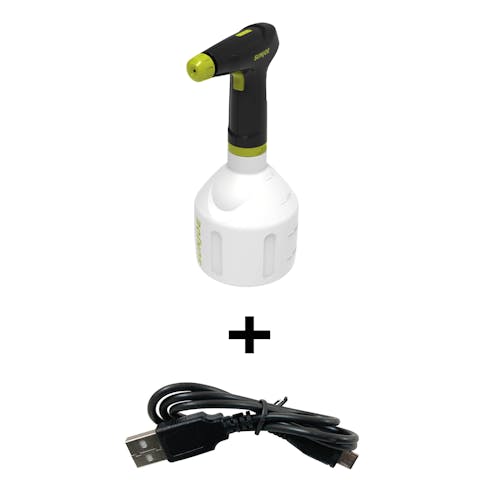 Sun Joe SJ-APS-022 Handheld Multi-Purpose Sprayer | W/ Universal USB Charging Cable | 3.7-Volt | 1 Liter
POINT, SPRAY + GRIME GOES AWAY! Clean multiple surfaces with water or liquid detergent, or spray plants and herbs with water, liquid fertilizers, and pesticides with the 1-Liter Cordless Handheld Sprayer from Sun Joe®.
Just charge with the included USB charging cable and squeeze the trigger. Nozzle adjusts with a twist for fan spray or concentrated stream, and the device powers off automatically after 5 minutes to save power. 
Download Manuals
Features
EASY TO USE: Squeeze the trigger for a spray wherever you need it!
VERSATILE: Twist the nozzle for a wide fan spray or narrow stream to suit the task
CONSERVES WATER: Powers off automatically after 5 minutes to avoid wasted water
CHARGING CABLE: USB-A to micro USB; 23.5 in length
FEATURES: Bottle capacity 33.8 fl oz (1 L); flow rate 4 fl oz/min; pressure max 34.8 PSI; LEDs indicate battery-charging status
WEIGHT: 0.7 lbs; 2-YEAR WARRANTY