YOU ARE $125.00 AWAY FROM FREE U.S. SHIPPING!
YOU ARE $125.00 AWAY FROM FREE U.S. SHIPPING!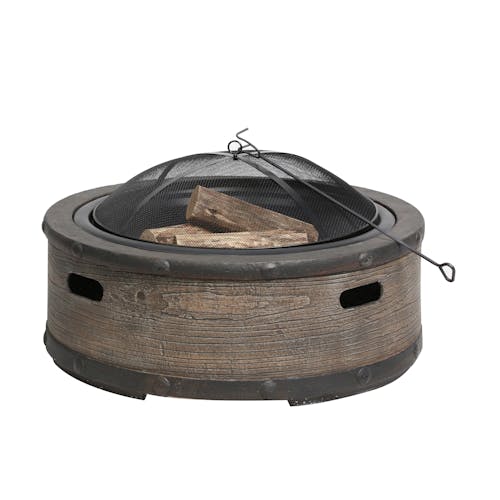 Sun Joe SJFP35-STN-BRL 35-in. Cast Stone Base, Wood Burning Fire Pit w/Dome Screen and Poker, Rustic Barrel
Exclusively Sold by Our Partners:
CHILL out! Linger a little longer around the fire while family & friends alike. Bask in the warmth & glow of the Sun Joe Fire Joe 35" cast stone fire pit (Model SJFP35-STN- BRL). Keep the chill in check in style & comfort, season after season. Fire Joe is an ideal outdoor centerpiece, wherever warmth is needed - from the patio, to poolside, to the deck or dock. Featuring a large 29.5" fire bowl that is heat-resistant to 1, 112°, the Sun Joe Fire Joe can accommodate hardwood logs up to 21.5" long. The 24" screen hook does double duty as both a log tender & for removing the mesh screen, all while maintaining a safe distance from the flames. Boasting a durable & visually appealing cast stone base, Fire Joe adds a sophisticated touch to any outdoor decor. A wood grid facilitates circulation & improved airflow to feed the flames, while the screen guards against escaping sparks. You'll run out of spooky stories & s'mores long before you run out of reasons to fire up this cozy family favorite! The SJFP35-STN- BRL comes with a full two-year warranty. No wood burning fire pits should be used on a wood deck.
Features
Ideal outdoor centerpiece for warmth and enjoyment
Durable cast stone base adds a sophisticated touch to any outdoor décor
Large 29.5 in. (75 cm) fire bowl accommodates hardwood logs up to 21.5 in. (54.6 cm) long
Mosquito-safe tip: add sage, lemon balm, or citronella leaves to your fire pit to help repel mosquitoes
No wood burning fire pits should be used on a wood deck