YOU ARE $125.00 AWAY FROM FREE U.S. SHIPPING!
YOU ARE $125.00 AWAY FROM FREE U.S. SHIPPING!





+3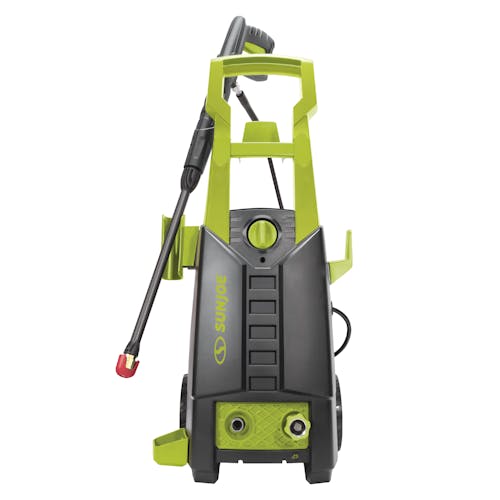 2 YEAR WARRANTY
ADD A PROTECTION PLAN:
Ships Free
GRIME FIGHTER. Tackle your toughest home, outdoor and auto-cleaning tasks with next-generation grime fighting technology: SPX2700-MAX 13-Amp Electric Pressure Washer from SUN JOE®. Pack a powerful punch with up to 2100 pounds per square inch (at initial discharge per CSA internal pressure testing) of punishing pressure in each blast! Combining the power of gas with the performance of an electric, SPX MAX is made for those who expect the most out of their machines. SUN JOE's eco-friendly 13-amp electric motor blasts through even the most stubborn gunk and grime, while the 1.65 GPM (with nozzle open at minimum pressure) max flow rate rinses it all away. SPX2700-MAX comes with a 1 liter foam cannon, perfect for cleaning stubborn stains. When fighting grime and gunk use the included utility bristle brush or the wheel + rim brush to get in those hard to reach spots that need some scrubbing action. And with 3 onboard Quick Connect nozzles, you can quickly customize the spray to suit the chore. Choose from 0º, 15º, and 40º; swap nozzles in seconds and switch from punishing pinpoint jet to powerful fan spray. From start to finish, you can count on SPX2700-MAX for the continuous, reliable power + performance that you've come to expect from America's #1 brand of eco-friendly brand of pressure washers.  So, when there's dirty work to be done, take it to the MAX with SUN JOE!
Download Manuals
Features
Powerful 13-amp motor generates a maximum of 2100 PSI (at initial discharge per CSA internal pressure testing) and 1.65 GPM (with nozzle open at minimum pressure)
Onboard 1 liter foam cannon is the perfect accessory for cleaning stubborn stains
Includes utility bristle brush, and wheel + rim brush
TSS (Total Stop System) — automatically shuts off the pump and power when the trigger is not engaged to save energy and prolong pump life
3 Quick-Connect nozzles (0º, 15º, and 40º) tackle different cleaning projects
Weight: 23.6 lbs