YOU ARE $125.00 AWAY FROM FREE U.S. SHIPPING!
YOU ARE $125.00 AWAY FROM FREE U.S. SHIPPING!





+15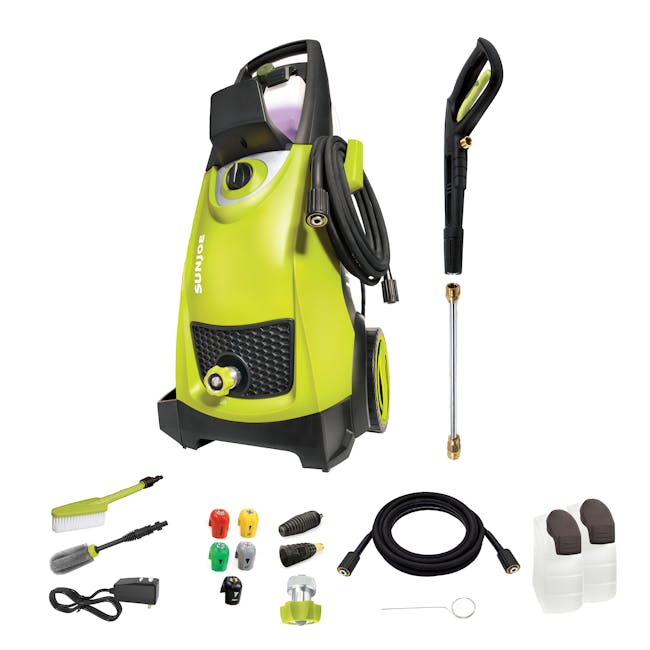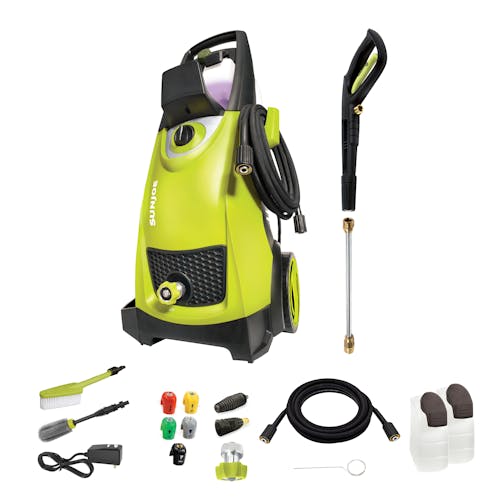 New
Sun Joe SPX3000-PK1 Pro Detailer Edition Electric Pressure Washer | w/ Wheel Rim Brush, Fixed Brush, Turbo Nozzle, and 5-pack Replacement Tip Nozzles | 14.5-Amp | 2030 PSI MAX* | 1.76 GPM MAX*
*Max PSI at initial discharge per CSA internal pressure testing
*Max GPM with nozzle open at minimum pressure
THE PROS GO WITH JOE. From the #1 brand of pressure washers, SPX3000-PK1 PRO DETAILER EDITION Electric Pressure Washer is packed with features designed to meet the demanding requirements of both the consummate car cleaning professionaanyl and DIY detailer alike. Designed with auto enthusiasts in mind, SUN JOE packs a powerful punch with an 1800-Watt/14.5-amp motor generating up to 2030 PSI of water pressure (at initial discharge per CSA internal pressure testing) and 1.76 GPM (with nozzle open at minimum pressure) of water flow to get cars really clean – really fast! You Name It. You Aim It. Grime is gone®. Easily remove tar and caked on mud from rims, bug splats from glass, dirt and debris from quarterpanels, lights and fenders. SUN JOE is also great for cleaning up around the workshop and garage, erasing oil stains and grease and grime with just a squeeze of the trigger. Equipped with a dual detergent system, SUN JOE carries and stores two different types of car-cleaning solutions simultaneously in its two 0.9 L onboard, removable detergent tanks. Simply switch between snow foam and wheel cleaning solutions with a twist of the detergent dial. The Pro Detailer Edition features a durable 34-inch spray wand to access hard-to-reach areas, like the undersides of an automobile and inside wheel wells, or up high on the roof rack. And SUN JOE's rear wheels provide maximum mobility to work your way around the car. Quickly tailor the pressure output of the spray to suit your task with Sun Joe's five Quick-Connect spray nozzles (0º, 15º, 25º, 40º and soap). Swap nozzles to quickly go from a high-pressure 0° pinpoint jet to a powerful 40° fan spray, or apply detergent with a wave of the soap nozzle for additional cleaning power. Other pro-grade features include a handy utility bristle brush to gently remove stubborn stains, a wheel and rim brush, and turbo head spray nozzle designed to destroy dirt on contact.  Plus, SUN JOE's TSS (Total Stop System), automatically shuts off both pump + power when the trigger's not engaged, to save energy and prolong pump life. Best of the SPX3000-PK1 Pro Detailer Edition comes with a full two-year warranty for performance you can count on, season after season.
Features
PRO DETAILER EDITION
UTILITY BRISTLE BRUSH: Durable, feathered bristles provides gentle scrubbing action ideals for wheels + rims
Wheel + Rim Brush to loosen and remove mud and grime
Turbo Nozzle: Cleans up to 40% faster than a standard nozzle to destroy dirt
5 Quick-Connect spray tips (0º, 15º, 25º, 40º and soap) tackle light, medium and heavy-duty cleaning tasks
Powerful 14.5-amp/1800-Watt motor generates a maximum of 2030 PSI (at initial discharge per CSA internal pressure testing) and 1.76 GPM (with nozzle open at minimum pressure)
TSS (Total Stop System) – automatically shuts off the pump when trigger is not engaged to save energy and prolong pump life
Dual detergent tanks - two 0.9 L onboard, removable tanks carry and store different types of detergent to simultaneously tackle different cleaning projects
Includes a 34-inch extension wand, 20-foot high-pressure hose, 35-foot power cord with GFCI protection, garden hose adapter, needle clean-out tool
CSA approved; Full 2-year warranty