YOU ARE $125.00 AWAY FROM FREE U.S. SHIPPING!
YOU ARE $125.00 AWAY FROM FREE U.S. SHIPPING!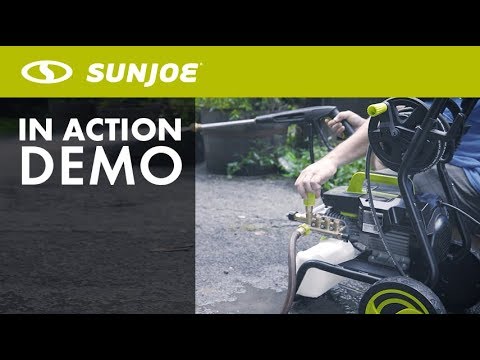 +4
Sun Joe SPX9009-PRO-RM Commercial Series Cold Water Electric Direct Drive Crank Shaft Pressure Washer | 2.41 HP Brushless Induction Motor | 120 Volt | Wall Mount | Roll Cage | Hose Reel | 1800 PSI Max* | 1.6 GPM Max* (Certified Refurbished)
*Max PSI at initial discharge per CSA internal pressure testing
*Max GPM with nozzle open at minimum pressure
PEAK PROFESSIONAL POWER + PERFORMANCE. Featuring rugged, pro-quality equipment designed for everyday use at the worksite, restaurant, retail store, repair shop and more, Sun Joe's PRO Series Commercial-Grade Pressure Washer SPX9009-PRO-RM powers through your toughest cleaning tasks and home-improvement projects.
With machines made for those who expect the most out of their tools, our PRO Series pressure washers come with the most-requested top-of-the-line, pro-performance upgrades and features for your most demanding jobs — like sturdy all-terrain wheels, brushless induction motor, on-board hose reel, steel-frame roll-cage construction, and durable 25-foot steel-reinforced high-pressure hose.
Equipped with the high-performance 13.5-amp brushless induction motor, SPX9009-PRO-RM blasts up to 1800 PSI (at initial discharge per CSA internal pressure testing) and 1.6 GPM (with nozzle open at minimum pressure) to take on tough grease and oil stains, mildew, caked on mud, tar, rust and other stubborn dirt and deposits. Dial-in the perfect pressure with the adjustable pressure valve, designed to give you complete control over your cleaning projects! Select a lower setting for a quick clean; or crank it up to demolish stubborn oil stains, dissolve grease deposits or eliminate grime from grout.
And with the 5 onboard Quick-Connect spray tips, you can select your spray the easy way. Select from 0º, 15º, 25º, 40º, and soap to tackle light, medium and heavy-duty dirt and debris. Swap nozzles to quickly go from precise 0° pencil point jet to 40° fan spray or apply detergent directly from the onboard 1-gal tank to the cleaning surface with the soap nozzle for additional cleaning power. 
Download Manuals
Features
Motor: brushless induction, 13.5 amp/1800 W
Powerful motor generates a maximum of 1800 PSI (at initial discharge per CSA internal pressure testing) and 6 GPM (with nozzle open at minimum pressure)
Rated pressure: 1400 psi
Spray wand length: 34 in. (86.4 cm)
Detergent tank capacity: 1 gal (3.8 l)
High pressure hose length: 25 ft (7.6 m) steel reinforced
GFCI power cord length: 35 ft (10.7 m)
5 Quick-Connect spray tips: 0°, 15°, 25°, 40° and soap
Garden hose adapter needle clean-out tool
Weight: 62.4 lbs (28.3 kg)
Certified Refurbished 90 Day Warranty