YOU ARE $125.00 AWAY FROM FREE U.S. SHIPPING!
YOU ARE $125.00 AWAY FROM FREE U.S. SHIPPING!




+8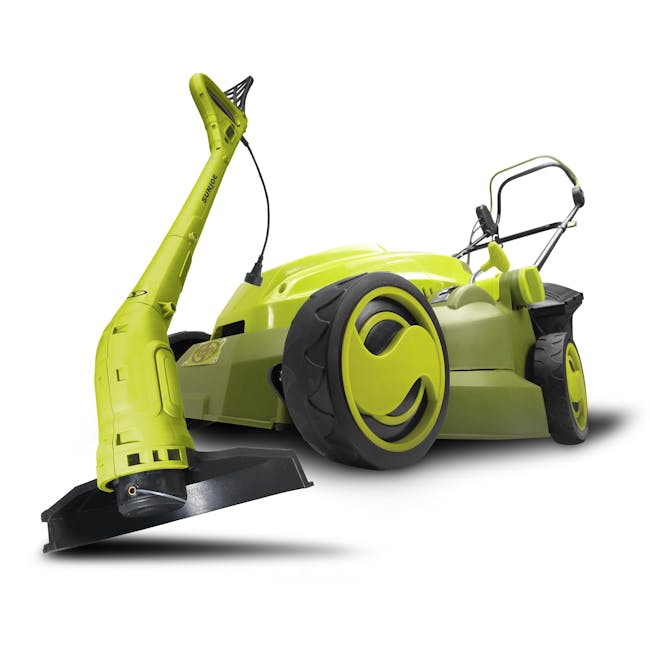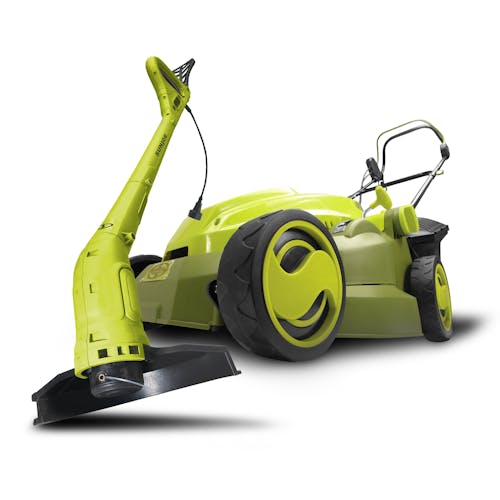 Sun Joe Ultimate Electric Lawn Trimming Bundle | Lawn Mower + Grass Trimmer
MJ402E - Sun Joe Electric Lawn Mower
KICK SOME GRASS. Take back your yard with new gear this year and choose the greener grooming solution that's better for you, better for your lawn, and better for the environment. Say goodbye to gas, oil, noxious fumes, pull-cords, and costly tune-ups! For smaller yards, the cutting-edge, 12-amp electric MJ402E is your greener, cleaner alternative to get the job done with zero carbon emissions for cleaner air. Startup is instant, reliable, and effortless with virtually zero maintenance, season after season. Simply plug in your mower and go! Delivering the power of a gas machine with the convenience of an electric unit, it's durable steel blade cuts a 15-inch wide path with precision on each pass and features a convenient 6-position manual height adjustment for maximum control. MJ402E comes equipped with a detachable 9.3 gallon rear bag for quick and easy disposal. The unit is ETL-approved and carries a full two-year warranty.
TRJ608E - Sun Joe Electric String Trimmer
THE LIGHT CHOICE IS THE RIGHT CHOICE! Shape up the yard and trim in tough-to-reach places the mower just can't get, with the 10" Electric Grass Trimmer from SUN JOE. Perfect for quick touch-ups around walkways, driveways, gardens, porches and patios, this ultra-lightweight trimmer cuts a crisp path 10-inches wide with each pass. Sun Joe's eco-friendly 2.8-amp motor means no more fussing with gas, maintenance, or noxious fumes. And the semi-auto feed spool makes it easy to advance the trimming line — simply stop and start the machine and the line is advanced automatically! Plus, the available 6-pack of replacement spools (sold separately) are the perfect addition to your Sun Joe trimmer. Weighing less than 4 lbs, Sun Joe's ergonomic armrest maximizes user comfort and control for simple one-handed operation. Just plug in, power up, and go! So, when you want your lawn to look its best, Go With Joe®. TRJ608E Electric String Trimmer from Sun Joe. GET EQUIPPED®.
Features
MJ402E - Sun Joe Electric Lawn Mower
Maintenance free - No gas, oil or tune-ups
Best use: small to mid-sized lawns
Grass bag capacity: 9.3 gal
Detachable grass catcher for easy disposal
Powerful 12-amp motor cuts a 15-inch wide path
Tailor cutting height with 6-position manual height adjustment
Cutting Heights include: 3.3, 2.9, 2.5, 2, 1.6, and 1.2 Inches
Full 2-year warranty
TRJ608E - Sun Joe Electric String Trimmer
Ideal for trimming around small yards, town house lots, flower beds, walkways, patios and stones

Lightweight and compact – only 3.7 lbs

Powerful 2.8-amp motor cuts a 10-inch swath in one pass

Instant start – powers up with the push of a button

Ergonomic armrest handle maximizes comfort and minimizes wrist fatigue

Semi-auto feed spool advances cutting string automatically at start-up

SGS Approved; Full 2-Year Warranty