YOU ARE $125.00 AWAY FROM FREE U.S. SHIPPING!
YOU ARE $125.00 AWAY FROM FREE U.S. SHIPPING!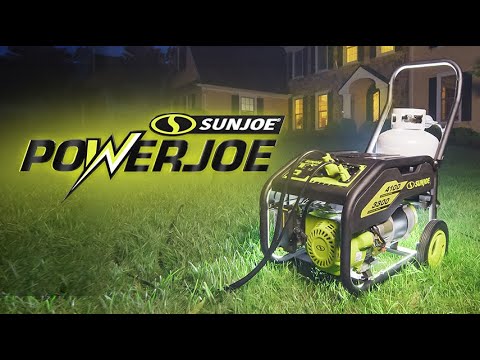 +12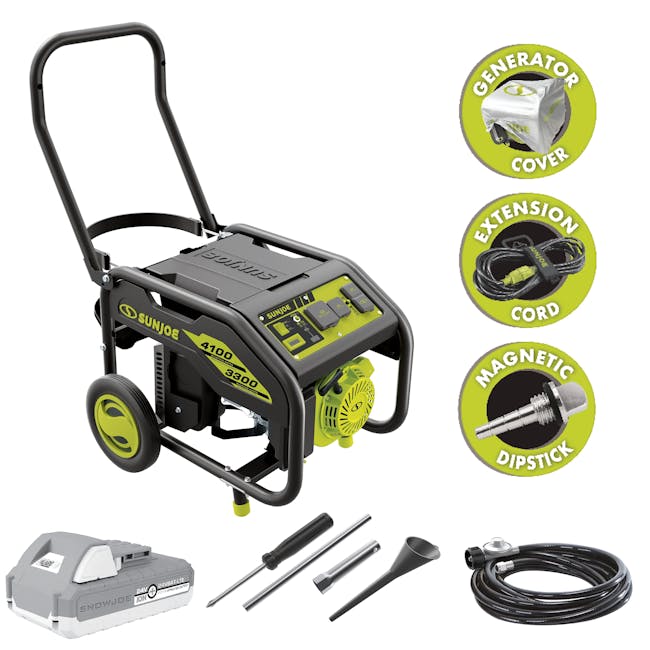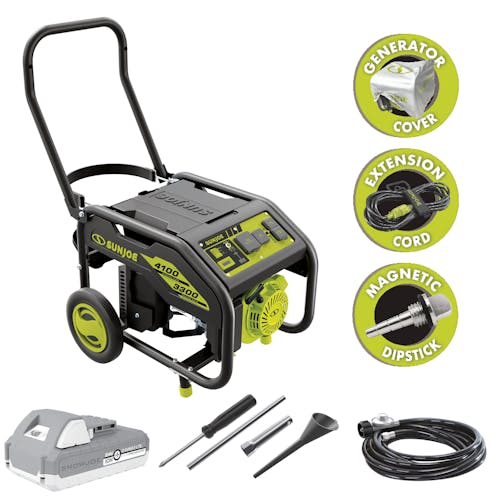 Power Joe SJG4100LP-TV1 Portable Propane Generator | Push-Button Electric + Recoil Start | Power Cooling System | 4100 Starting Watt | 3300 Running Watt | W/ Cover, Extension Cord, Magnetic DipStick, 24V 2.0-Ah Battery and Charger
Limit 2 Per Order.
Was $999.00
Save $100.00 (10%)
Ships Free
Was $999.00
Save $100.00 (10%)
Ships Free
PAY AS LOW AS:
$8126
/Month
with
with
3 YEAR WARRANTY
ADD A PROTECTION PLAN:
WHEN THE POWER'S GONE, POWER JOE® ON. When you suddenly lose power, life stops. Keep the power on with your home's hero: the Portable Propane Generator from Power Joe, by Sun Joe®. No more struggling with bulky, smelly gas generators. If you can start your BBQ, you can turn on Power Joe — just press one button! In a blackout, Power Joe gives you instant, reliable access to exclusive PRO POWER3X technology: PowerSTART, PowerCOOL, and PowerFUEL.
PowerSTART features a 24V IONMAX lithium-ion battery to instantly turn on the motor the first time, every time, with up to 4,100 watts of power. And the included battery powers over 100 tools in the 24V IONMAX cordless tool system!
PowerCOOL ensures superior air flow with an enhanced fan design to keep the motor running cooler, stronger, and longer than traditional generators.
And PowerFUEL harnesses the pure power of greener, cleaner propane to eliminate carbon build-up in the motor, and it's virtually maintenance FREE!
Get Equipped to power all your devices with multiple outlet options: two standard 120-volt outlets, USB-A and -C ports for all of your electronics, a twist-lock receptacle and an RV outlet for campers and campsites! Turn on lamps, plug in the fridge, run the microwave, turn on heaters or the AC, and keep your phones, tablets, and TVs on. 
When the power's gone, Power Joe ON!
Simply load a 20 LB propane tank into the onboard tank storage, connect the included 5 ft. propane hose, and get up to 9 hours of runtime with Power Joe! The 8 horse power, 4 stroke OHV engine is powered by propane, for less carbon build-up in the motor. Plus the handy features like the onboard LCD display + control panel, low-oil sensor with automatic shut-off, and dual circuit breakers make Power Joe a true powerhouse. So, keep your life running even when the electricity has stopped — and Go With Joe®. Power quick, power easy, Power Joe. The Power Joe Portable Propane Generator, by Sun Joe. GET EQUIPPED®. 
To learn more about Power Joe and the exclusive TV offer, a call line is available during business hours 800-280-4800.
Download Manuals
Features
Features exclusive PRO POWER3X technology: PowerSTART, PowerCOOL, PowerFUEL
TOTAL VALUE: $1,350; includes Portable Propane Generator, Generator Cover, Extension Cord, Magnetic Dipstick, 2.0-Ah Battery, Charger, 3 Year Warranty, 30 Day Money-Back Guarantee, and Free Shipping
Backed by our 3 Year Extended Warranty
Starts with an included 24-Volt 2.0 Ah lithium-ion battery — starts the unit up to 400 times on a single charge!
4100 Starting Watts/3300 Running Watts of power to run multiple appliances for up to 9 hours of continuous runtime on a 20 LB tank!
Integrated control panel with multiple outlet options for your electronic devices, appliances, RVs + campers, and more.
Included propane hose siphons the fuel from the tank (propane tank not included) for continuous, cleaner energy.
Collapsible transport handle and onboard tank storage to easily wheel around the home, RV, campground or worksite.