YOU ARE $125.00 AWAY FROM FREE U.S. SHIPPING!
YOU ARE $125.00 AWAY FROM FREE U.S. SHIPPING!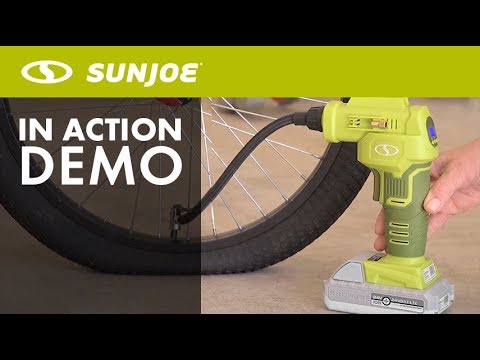 +11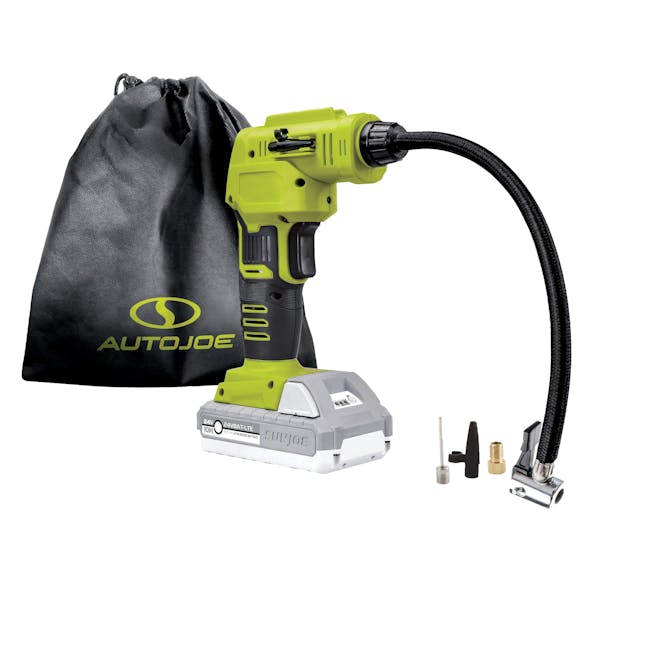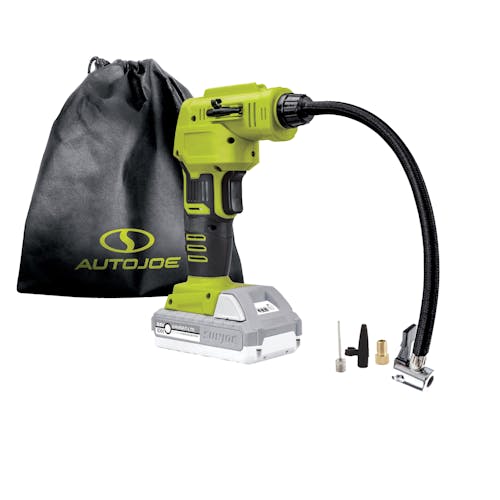 Auto Joe 24V-AJC1-LTE-P1 24-Volt iON+ Cordless Portable Air Compressor Kit | W/ 2.0-Ah Battery, Charger, Storage Bag, and Nozzle Adapters
Limit 2 Per Order.
Was $99.99
Save $40.00 (40%)
Was $99.99
Save $40.00 (40%)
PAY AS LOW AS:
$542
/Month
with
with
2 YEAR WARRANTY
ADD A PROTECTION PLAN:
Battery Options: Promotional Kit
WHEN THE AIR IS LOW, GO WITH JOE® with the Auto Joe® iON+ Cordless Digital Air Compressor. It's a rechargeable pump that fits in the palm of your hand and weighs just 3 pounds, yet is ultra-powerful to quickly and easily fill up with air anytime, anywhere! So, skip the trip to the gas station. Forget about wrestling through your pocket for change. Stop wasting your time and energy with a manual pump. And why worry about overinflating your tires? Because now, there's a much better way. A cordless, convenient way. A fast, easy, super-powerful way. When the air is low, pump it up, and go with Auto Joe!
The Auto Joe iON+ cordless air compressor is compact and convenient. And don't let size fool you—it packs a powerful punch. The secret is ProPower3x technology:
·      PowerSelect with a built-in digital gauge to set the right pressure
·      PowerStart with just the push of a button
·      PowerInflate with a 154-Watt motor generating 120 pounds per square inch of compressed air
Underinflated tires waste precious gas. Now, with Auto Joe, you can skip the trip to the gas station when the air is low. Just check inside the door of your vehicle for the correct pressure. Then, simply set the PSI on the digital display and pull the trigger. Auto Joe will keep pumping and automatically stop once it's reached the exact PSI. No more overinflating, no more driving around to find a gas station with a working pump, and no more wrestling for change when you do. Just instant air, whenever and wherever you need it!
Plus, Auto Joe comes with a carrying case and stows easily inside your car, to quickly fix emergency flats on the road. It's also great for inflating all kinds of equipment in seconds, as it comes with a sports ball needle for footballs and toys, a tapered adapter for pool floats, balloons and inflatables, an air chuck to easily keep tires at the perfect pressure, and a presta valve adapter, so you won't need to buy a separate pump for your bike tires. And all the adapters store right on board, so you'll always have them when you need them. There's also a built-in light, so you can always see where you're working. So, when the air is low, you're now in the know—pump it up and Go with Joe! Get Equipped®.
The iON+ System
With iON+, you've got Power To Go! With NO FADE POWER from start to finish, you can run stronger and longer. The individual battery cells are continuously optimized for peak performance, with No Memory Effect during recharge, a rugged, shock-resistant design for longer life, and zero emissions for cleaner air. Plus, it's virtually maintenance-free! iON+ batteries are interchangeable, powering over 100 tools across the JOE brands. iON+ will become your go-to battery system for your home, yard, garage, and outdoor space. It's time to Supercharge Your Chores with iON+ and GO WITH JOE today! Get Equipped.
Download Manuals
Features
TOTAL VALUE: $150, includes Cordless Portable Air Compressor, Storage Bag, Nozzle Adapters, 2.0-Ah iON+ Battery, Charger, 2 Year Warranty, 30 Day Money-Back Guarantee

iON+ 24-VOLT SYSTEM includes 2.0 Ah lithium-ion battery and charger

LIGHTWEIGHT + COMPACT at just 3 lbs

PROPOWER3X TECHNOLOGY:

PowerSelect with a built-in digital gauge to set the right pressure

PowerStart with just the push of a button

PowerInflate with a 154-Watt motor generating 120 pounds per square inch of compressed air

SUPER CONVENIENT: Includes carrying case and stows easily inside car

MORE DESIRABLE FEATURES: Includes tapered adapter, sports ball needle, air chuck, presta valve adapter and built-in light