YOU ARE $125.00 AWAY FROM FREE U.S. SHIPPING!
YOU ARE $125.00 AWAY FROM FREE U.S. SHIPPING!





+20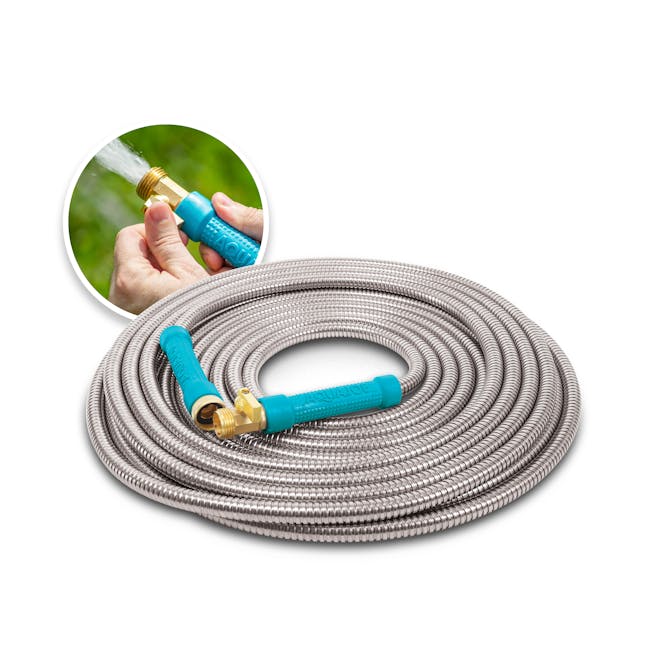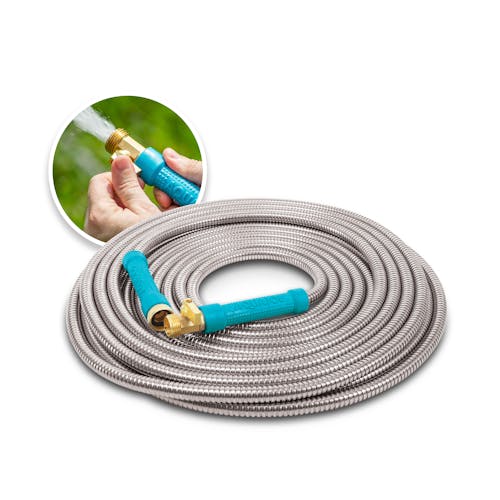 Aqua Joe AJSGH50-MAX Heavy-Duty Puncture Proof Kink-Free Garden Hose | 50-Foot | 1/2-Inch | w/ Brass Fitting & On/Off Valve | Spiral Constructed 304-Stainless Steel Metal
2 YEAR WARRANTY
ADD A PROTECTION PLAN:
TOUGH AS NAILS! Perfect for watering the flowers, washing the truck, rinsing patio furniture, or connecting to sprinkler or pressure washer, AQUA JOE's lightweight stainless steel hose is quite simply the last hose you'll ever need! Made from high-quality, industrial-grade 304 stainless steel for a lifetime of reliable use in your yard and garden, this heavy-duty hose with water flow control valve is designed for ultimate durability. Won't cut, crush or crack - won't split, kink, or get hot in the sun; it's the one hose that works as hard as you do. Available in a variety of popular lengths, the rugged, virtually indestructible, and puncture-proof stainless steel outer sheath surrounds a flexible PVC inner core, for maximum performance and durability, and features bend restrictor collars and durable brass fittings at each end for unrestricted water flow and secure, leak-proof connections. So, GET EQUIPPED® with the hose that's built to last — the Stainless Steel Garden Hose from Aqua Joe®. 
Download Manuals
Features
Made from lightweight, industrial grade 304 stainless steel 
Maintains flexibility down to 

0°F

Won't cut, crush or crack - won't split, kink or get hot in the sun
Rugged stainless steel outer layer over durable PVC inner core
Durable, leak-proof brass fittings
Bend restrictor sleeve for uninterrupted flow
Great for yard garden: water the lawn and plants, wash the car and deck