YOU ARE $125.00 AWAY FROM FREE U.S. SHIPPING!
YOU ARE $125.00 AWAY FROM FREE U.S. SHIPPING!





+7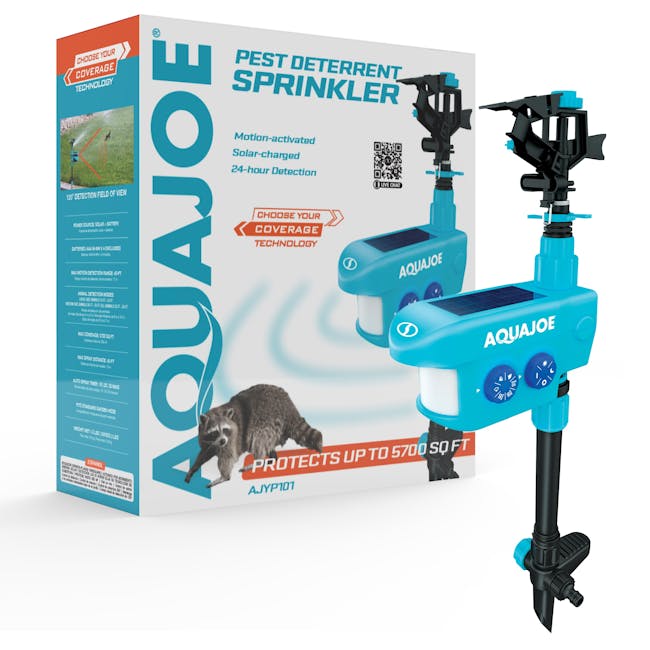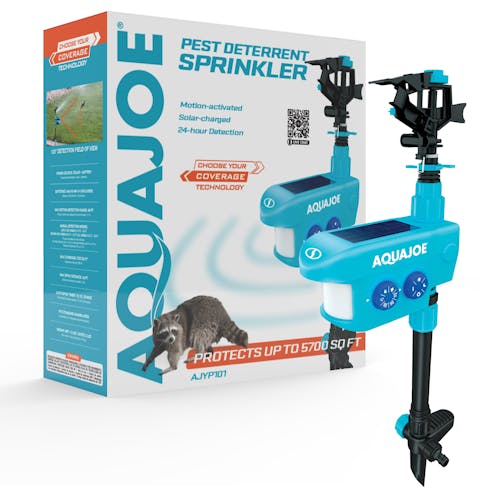 Aqua Joe AJYP101 YardGuard Motion Sensor Pest Deterrent Sprinkler | 3 Detection Modes | 5,700 Sq. Ft. Max Coverage* | 42 Ft. Max Spray Distance* | 52 GPM Max*
*Max Coverage, Max Spray Distance and Max Flow metrics are based on a water pressure of 100 PSI. 
THE BEST PEST DETERRER! Tired of animals and pests like groundhogs, geese, deer, raccoons, etc. eating, trampling, and trespassing on your yard + garden's precious plants, bushes, and flowers? Then look no further than the 23" tall Aqua Joe® AJYP101 Yardguard Pest Deterrent Sprinkler to ward off those unwelcome guests! This ultra-handy sprinkler's motion sensor detects within a 120° field of view—both day and night—whenever animals are on your property, and harmlessly sprays them with water spanning from narrow jet to wide mist patterns. Just select one of three animal detection modes across three area ranges: 10"-16" for medium-size animals, 26"-33" for large-size animals, and 33"-39" for all animals. AQUA JOE also features 360° max spray rotation, a 42-foot max spray distance, and a 5700-sq ft max coverage area. It also includes a durable step spike for stable positioning on your property and operates on four AAA Ni-MH solar-rechargeable batteries (included). You can also simply set up AQUA JOE to spray within 10, 20, or 30-minute increments. Fits standard garden hose; 2-year warranty.
Download Manuals
Features
MOTION SENSOR detects within a 120

°

field of view—both day and night—whenever animals are on your property, and harmlessly sprays them with water spanning from narrow jet to wide mist patterns
ANIMAL DETECTION MODES span three area ranges: 10"-16" for medium-size animals, 26"-33" for large-size animals, and 33"-39" for all animals
SUPERIOR SPRAY FEATURES: 360

° max spray rotation, 42-ft max spray distance,

and 5700-sq ft max coverage area
DURABLE STEP SPIKE for stable positioning on your property
4X AAA Ni-MH SOLAR-POWERED RECHARGEABLE BATTERIES (included)
AUTO-SPRAY TIMER: 10, 20, or 30 minutes
FITS STANDARD GARDEN HOSE; 23" tall; 2-year warranty
WEIGHT: Net/Gross 1.3/2 lbs