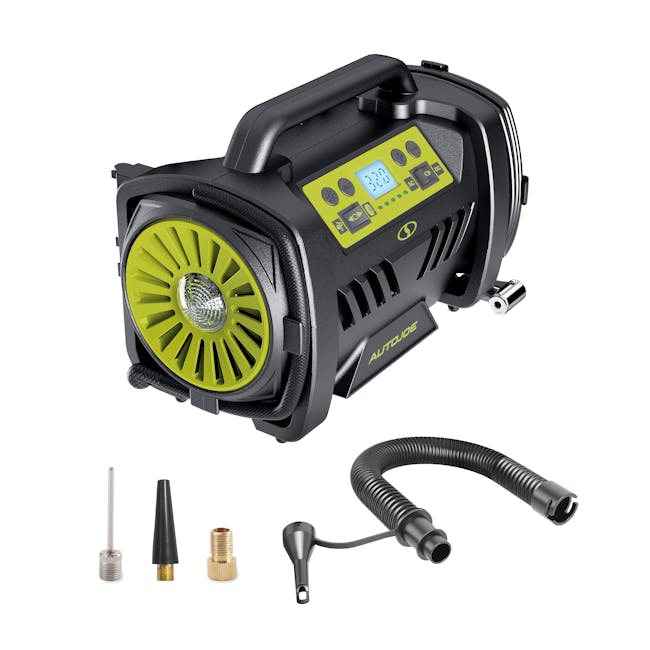 Auto Joe ATJ-AIR1-HYB Hybrid 12-Volt/120-Volt AC High Volume Tire Inflator/Deflator | w/ Digital Pressure Gauge, Tire Air Chuck Adaptor, Sports Pin, General Inflatable Valve, & Auto Shut off | High Volume Output/Input
PAY NOW:
$79.00 $7900 + S&H
OR
PAY AS LOW AS:
$7.14
/Month
with
with
2 YEAR WARRANTY
ADD A PROTECTION PLAN:
WHEN THE AIR IS LOW: PUMP IT UP + GO WITH JOE® Skip the trip to the gas station and reach for the 12V D.C. Hybrid Inflator + Deflator from AUTO JOE®. Lightweight, powerful, compact + convenient, it's designed for use indoors and outdoors to quickly inflate – and deflate – bike, car and truck tires, air mattresses, rafts, pool floats, sports balls and much more in seconds! Simply set the PSI on the digital display and press the button – AUTO JOE automatically stops at your preset pressure. The hybrid inflator also features a built-in LED light for enhanced safety after dark, and comes equipped with a tapered adapter, sports ball needle, presta valve adapter, high volume inflation hose with 0.17 and 0.57 adapters, to suit all your inflation + deflation needs. Choose the high-volume deflator when you need to pack away large items like inner tubes, or quickly compact vacuum storage bags. And unlike bulky models with fewer features, AUTO JOE's 120v DC/12v AC Hybrid Inflator + Deflator weighs just 3.6 lbs and stows neatly and easily in a car trunk or a closet awaiting your next inflation project.
Download Manuals
Features
2 Modes: High volume output + High pressure output
2.4 W LED light modes: spotlight + SOS warning
60W high volume motor + 85W High pressure motor

2-setting digital pressure gauge: PSI + kPa

Auto shut-off at preset pressure 

Includes tapered nozzle, presta valve adapter, sports ball needle, and 2 high volume adapters with onboard storage
16" high volume hose + 25" high pressure hose
Ideal for home, auto, sports equipment, air mattresses, camping