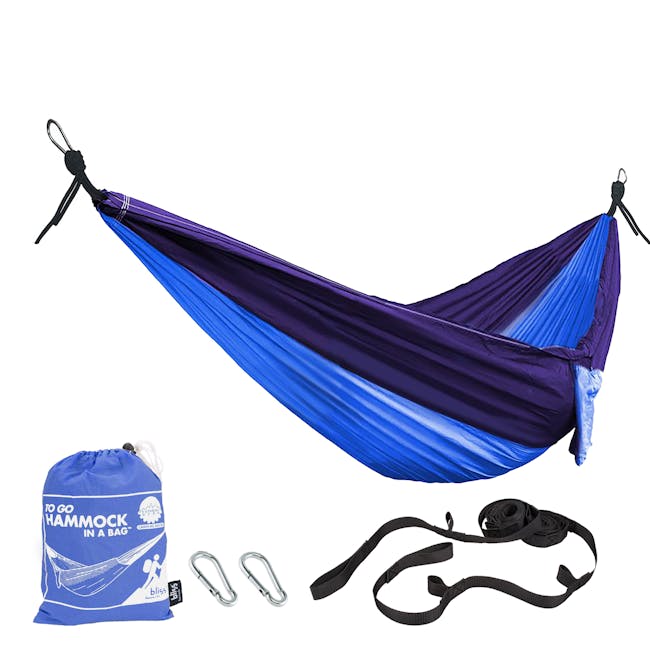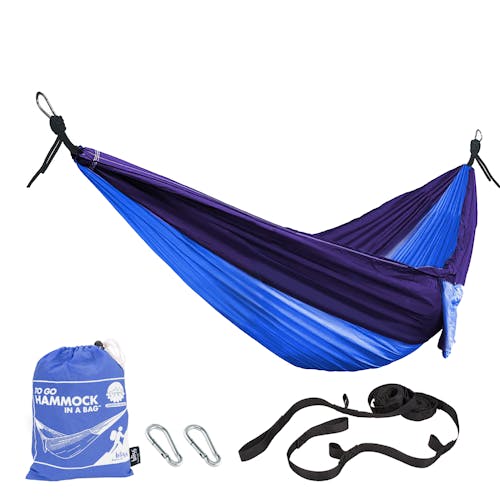 Bliss Hammocks BH-406ST-RB Hammock in a Bag W/ Carabiners & Tree Straps | 54-in. Wide | Weather Resistant | 350 Lb. Capacity (Royal Bliss)
The Bliss To Go Camping Hammock in a Bag® with adjustable tree straps is the perfect portable hammock for trips to campgrounds and parks. The Hammock weighs less than 2 pounds yet is strong enough to hold up to 350 Lbs. It's made with a strong yet soft, lightweight weather resistant, quick-drying & breathable high grade Nylon material. The fabric is dual-color and the seams are triple stitched for ultimate durability and strength. The hammock is extremely portable, yet roomy when opened and fits into a bag that's only 8" H x 6" D. The best part is the bag is attached to the hammock, so when opened, you have a storage pouch to hold your phone, drinks, books and much more. It also features our patented adjustable Tree Straps and carabiners, that give you the ability to hang your hammock between various lengths so you never have to find the perfect distanced trees and can hang without harming the trees! The Hammock bed size dimensions when opened is 108" long x 54" wide. Overall length: 10-ft, the perfect size and support for wherever and whenever you need it. Like all Bliss Hammocks® products, this hammock comes with a one year warranty... Find Your Bliss®!
Features
PREMIUM QUALITY: Made with a breathable, strong and comfortable nylon material that has triple stitched seams to keep your hammock durable & usable for years.

EASY SET UP: Comes with a set of 9.75 ft long tree straps that are adjustable so they can be used between various length trees or posts! Also come with a set of carabiners.

COMPACT & TRAVEL SIZED: Folds into attached pouch to a compact size of about 8" x 6", that can also be used for storage when opened.

DIMENSIONS: 108" long x 54" wide. Overall length: 10 ft

STRONG: Weight capacity up to 350 lbs.