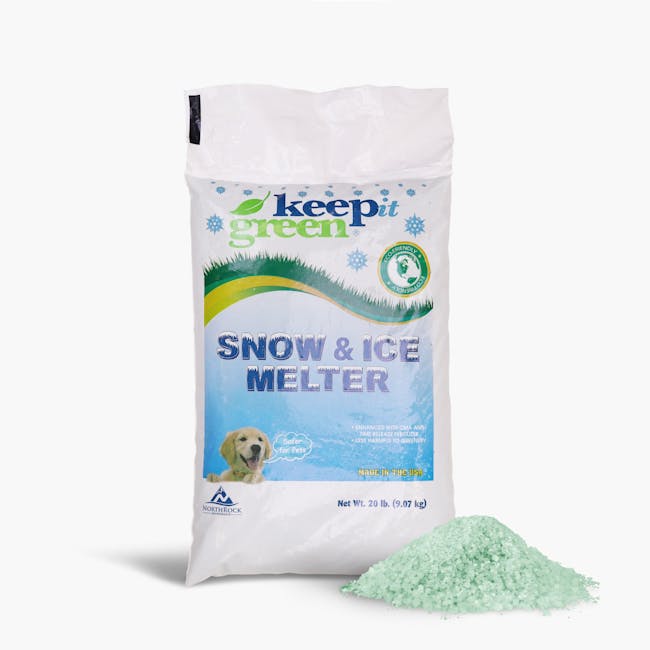 Keep it Green Pet-Safer Ice and Snow Melt and Deicer | 20 Lb. Bag
Exclusively Sold by Our Partners:
THE NICER DE-ICER. Melt away slippery ice and snow build-up this winter with KIG20 Keep It Green® Snow & Ice Melter, a unique mix of CMA (calcium magnesium acetate), sodium chloride, and a time release fertilizer. CMA is an anti-corrosion agent that's less harmful to metal than pure rock or chloride-based salt. It works on surfaces longer, so less product is needed, posing a lower threat to your plants and vegetation, too, and can be conveniently dispensed directly out of the bag or into a handheld or wheeled salt spreader.
Download Manuals
Features
HIGHLY EFFECTIVE: Melts away slippery ice and snow build-up thanks to its unique mix of CMA (calcium magnesium acetate), sodium chloride, and a time release fertilizer

LESS HARMFUL TO METAL AND VEGETATION: Thanks to the anti-corrosion agent CMA, Keep It Green is less harmful to metal than pure rock or chloride-based salt. It works on surfaces longer, so less product is needed, posing a lower threat to plants and vegetation, too.

ULTRA CONVENIENT: Can be dispensed directly out of the bag or into a handheld or wheeled salt spreader

NET WEIGHT: 20 lbs

INGREDIENTS: Sodium Chloride, 85%, CAS. No 7647-14-5; Time Release Fertilizer/Urea, 14.5%, CAS. No 57-13-6; Calcium Magnesium Acetate, 0.5%, CAS. No 76123-46-1