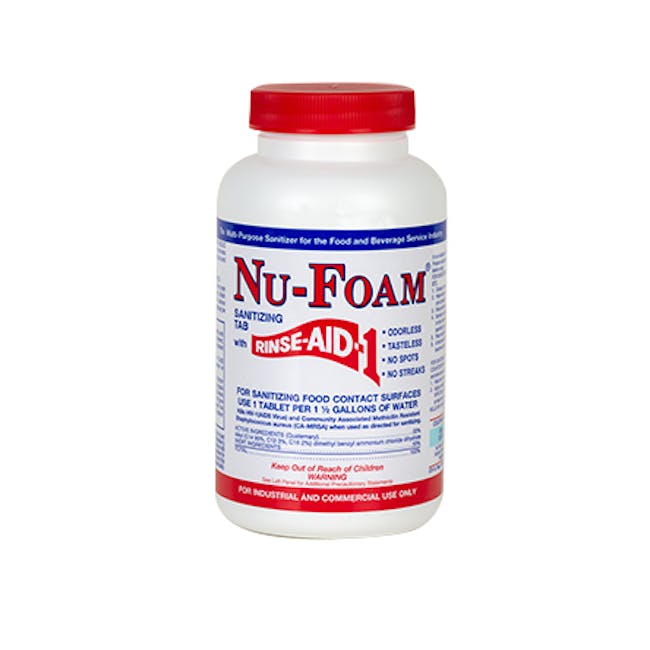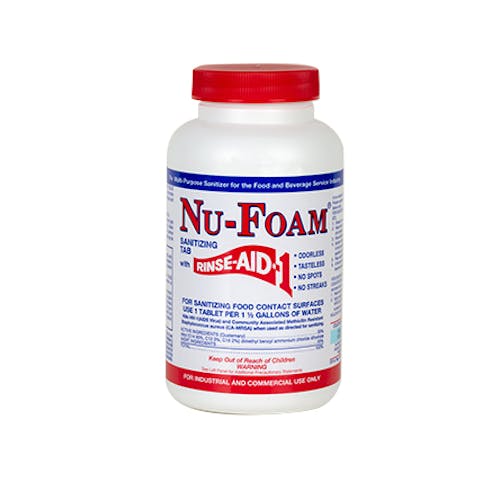 Glissen Chemical 300005 Nu-Foam EPA-Approved Multi-Purpose Sanitizing Tablets w/ Rinse Aid | Kills Viruses Such as HIV, MRSA, E. Coli, Staph | Approved for Food Contact | 100 Tablets
Keep your kitchen and cutlery clean with NU-FOAM® Multi-Purpose Sanitizing Tablets. Enhanced with Rinse-Aid technology, this fast-acting, powerful formula kills bacteria and germs — like HIV-1 (AIDS Virus), CA-MRSA, E.Coli, and more — on contact! Designed for use in commercial, industrial and food service kitchens, you'll have a pro-quality clean every time! The unscented quaternary ammonium germicide leaves behind no harsh smell, aftertaste or residue. Sanitize glassware, dishes, pots and pans and leave behind a streak-free, spot-free shine. 
Download Manuals
Features
Quaternary ammonium germicide
Eliminates spots and streaks, leaves no taste or smell
Kills HIV-1 (AIDS Virus), CA-MRSA, E. Coli, and more
Use 1 tablet per 1.5 gallons of water – provides sanitizing power up to 150 gallons per bottle
Made expressly for sanitization across all Food Service Industry related applications, such as restaurant equipment, bar glassware, dishes, pots, pans, utensils. For use in all taverns and restaurants.