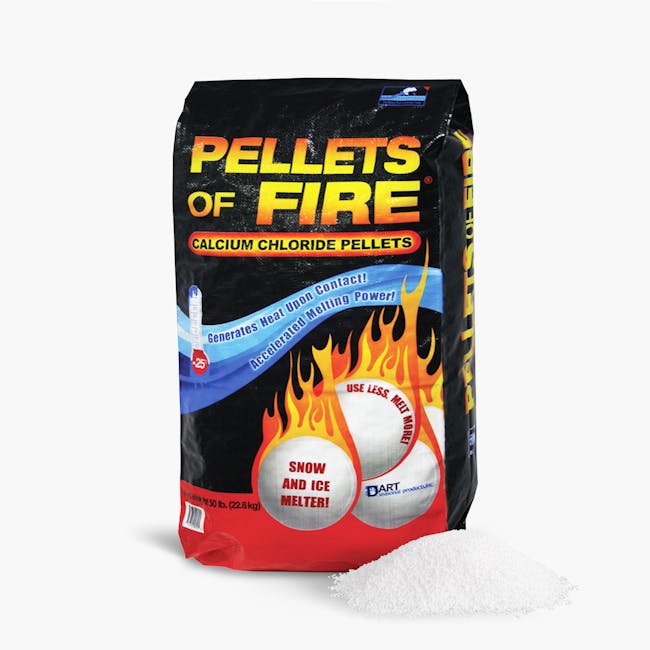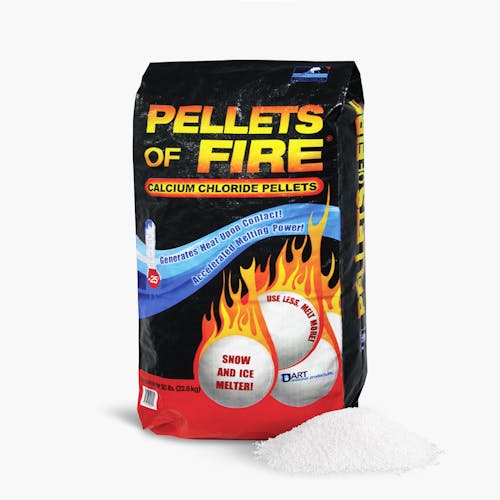 Pellets of Fire Calcium Chloride Ice and Snow Melt + Deicer | 50 Lb. Bag | Works to -25°F
Exclusively Sold by Our Partners:
PROFESSIONAL STRENGTH. REMARKABLE RESULTS. Professional strength CP50 Pellets of Fire® Calcium Chloride Pellets is a unique formulation of calcium chloride pellets that accelerates the melting process by generating a large amount of heat on contact with snow and ice. It's designed to quickly, safely, and effectively tackle frozen snow, sleet, and ice on most driveways, steps, sidewalks, and entryways. Proven safer when applied as directed to "quality concrete" surfaces, Pellets of Fire effectively melts ice and snow even at temperatures as low as -25°F, and can be conveniently dispensed directly out of the bag or into a handheld or wheeled salt spreader. It can also be used as a preventative — just apply at the first sign of snow to enable easy snow removal and prevent accumulation.
Download Manuals
Features
HIGHLY EFFECTIVE: Quickly, safely, and effectively tackles frozen snow, sleet and ice on most driveways, steps, sidewalks, and entryways

PROFESSIONAL STRENGTH: a unique formulation of calcium chloride pellets that accelerates the melting process by generating a large amount of heat on contact with snow and ice

MELTS to temperatures as low as -25°F

ULTRA CONVENIENT: can be dispensed directly out of the bag or into a handheld or wheeled salt spreader

CAN BE USED AS A PREVENTATIVE: just apply at the first sign of snow to enable easy snow removal and prevent accumulation

NET WEIGHT: 50 lbs

INGREDIENTS: Calcium Chloride, 90-94%, CAS. No 10043-52-4; Water, 1.3%, CAS. No 7732-18-5; Potassium Chloride, 1-2%, CAS. No 7447-40-7; Sodium Chloride, 1-3%, CAS. No 7647-14-5