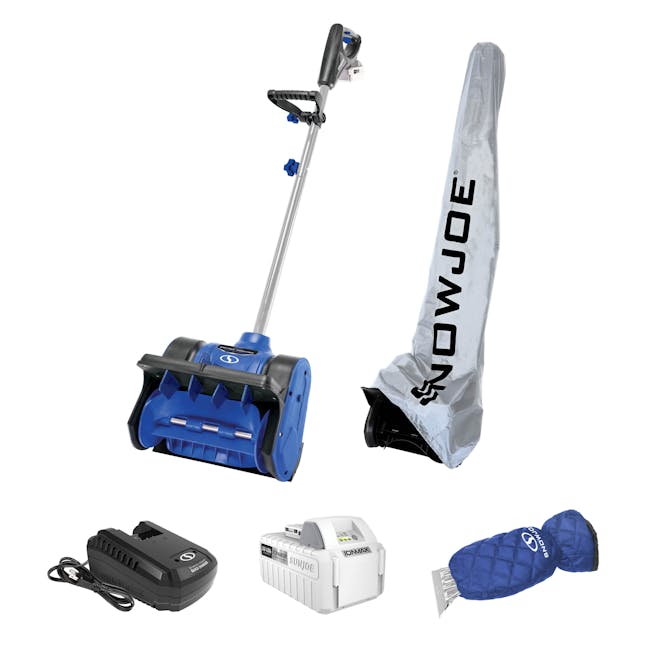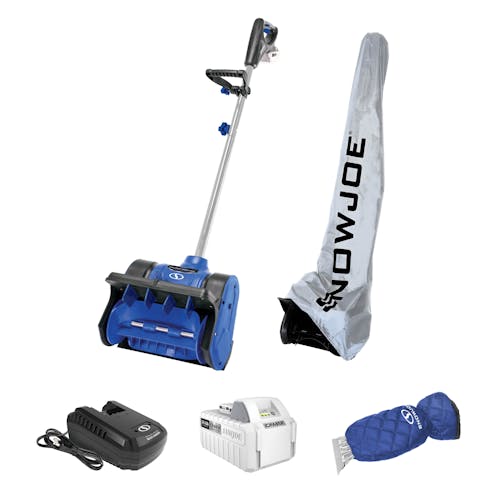 Snow Joe 24V-SS12-BDL 24-Volt* IONMAX Cordless Snow Shovel Bundle | W/ 4.0-Ah Battery, Charger, Cover, and Ice Scraper Glove
*Initial no-load voltage, at full charge, peaks at 24V; nominal voltage with typical load is 21.6V
Ships Free
Ships Free
PAY NOW:
$299.00 $29900 + S&H
OR
PAY AS LOW AS:
$27.03
/Month
with
with
2 YEAR WARRANTY
ADD A PROTECTION PLAN:
Ships Free
MEET YOUR WINTER WARRIOR: the 24V* iONMAX Snow Shovel. It's the clean, powerful, and cord-free champion for swift snow pickups on decks, steps, and sidewalks. With its commanding 324-WATT MOTOR and the hassle-free 24V* iONMAX BATTERY SYSTEM—including a 4.0 Ah battery and quick charger—you're ready to roll in 140 minutes or less. It's the eco-friendly answer to traditional snow removal: no gas, no cords, no emissions.
THIS SNOW SHOVEL MEANS BUSINESS, featuring a 2-blade high-impact, low-temperature paddle auger that flings snow up to 20 feet, carving out a 12-inch wide and 6-inch deep path with each pass. Directional chute control puts you in command, allowing you to dictate where the snow goes, streamlining your snow clearing tasks with precision and ease.
GEAR UP AND GET GOING with additional winter essentials, including an all-season cover to protect your investment and a glove with an integrated ice scraper to keep your hands warm and your paths clear. This winter, arm yourself with the 24V* iONMAX Snow Shovel and GET EQUIPPED®
Features
Ideal for quick, easy and CORD-FREE snow pickups on decks, steps, patios and sidewalks 
Directional Control shoot puts the snow where you want it
2-Blade high-impact, low-temperature paddle auger throws snow up to 20 feet
Cuts a 12 in. x 6 in. path in a single pass
IONMAX 24-VOLT* BATTERY SYSTEM COMPATIBLE: Includes 24V* IONMAX 4.0 Ah rechargeable Lithium-ion battery