YOU ARE $125.00 AWAY FROM FREE U.S. SHIPPING!
YOU ARE $125.00 AWAY FROM FREE U.S. SHIPPING!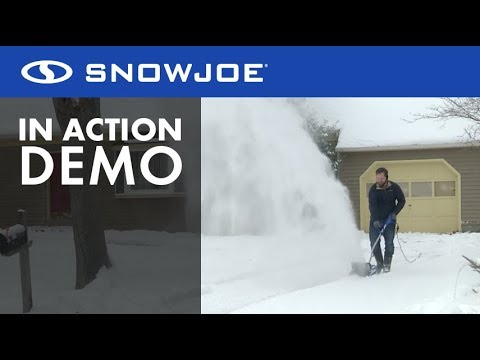 +19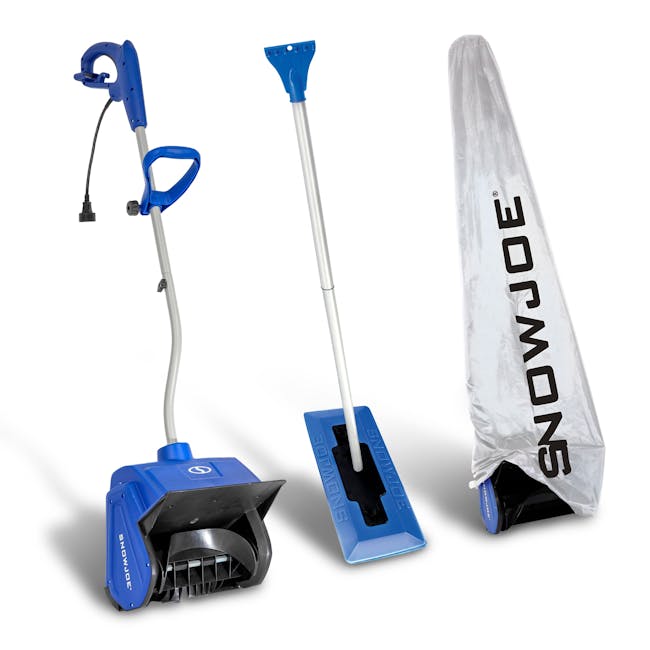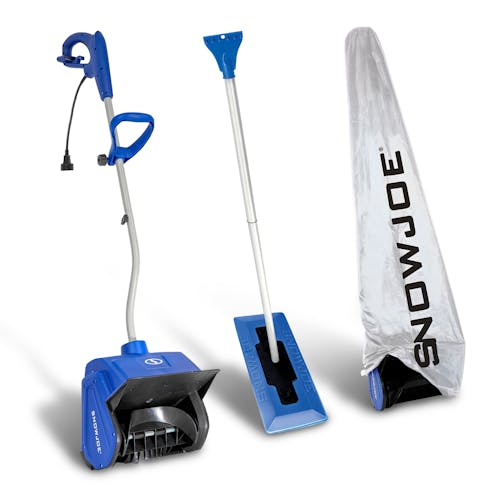 Snow Joe Electric Shovel Protection & Accessory Bundle | Snow Shovel + Cover + Snow Broom
323E - Snow Joe Electric Snow Shovel | 13-Inch | 10 Amp
TOSS OUT YOUR SHOVEL! The Snow Joe® Plus 323E electric snow shovel is designed to clear snow from decks, steps and walkways. The 323E boasts a powerful 10-amp motor and can toss snow up to 20 feet. The Snow Joe Plus 323E clears a path 13-inch wide, by 6-inch deep getting your job done in no time. If you have even more snow than that, simply remove it with another pass. The Snow Joe 323E is precisely engineered with a patented back-saving curve to alleviate user strain and reduce fatigue. Weighing less than 14 pounds, the Snow Joe 323E is light enough to transport around your home. Snow Joe Plus 323E is CSA rated and comes with a two year warranty.
SJBLZD - Snow Joe The Original 2-In-1 Telescoping Snow Broom + Ice Scraper |18-inch
SNOW PROBLEM! The Snow Joe® Snow Broom model SJBLZD makes quick work out of the snow piled on the roof, hood, trunk or windshield of your car. Its patented dual-purpose design features a broom head on one end and a built-in ice scraper on the other, so you can quickly push heavy, wet snow off your car, then clear away the ice build-up on your windshield with just one tool. Made with a durable, reinforced, non-abrasive foam head, the Snow Broom safely and effectively sweeps snow off your car without scratching the glass surfaces. Plus, its telescoping pole extends from 33 to 52 inches to provide maximum reach with minimal strain. Weighing only 1.4 pounds, the Snow Broom is super easy to handle and stores neatly inside the trunk of your car with its built-in bracket holder. GET EQUIPPED® this winter with the Snow Joe Snow Broom and clear out fast from tough winter messes
SJCVR-13 - Snow Joe Universal Indoor/Outdoor Electric Snow Shovel Cover | 10-13 in
The SJCVR-13 cover from Snow Joe® offers all-season protection for electric snow shovels 10-13 inches in width. The cover is made of heavy duty fabric that won't shrink or stretch and is water resistant. The SJCVR-13 protects your electric snow shovel investment against dirt, ice, snow, rain, sun damage, tree sap, and bird droppings. You can cover your unit fully assembled for quick access during the season or for long term storage. Putting on and taking of the cover is quick and simple in any weather condition. The SJCVR-13 is designed to fit ION13SS, 323E, 324E, and 24V-SS10, and other electric/cordless snow shovels between 10 to 13 inches.
Download Manuals
Features
323E - Snow Joe Electric Snow Shovel | 13-Inch | 10 Amp
Ideal for quick snow pickups on decks, steps, patios and sidewalks
Powerful 10-amp motor
2-blade paddle auger cuts 13 in. wide and 6 in. deep with each pass
Ergonomic design with adjustable handle to minimize user strain
CSA approved; Full 2-year warranty
SJBLZD - Snow Joe The Original 2-In-1 Telescoping Snow Broom + Ice Scraper |18-inch
Patented dual-purpose design to tackle snow and ice (Patent No: US 8,464,387 B1)
Durable non-abrasive foam head pushes heavy, wet snow off cars without damaging glass
Built-in ice scraper quickly clears ice build-up on windshields
Auto-locking telescoping pole adjusts from 33 in (84 cm) to 52 in. (132 cm) to extend reach
Weighs only 1.4 lbs for easy handling
SJCVR-13 - Snow Joe Universal Indoor/Outdoor Electric Snow Shovel Cover | 10-13 in
Protects against snow, ice, sun damage, rain, dust, tree sap, and birds
Heavy-duty fabric will not shrink or stretch
Fabric is coated for maximum water resistance
Designed to fit ION13SS, 323E, 324E, and 24V-SS10, and other electric/cordless snow shovels between 10 to 13 inches