YOU ARE $125.00 AWAY FROM FREE U.S. SHIPPING!
YOU ARE $125.00 AWAY FROM FREE U.S. SHIPPING!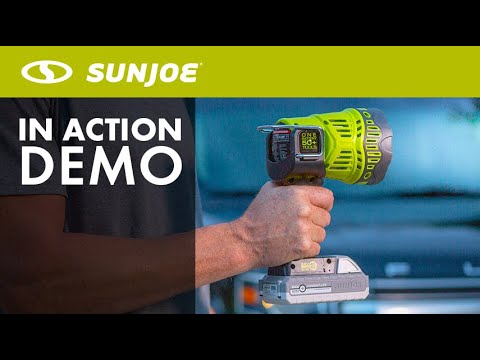 +12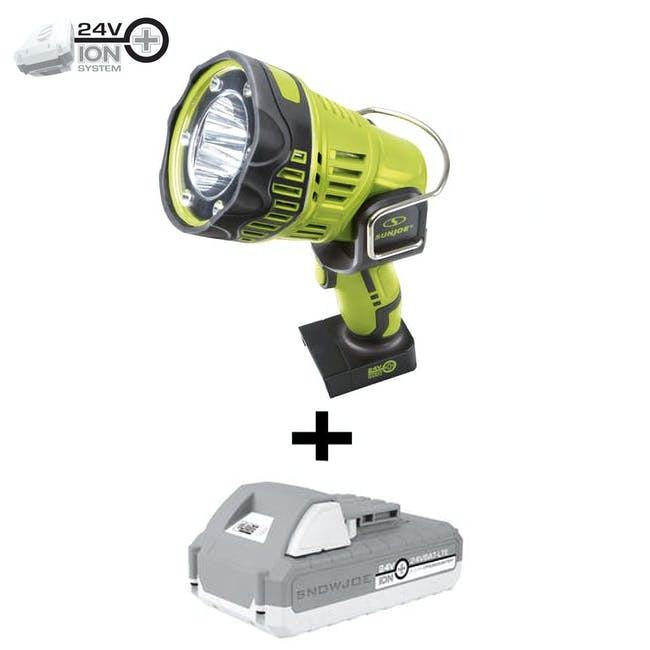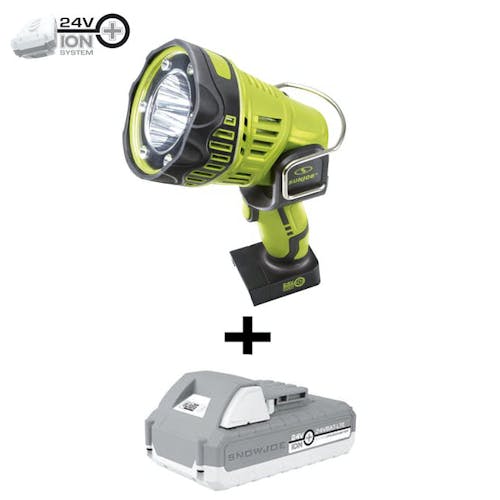 Sun Joe 24V-1500FL-LTE 24-Volt iON+ Handheld Flashlight/Spotlight/Flood Kit | W/ 2.0-Ah Battery + Charger | 700 Yard Reach Illumination | 5 Light Modes | 1500 Lumens Max | 90-Degree Pivot Head | Belt Hook
PAY AS LOW AS:
$895
/Month
with
with
2 YEAR WARRANTY
ADD A PROTECTION PLAN:
LET THERE BE LIGHT! If you're stuck without power, trying to work in a dark, dreary basement or at the worksite or campsite at night – it's time to turn on the 24V Cordless LED Handheld Spotlight from Sun Joe. Powered by the 24-Volt iON+ system, the included 2.0 Ah battery provides rechargeable runtime — perfect for power outage situations!  The selectable light modes provide 5 different settings to suit the task: Spotlight, for illuminating tight spaces | High Floodlight, for brightening up a darkened room | Spot + Floodlight, to light up the darkest spaces | Warning, to signal for help | Low Floodlight, for a soft glow. With up to 1500 lumens max of power, Sun Joe casts light up to 700 yards away for max visibility when you need it most. Need a light straight ahead, at an angle, or straight up? Sun Joe's got you covered! The adjustable multi-angle head shines right where you want it, and only where you need it. And the onboard easy-access hook + kickstand makes it easy to go hands-free and set up anywhere you need a little light. So, when you're in the dark, Go With Joe®! The 24-Volt Cordless LED Handheld Spotlight from Sun Joe®. GET EQUIPPED®. 
Download Manuals
Features
24V iON+ System Compatible: Includes a 2.0 Ah battery + charger
1500 Lumens MAX power easily illuminates up to a 10x10 space
5 Light Modes: Spotlight, for illuminating tight spaces | High Floodlight, for brightening up a darkened room | Spot + Floodlight, to light up the darkest spaces | Warning, to signal for help | Low Floodlight, for a soft glow
Powerful light beam shines up to 700 yards away
Great for workshop, worksite, camping or blackouts – whenever illumination is needed
Kickstand + easy-access hook for quick set up anywhere you need it
Lightweight at just 3.3 lbs!
2-year warranty/ETL Listed