YOU ARE $125.00 AWAY FROM FREE U.S. SHIPPING!
YOU ARE $125.00 AWAY FROM FREE U.S. SHIPPING!




+7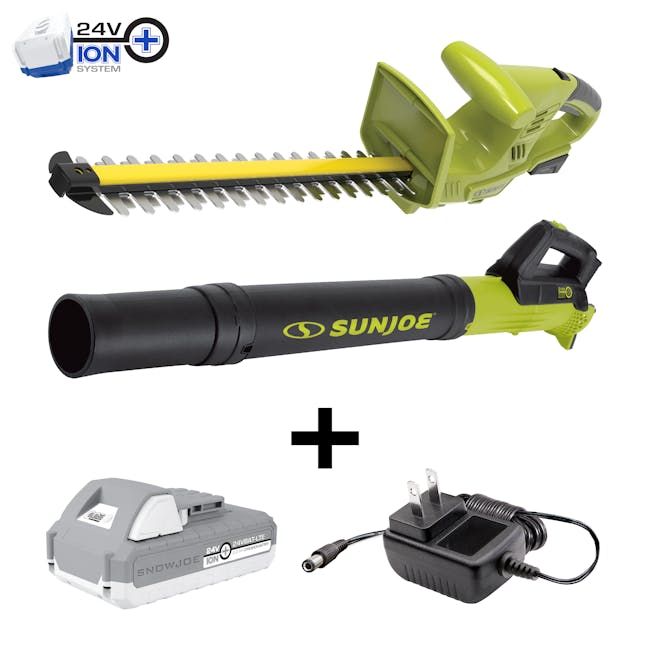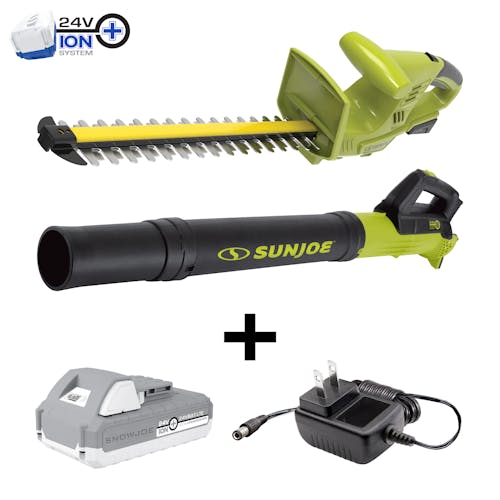 Sun Joe 24V-HT18-TB-LTE Garden Combo Kit w/ 24V* 2.0-Ah Batteries + Charger | Hedge Trimmer | Turbine Blower
*Initial no-load voltage, at full charge, peaks at 24V; nominal voltage with typical load is 21.6V
GET YOUR YARD INTO SHAPE! Back-breaking hedge, lawn and leaf cleanups are a thing of the past with the Sun Joe® 24V-HT18-TB-LTE Bundle.
Featuring Sun Joe's exclusive IONMAX Lithium-ion battery system for continuous, rechargeable runtime, these 24-volt* tools are just right for trimming up the hedges and sweeping up debris!
The 24-Volt* IONMAX blower is ideal for quick cleanups around the house and yard — or anywhere power is at a premium. Sleek, lightweight and perfectly portable at just 3.8 pounds, the 24-volt* 2.0 Amp hour battery-powered blower packs the power of a hurricane into the palm of your hand to make yardwork a breeze. Like an aircraft, 24V-TB's turbine fan propels the windspeed up to 100 mph and 280 cubic feet per minute to make yardwork a breeze and leave your yard spotless. With a sleek, compact, aerodynamic design to maximize airflow and optimize storage, SUN JOE's 350 Watt motor provides all the power you need to quickly clear away grass clippings, leaves, dirt and debris, or even light snow!
Trim, hedge, edge, and clean up your overgrown bushes with the 24-Volt* hedge trimmer! The robust 250 Watt motor and dual-action blades provide up to 40% less vibration than traditional, single-action machines. IONMAX will quickly become your go-to tool to shear cleanly through shapeless shrubs. The 18-inch, rust-resistant blades cut through branches, twigs, and stems up to 0.6 inches thick — for a perfectly groomed hedge every time. And with user-friendly features like the dual-handed grip, built-in safety switch to prevent accidental starting, and front hand guard to protect against blade contact, Sun Joe makes cutting down your landscaping to-do list easier and safer than ever.
Features
24V* IONMAX Turbine Blower
24V* 2.0 Ah turbine jet fan blower quickly clears away leaves, dirt, debris, or even light snow
Rechargeable, cordless convenience — ideal anywhere power is at a premium
Turbine fan propels air up to 100 mph (max) for swift cleanups on the porch, patio, deck, walkway or garage
Lightweight and perfectly portable at under 4 lbs
Powerful 350 Watt motor provides up to 280 CFM of air flow
24V* IONMAX Hedge Trimmer
18-inch rust-resistant blades cut through branches up to 0.6 inches thick
250 Watt electric motor provides up to 2,800 RPM for max cutting power
Dual-action blades offer up to 40% less vibration than single-action blades
Features built-in safety switch to prevent accidental starting
Includes blade safety cover
IONMAX battery charges in just 80 minutes