YOU ARE $125.00 AWAY FROM FREE U.S. SHIPPING!
YOU ARE $125.00 AWAY FROM FREE U.S. SHIPPING!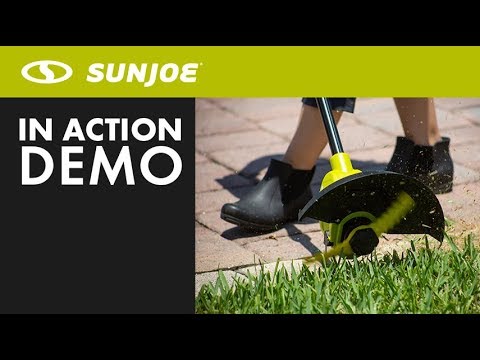 +10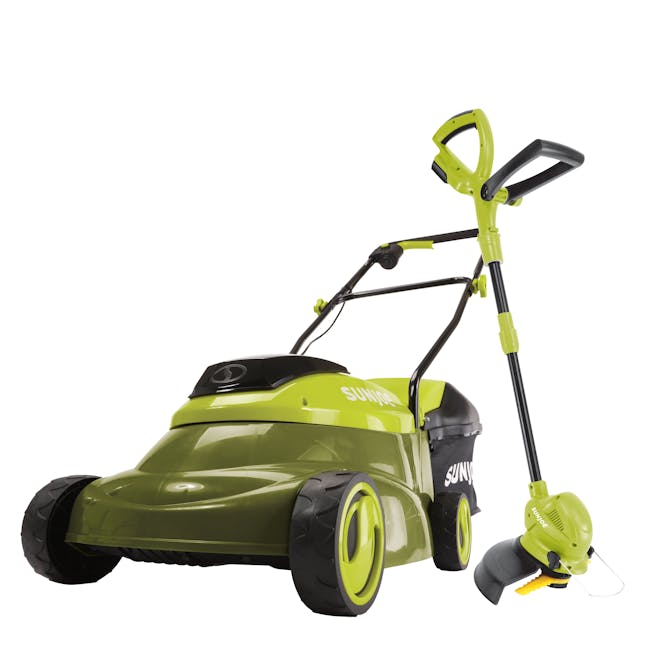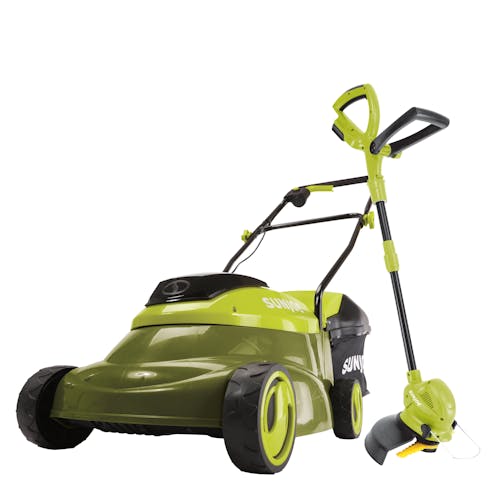 Sun Joe 24V-LAWN-BDL 24-Volt IONMAX Lawn Care Bundle | W/ Cordless Lawn Mower Kit and Stringless Lawn Trimmer
MJ24C-14 - 24-Volt IONMAX Cordless Brushless Lawn Mower
Ditch the cord and gas and cut the grass with MJ24C-14 24-Volt Cordless Lawn Mower from SUN JOE and restore a little eco-friendly "lawn order" to your yard with the greener, gas-free grass-grooming solution. MJ24C-14 delivers all the power of a gas machine, with the performance of an electric — with no gas, fumes, fuss, or tangled extension cords! Perfect for small to medium-sized lawns, the powerful, 24-Volt 5.0 Ah lithium-ion battery lasts up to 42 minutes on a single charge. When you're ready to mow, simply insert the key, power-up and go! MJ24C-14-XR's 600 W motor and durable steel blade cuts a 14" wide path in a single pass. Featuring 3-position height adjustment — from 1.18" to 2.52" — you can tailor to the perfect, precise cutting height to suit your yard. Collect the clippings with the convenient 10.6 gallon grass bag, and detach for quick and easy disposal. Plus, MJ24C-14's folding, collapsible handle makes storage a breeze!
24V-SB10 - Cordless SharperBlade Stringless Lawn Trimmer
Say goodbye to tangled strings and extension cords with the next generation of grass-trimming tech: 24V-SB10 24-Volt Trimmer Edger from SUN JOE.
No more struggling with string — SUN JOE features patented SharperBlade Technology. The self-sharpening, 10" precision cutting blade slices through tough grass, thick thatches, and unwanted weeds without kinks, tangles, or jams! Plus, SUN JOE's flower guard protects against accidental blade contact with delicate plants.
Or twist it up switch it up! The 180º rotating Twist-N-Groom head converts from trimmer to edger in seconds. Edge along flowerbeds, sidewalks, and walkways for a crisp, precise line — every time. Lightweight at under 6 lbs, SUN JOE features an adjustable auxiliary handle and telescopic shaft which extends from 9.1" to 19.5" for maximum comfort and control.
Download Manuals
Features
MJ24C-14 - 24-Volt IONMAX Cordless Brushless Lawn Mower
Perfect for small to medium-sized lawns
3-position height adjustment tailors grass cutting height from 1.18" to 2.52" inches
Detachable, 10.6 gal grass bag for easy disposal of grass clippings
24 V 5.0 Ah IONMAX rechargeable lithium-ion battery
14" durable steel blade cuts a crisp path with every pass
Weight (battery installed): 23.1 lbs (10.5 kg)
Certifications/warranty: ETL/2 year
24V-SB10 - Cordless SharperBlade Stringless Lawn Trimmer
Ideal for trimming grass and edging along flowerbeds
2 tools in 1 —Twist-N-Groom 180º rotating head converts from trimmer to edger in seconds
10-inch patented SharperBlade™ self-sharpening blade provides hassle-free, reliable cutting
Lightweight at only 5.7 lbs for easy maneuverability
Adjustable handle and telescopic pole for maximum comfort and control
Flower guard protects against accidental blade contact with delicate plants