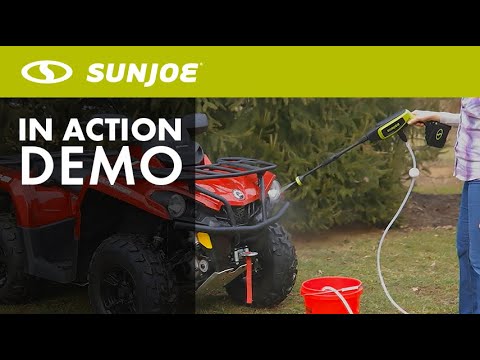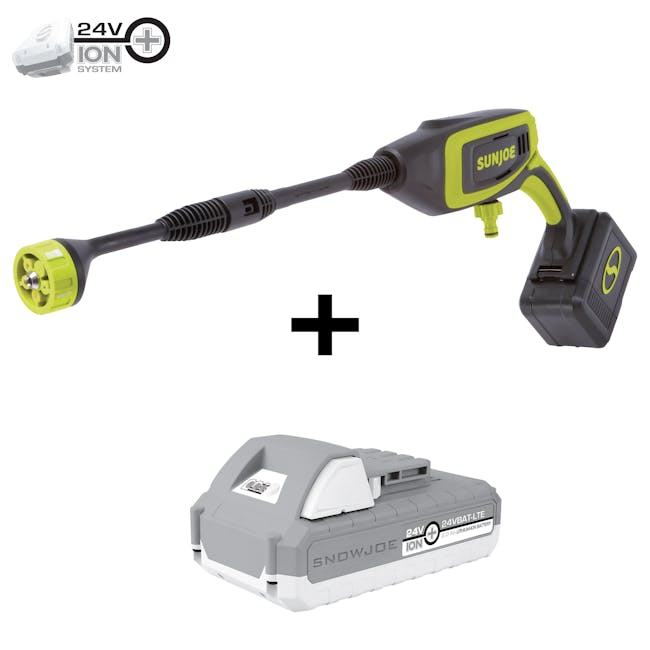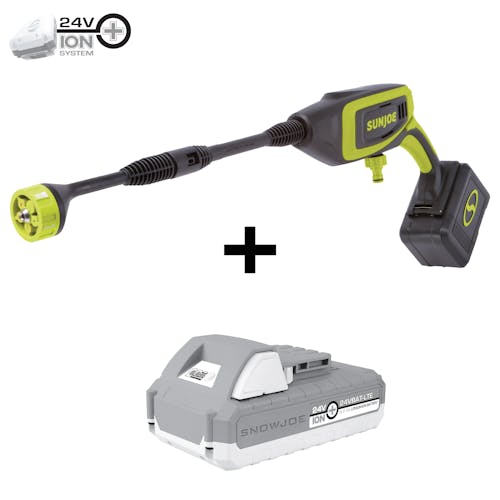 Sun Joe 24V-PP350-LTE 24-Volt* IONMAX Power Cleaner Kit | W/ 2.0-Ah Battery + Charger, Water Siphon Hose, Utility Brush, and more | Portable Cleaning On-The-Go | 5-in-1 Twist Nozzle
*Initial no-load voltage, at full charge, peaks at 24V; nominal voltage with typical load is 21.6V
PAY NOW:
$119.00 $11900 + S&H
OR
PAY AS LOW AS:
$10.76
/Month
with
with
2 YEAR WARRANTY
ADD A PROTECTION PLAN:
Battery Option: W/ 2.0 Ah Battery + Charger
CLEAN ON-THE-GO, WITH JOE. Meet the cutting-edge in cordless cleaning tech with the portable, pressurized, power cleaning system from SUN JOE. Perfect anywhere power is at a premium, it's ideal to take a quick rinse on the road or a mini power wash wherever your travels take you. Simply insert the battery, tap into a water source, and go! SUN JOE is powered by IONMAX — the exclusive, eco-friendly 24-Volt* lithium-ion battery system — without all of the gas, fumes, fuss, or tangled extension cords, for the ultimate in cordless convenience! Equipped with a 20-ft siphon hose, 24V-PP350-LTE draws water from any fresh water source — like a bucket, pool, pond, or directly from the spigot — so you can quickly clean off the car, truck, boat, RV, or pressure wash the porch, patio, around the pool and other outdoor spaces. The included 5-in-1 nozzle offers five selectable spray patterns — switch from 0º powerful pinpoint jet to 40º fan spray and gentle shower — with just a twist of the wrist. Providing more cleaning power than conventional garden hoses, SUN JOE blasts through mud and caked on messes with enough flow to quickly rinse away dirt and debris. And for those really stubborn stains in tight spaces like wheel wells and trim, the included utility bristle brush easily breaks down grease, grime, oil and mud without damaging paint, trim, and glass. SUN JOE's sleek, lightweight design — less than 7 lbs! — makes it the perfectly portable camping companion and stores easily in the trunk of your car or in your boat or RV. So, tap in to unbeatable cleaning power that fits in the palm of your hand, and Go With Joe®: 24V-PP350-LTE from SUN JOE®. GET EQUIPPED®.
Features
24-Volt* IONMAX System — Includes 2.0 ah lithium-ion Battery + Charger
180 W Brush motor generates powerful spray
Cordless, portable power — 20' siphon hose draws water from any fresh water source.
23-inch lance maximizes PSI and provides optimum spray control
Included adjustable nozzle with 5 selectable spray patterns — 0º, 0+, 25º, 40º, and gentle shower
4-piece accessory kit includes: utility bristle brush to scrub away dirt and clean wheel wells, 11.9-inch extension wand, 20-ft siphon hose, garden hose adapter to connect directly to the spigot
Lightweight at just 6.8 lbs