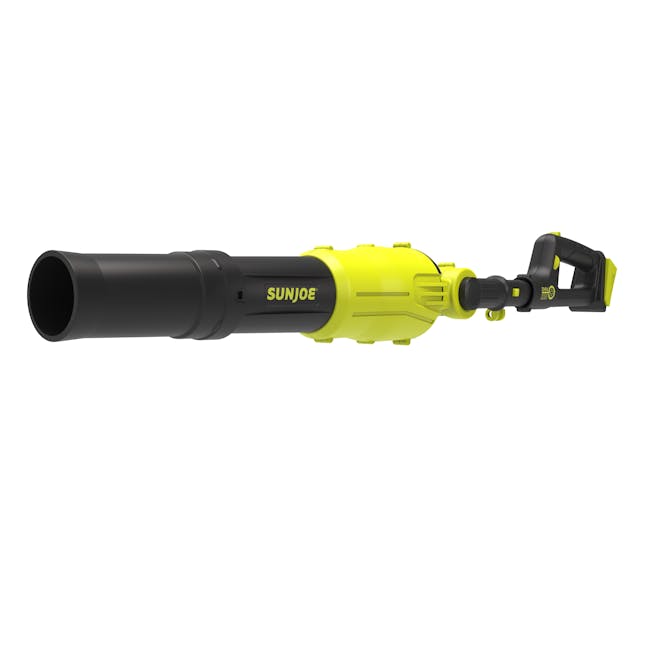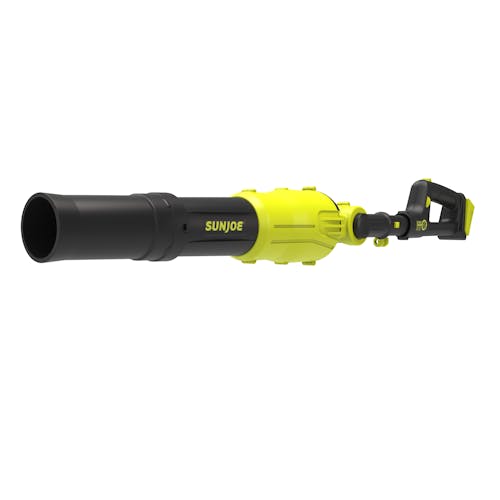 Sun Joe 24V-TBP-LTE 2-in-1 Handheld + Pole Leaf Blower Kit | W/ 2.0-Ah Battery + Charger | Includes 3 Nozzle Connections
Introducing the 24V-TBP-LTE 2-in-1 Handheld + Pole Leaf Blower, a solution for all your yard cleanup needs from SUN JOE®. This remarkable tool combines the convenience of a handheld blower with the extended reach of a pole blower, powered by the IONMAX 24V Battery System.
The standout feature of this tool comes in switching on the fly from a handheld blower to a pole blower. This allows for an impressive maximum reach of 8 feet, making even the most inaccessible areas easy to clean. This feature significantly reduces the physical strain typically associated with yard work.
This 2-in-1 blower boasts a maximum air speed of 78 mph and a peak air flow of 210 cubic feet per minute. Make quick work of various forms of yard debris including twigs, leaves, and cut grass with seven adjustable speed settings. This adjustability ensures precise control over the blower's performance, from light sweeping to powerful gusts.
24V-TBP-LTE also comes with a 24V 2.0-Ah Battery and charger to help build your IONMAX toolshed. Combine it with other tools in the IONMAX system for a whole yard solution powered by a single battery, and upgrade with an extended runtime battery or quick charger for less downtime
With the 2-in-1 Handheld + Pole Leaf Blower, yard maintenance tasks become more manageable and efficient. Take your yardwork to the next level with Sun Joe's 24V-TBP-LTE and GET EQUIPPED®.
Download Manuals
Features
IONMAX 24-VOLT SYSTEM includes 2.0 Ah lithium-ion battery + charger
DUAL FUNCTIONALITY: Combines handheld precision with the extended reach of a pole blower
HIGH PERFORMANCE: Maximum air speed of 78 mph and peak air flow of 210 cfm
CUSTOMIZABLE POWER: Features seven adjustable speed settings for varied cleanup tasks
EXTENDED REACH: Provides a maximum reach of 8 feet for easy access to hard-to-reach areas