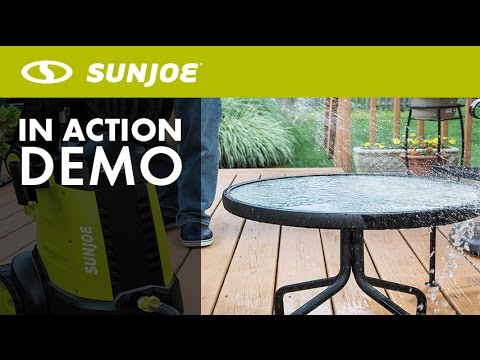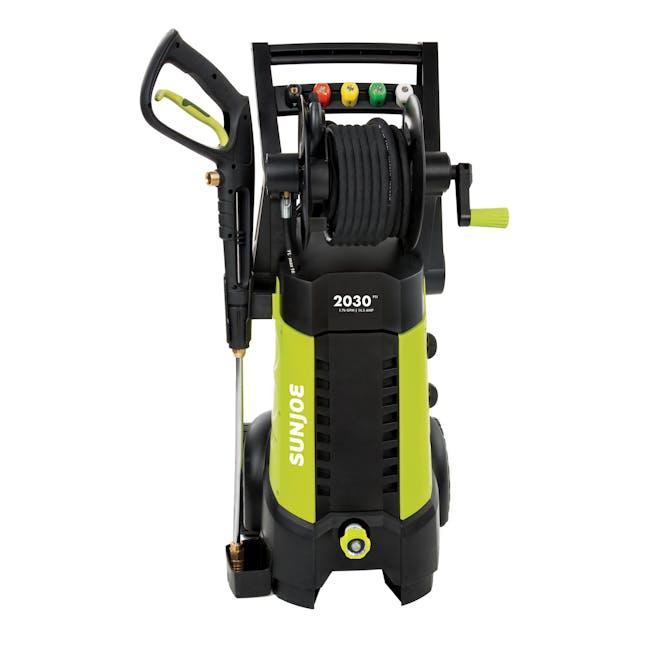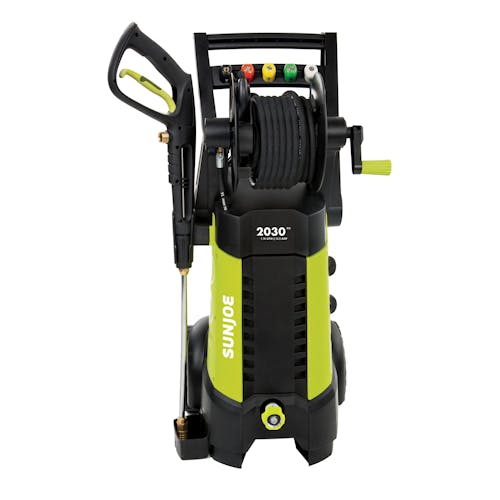 Sun Joe SPX3001 Electric Pressure Washer | 14.5-Amp | High Pressure Hose Reel | Extra Large Onboard Detergent Tank
POWER AND PERFORMANCE UNDER PRESSURE! Tackle your toughest home, outdoor and auto cleaning projects with ease! Packed with a powerful 1800-Watt/14.5-amp motor, the Sun Joe® SPX3001 generates up to 1450 PSI of water pressure and 1.2 GPM of water flow to remove road tar, tree sap and insect splats from cars, grease deposits from concrete, heavy mildew, oil and rust stains, caked on mud, and other stubborn yard and garden gunk and grime. 
The Sun Joe SPX3001 electric pressure washer comes equipped with an extra large 40.6 fl oz (1.2-liter) onboard detergent tank – perfect for blasting dirt and debris off your windows, cars, RVs, boats, ATVs, trailers, siding, barbecues, and more. Its 34-inch extension spray wand and rear wheels provide maximum maneuverability and easy access to tight spaces such as beneath decks, behind grills, gutters and patio furniture as well as the undersides of automotive vehicles and heavy gardening equipment.
Customize the adjustable spray to suit your cleaning task with Sun Joe's five Quick-Connect spray tips (0º, 15º, 25º, 40º and Soap). Other premium features on the SPX3001 include an onboard hose reel for quick and easy clean-up and storage, a 20-foot high pressure hose and 35-foot power cord, garden hose adaptor and TSS (Total Stop System) trigger that automatically shuts off the pump when the trigger is not engaged. The SPX3001 comes with a full two-year warranty and is CSA listed.
Download Manuals
Features
5 Quick-Connect spray tips (0º, 15º, 25º, 40º and Soap) tackle light, medium and heavy duty cleaning tasks
Powerful 14.5-amp/1800-Watt motor generates a maximum of 1450 PSI and 1.2 GPM
Onboard reel keeps 20 ft (6m) high pressure hose organized for quick and easy clean-up and storage
Extra large onboard 40.6 fl oz (1.2 l) detergent tank
TSS (Total Stop System) – Automatically shuts off the pump when trigger is not engaged to save energy and prolong pump life
Built-in holder securely stores trigger gun wand
Other features: 34-inch extension wand, 20-foot high pressure hose, 35-foot power cord with GFCI protection, garden hose adaptor, needle clean out tool
CSA approved; Full 2-year warranty