YOU ARE $125.00 AWAY FROM FREE U.S. SHIPPING!
YOU ARE $125.00 AWAY FROM FREE U.S. SHIPPING!




+20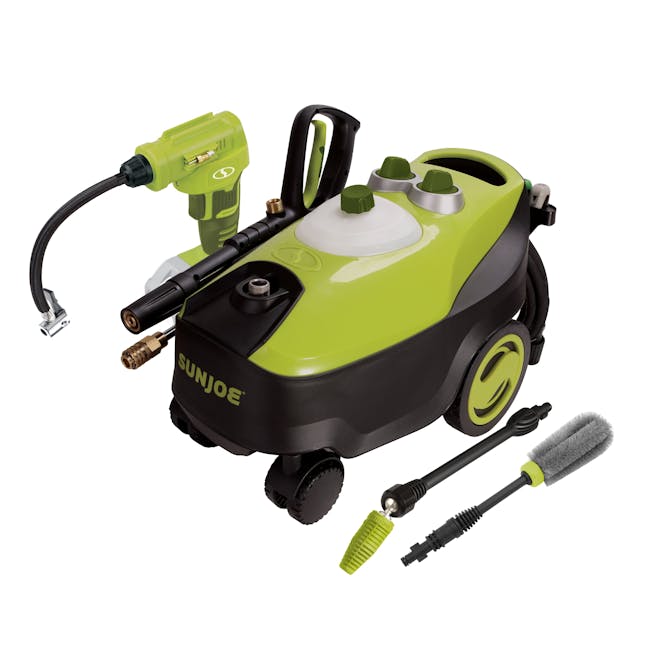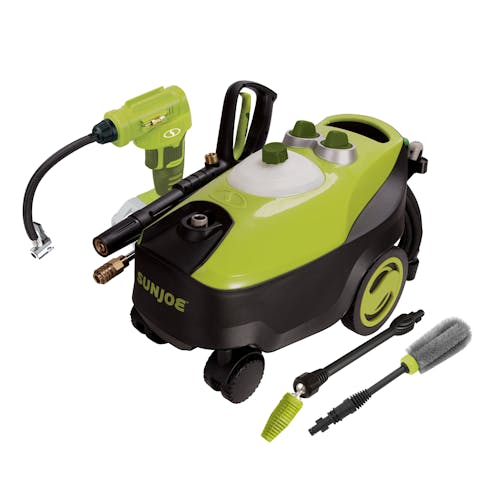 Sun Joe AUTO-BDL Automotive Bundle | W/ Go Anywhere Pressure Washer, Accessories, and Cordless Air Compressor | 2030 PSI Max* | 1.76 GPM*
*Max PSI at initial discharge per CSA internal pressure testing
*Max GPM with nozzle open at minimum pressure
You Name it, You Aim it, Grime is Gone!® Make your cleaning chores more mobile with the perfectly portable GO ANYWHERE Pressure Washer from Sun Joe. With a compact, lightweight design and sturdy swivel wheels, you'll be able to clean anywhere around your home with less hassle as you roll from one project to the next! Equipped with a peak-performance 14.5-amp motor, this portable powerhouse blasts up to 1.76 GPM (with nozzle open at minimum pressure) to quickly eliminate greasy residue from concrete, heavy mildew stains, oil stains, caked-on mud, and other stubborn gunk and grime. The convenient onboard, 27 fl oz detergent tank is tank perfect for transporting your favorite soapy solution when waging war on your toughest cleaning tasks. With its 360º rotating wheels, this dirt-decimating dynamo provides maximum maneuverability, and the included extension wand makes accessing tight spaces — such as beneath decks, behind gutters or between the hedges and house — a breeze!SPX3200 comes equipped with Pressure Select Technology, letting you choose from two powerful cleaning options — Low/1450 PSI for everyday dirt and grime, or High/2030 PSI to tackle your toughest cleaning tasks.
JUST BRUSH IT OFF! Dirt and road grime will be a thing of the past with the Universal Pressure Washer Wheel Rim Brush, designed to fit the SUN JOE SPX Pressure Washer Series. Eliminate the toughest, caked-on messes with this fine bristle scrub brush that's perfect for stubborn dirt and greasy rim residue. Simply connect the Universal Pressure Washer Wheel Rim Brush to your SPX Series Pressure Washer and give your tires a superior showroom shine!
Multi-angle swivel tip ideal for maximum coverage in tight spots. Compatible with all SPX Series Pressure Washers.
Skip the trip to the gas station and reach for the powerful portable air compressor that fits in the palm of your hand with the 24V-AJC-LTE 24-Volt Cordless Air Compressor from SUN JOE.
Compact and convenient for camping, or commuting - it's the power-packed rechargeable pump that's perfect anywhere power is at a premium -- like at the park, at the pool, or on the road. Keep tires at the perfect pressure, inflate a bike tire, pool float or sport ball in seconds. Simply set the PSI on the digital display and pull the trigger. The 24V-AJC-LTE automatically stops at your preset pressure.
Unlike bulky gas-powered or electric tools, SUN JOE's 24-Volt cordless compressor employs the most advanced lithium-ion battery technology for no fade power, and peak performance under pressure! When the work is done, simply plug the battery in, power it up – and it's recharged and ready for your next inflation project!
Features
Ideal for a variety of outdoor cleaning tasks — the patio, porch, deck, fence, garage, car, boat, siding, driveway, windows and more!
Powerful motor generates a maximum of 2030 PSI (at initial discharge per CSA internal pressure testing) and 1.76 GPM (with nozzle open at minimum pressure)
360º, easy-glide wheels for maximum maneuverability!
5 Quick-Connect spray tips (0º, 15º, 25º, 40º and soap) tackle light, medium and heavy -duty cleaning tasks
TSS (Total Stop System) – automatically switches off the pump when trigger is not engaged to save energy and prolong pump life
Onboard 27 fl oz detergent tank to give your cleaning blast a boost
Includes 34-inch extension wand, 20-foot high pressure hose, garden hose adapter, and 35-foot power cord with GFCI protection
Built-in holder securely stores trigger gun wand
Lightweight and easy to maneuver at only 27.5 lbs
Fits all SPX Series Pressure Washers
Fine bristles scrub away stubborn rim residue 
Great for cleaning and maintaining auto, yard garden equipment
Includes adapter for SPX3000 SPX4000 Series Pressure Washers
Ideal for cleaning out-of-reach stains.
Transfer adapter included*
24 Volt rechargeable air compressor
Featuring exclusive iON+ technology for no fade power and maximum performance
15 Inch Hose
Digital LED control for precise pressure 
Auto shut-off at preset pressure 
Includes nozzles pin attachments 
Perfectly portable - stows neatly in trunk 
Ideal for home, auto, sports equipment, air mattresses, camping