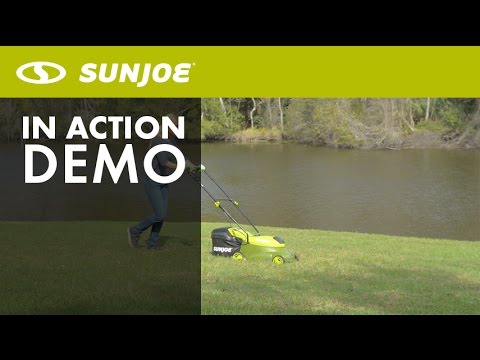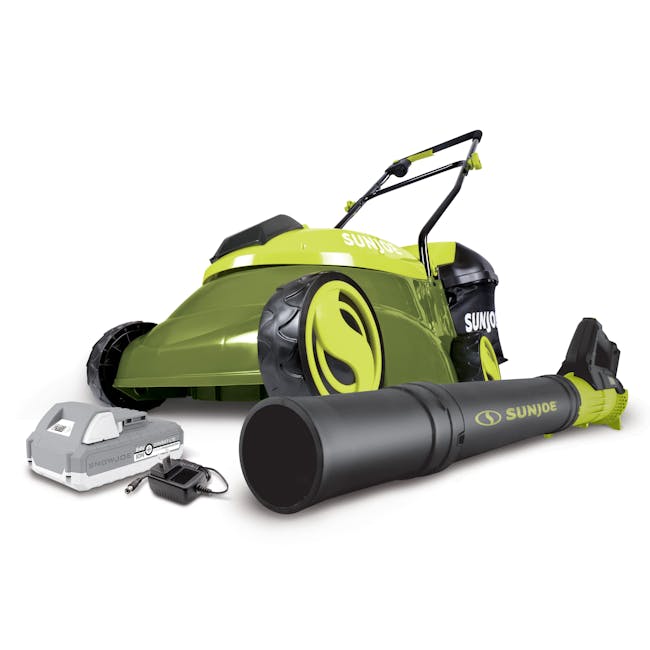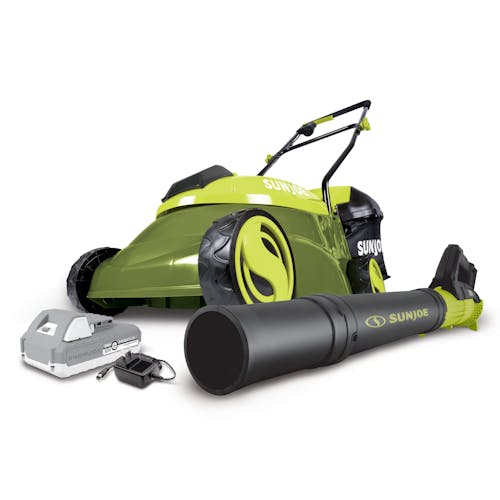 Sun Joe Cordless Power Bundle | Lawn Mower + Leaf Blower | W/ 2.0-Ah Battery + Charger
*Initial no-load voltage, at full charge, peaks at 24V; nominal voltage with typical load is 21.6V
MJ401C - Sun Joe Cordless Lawn Mower | 14 inch | 28V
MOW WITH JOE! Ditch the cord and gas, and cut the grass with MJ401C, the completely cordless counterpart of Sun Joe's best-selling MJ401E electric mower. Perfect for small to medium lawns, the eco-friendly, battery-powered mower's durable steel blade cuts a crisp 14" wide path with precision in a single pass, and features convenient 3-position manual height control to quickly tailor your turf to just the right height. When you're ready, simply insert the key, press the safety switch, squeeze the trigger and go! Collect the clippings with the 10.6 gallon bag, and detach for quick and easy disposal. Plus, MJ401C is driven by a long-life, peak performance rechargeable 28-volt lithium-ion battery, and mows over 1250 sq. ft on a single charge, for the ultimate in cordless convenience. And when the work day is done, simply plug in and power up. Blast past the limits of the extension cord with cordless power and performance - and Go With Joe®: the MJ401C 28-volt 14-inch Cordless Lawn Mower from Sun Joe. Get Equipped®.
24V-TB-CT - Sun Joe 24-Volt* IONMAX Cordless Compact Turbine Jet Blower
MAKE CLEANUP A BREEZE!  Say goodbye to blisters and give your back a break – tiring lawn and leaf cleanups are a thing of the past with 24V-TB-CT 24-Volt* Cordless Compact Turbine Jet Blower from SUN JOE. 
Powered by IONMAX, the exclusive, eco-friendly 24-Volt* lithium-ion battery system. IONMAX provides 4 battery options. IONMAX is compatible with Snow Joe + Sun Joe's complete 24-Volt* Cordless tool universe.
Quickly sweep the garage, garden, deck, driveway and more with the perfectly portable cordless convenience of SUN JOE. Like an aircraft, 24V-TB's turbine fan propels the windspeed up to 100 mph and 280 cubic feet per minute to make yardwork a breeze and leave your yard spotless.
With a sleek, compact, aerodynamic design to maximize airflow and optimize storage, SUN JOE's 350 Watt motor provides all the power you need to quickly clear away grass clippings, leaves, dirt and debris, or even light snow! So, when life gives you leaves, make cleanup a breeze. The 24V-TB-CT 24-Volt* Cordless Compact Turbine Jet Blower from SUN JOE®. GET EQUIPPED®.
24V-2AMP-SK1 - Snow Joe + Sun Joe 24-Volt* IONMAX Starter Kit | W/ 2.0-Ah Battery and Charger
24BAT-LTE
Power your cordless iON tools the eco-friendly way with the 24-volt* IONMAX 24VBAT-LTE lithium-ion battery. Compatible with all Snow Joe® + Sun Joe® 24V* IONMAX models, the 24VBAT-LTE features high capacity 2.0 Ah lithium-ion cells that deliver no-fade power for maximum job performance.
Simply insert IONMAX LITE into your 24-volt* tool of choice and power up instantly without having to mess with gas, oil, pull-cords, or tangled extension cords! Breathe easily and confidently while working with your 24VBAT-LTE since rechargeable battery pack provides cleaner, emission-free air during operation. Although run-times will vary depending on the tool used and the job performed, IONMAX LITE charges up for the task in just 80 minutes max.
The fuel gauge indicator lights on IONMAX LITE will also let you easily monitor your battery's charge capacity while it is in use. When it is time to charge, simply slide the 24VBAT-LTE into its dedicated 24VCHRG-AC or 24VCHRG-QC charger. The 24VBAT-LTE holds its charge well in storage and will retain up to 65% charge for six months.
Easy, convenient, reliable, and super-lightweight (only 1 lbs!), the 24-volt* IONMAX 24VBAT-LTE is the smart way to battery pack for your power trip.
24CHRG-AC
Take command of your cordless power tools with the 24VCHRG-AC IONMAX lithium-ion battery charger, designed to work specifically with SNOW JOE's 24-volt* IONMAX lithium-ion batteries. When the battery indicator light on your 24-volt* battery indicates diminished battery capacity, simply plug in, power up, and get back to your task in next to no time! Or better yet, buy a second battery, so one is always powered up and ready to tackle your to-do list. Equipped with thermal, over-voltage, and over-current circuit protection, the 24VCHRG-AC charger safely charges and recharges your IONMAX battery without any risk of battery pack damage. IONMAX battery and 24VCHRG-AC charger provide an eco-friendly means to safely and reliably power your 24-volt* cordless yard + garden tools.
Download Manuals
Features
MJ401C - Sun Joe Cordless Lawn Mower | 14 inch | 28V
Best use; small to mid-sized lawns
Built-in push-button LED battery level indicator
Removable safety key prevents accidental starts
Durable steel blade mows a 14 in. (35.6 cm) wide path
Peak performance 28 V 4 Ah rechargeable lithium-ion battery for up to 2150 sq ft of mowing per charge
Detachable 10.6 gal (40 l) grass catcher for easy disposal
Tailor cutting height with 3-position manual height adjustment
ETL approved; Full 2-year warranty
24V-TB-CT - Sun Joe 24-Volt* IONMAX Cordless Compact Turbine Jet Blower
IONMAX 24-Volt* Battery System compatible
Turbine jet fan blower quickly clears away leaves, dirt, debris, or even light snow
Rechargeable, cordless convenience — ideal anywhere power is at a premium
Turbine fan propels air up to 100 mph (max) for swift cleanups on the porch, patio, deck, walkway or garage
Lightweight and perfectly portable at 2.9 lbs
Powerful 350 Watt motor provides up to 280 CFM of air flow
24V-2AMP-SK1 - Snow Joe + Sun Joe 24-Volt* IONMAX Starter Kit | W/ 2.0-Ah Battery and Charger
24V* exclusive EcoSharp® lithium-ion technology – High capacity cells with no-fade power for maximum job performance
No memory effect – Charge whenever you want without having to drain the battery or wait for full charge before use
Cord-free operation – No gas, oil, tune-ups, pull-cords, or tangled extension cords!
Eco-friendly – Zero emissions for cleaner air
Reliable performance – 2.0 Ah (48 Wh)
For use with all Snow Joe® and Sun Joe® cordless 24V* IONMAX models
24-volt* max lithium-ion charger
Compatible with all IONMAX battery models (24VBAT-LTE, 24VBAT-LT, 24VBAT, 24VBAT-XR)
Thermal, over-voltage, over-current circuit protection
Built-in battery status indicator
ETL Certified/2 Year Warranty