YOU ARE $125.00 AWAY FROM FREE U.S. SHIPPING!
YOU ARE $125.00 AWAY FROM FREE U.S. SHIPPING!




+15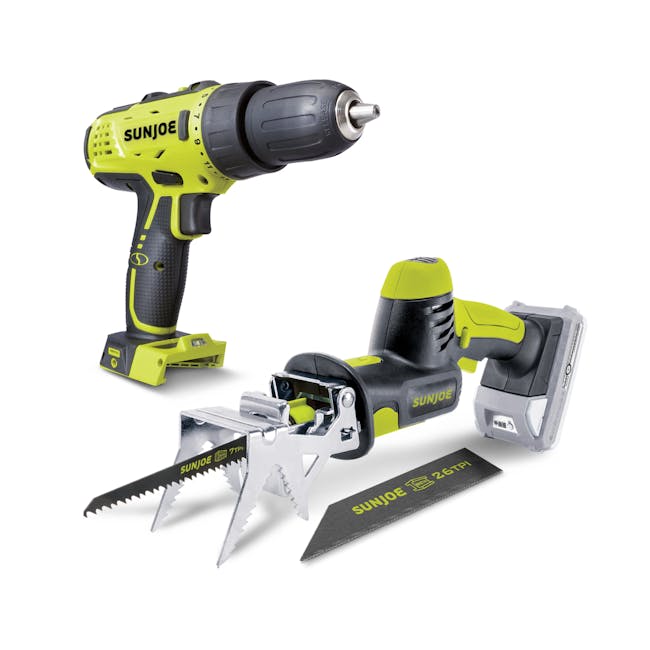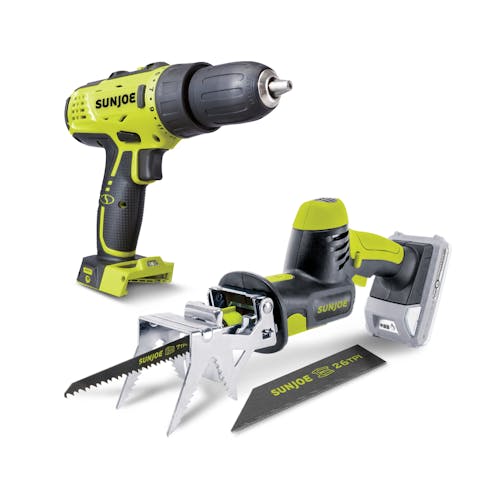 Sun Joe DIY Workshop Bundle | Cordless 24-Volt Metal/Wood Cutter + Drill
PAY AS LOW AS:
$1067
/Month
with
with
2 YEAR WARRANTY
ADD A PROTECTION PLAN:
Sun Joe 24V-MPSWVG-LTE-SJG 24-Volt iON+ Cordless All-Purpose Reciprocating Saw Kit
SEE IT? SAW IT with the 24V-MPSWVG-LTE-SJG 24-Volt Max* Cordless Handheld Reciprocating Saw, from Sun Joe®. This pruning saw takes the hard work out of yard work, thanks to the included 2.0 Ah 24-Volt battery + charger for cordless, gas-free, hassle-free power and convenience. SUN JOE boasts a powerful 150-Watt motor, a 0.87" stroke length, a 3.14" wood and 0.39" metal max cutting capacity, and a handheld design with minimized vibration for smooth, superior control. SUN JOE also includes a safety lock button, and a blade kit with two wood and two metal cutting blades to blast through metal, branches, and stems, and a branch jaw clamp. 2-year warranty.
Sun Joe 24V-DD-CT 24-Volt iON+ Cordless Drill Driver
Put power + control at your fingertips with the 24V-DD-CT 24-Volt Max Cordless Drill/Driver from SUN JOE. Powered by iON+, the exclusive, eco-friendly 24-Volt lithium-ion battery system. iON+ provides multiple batteries options with no-fade power + performance. iON+ is compatible with Snow Joe® + Sun Joe's complete 24-Volt Cordless tool universe.
Tackle your toughest fastening tasks with up to 265 in-lbs of torque. Choose your drilling or driving setting with the selectable 24-position clutch that includes 23 screw settings + 1 drill setting. The variable speed trigger and 2-speed gear box gives you all of the control you need to take on tasks around the house, workshop, garage and worksite with 24-volts of pure cordless convenience. Plus, 24V-DD-CT's keyless chuck with auto-lock spindle makes sure bits are properly secured for added safety.
Download Manuals
Features
Sun Joe 24V-MPSWVG-LTE-SJG 24-Volt iON+ Cordless All-Purpose Reciprocating Saw Kit
24V iON+ SYSTEM COMPATIBLE: 2.0 Ah 24-Volt lithium-ion battery + charger included
BATTERY VOLTAGE MAX*: 24V D.C.
BATTERY CHARGE TIME: 5 hrs
MOTOR: 150 W
NO LOAD SPEED: 2600 RPM
CUTTING CAPACITY MAX: Wood 3.14", Metal 0.39"
STROKE LENGTH: 0.87"
STROKE PER MINUTE: 2600 spm
HANDHELD DESIGN with minimized vibration for smooth, superior control
BLADE KIT INCLUDES: Wood Cutting Blade (x2), Metal Cutting Blade (x2), Branch Jaw Clamp
SAFETY LOCK BUTTON for added safety
WEIGHT: Net/Gross 3.66/4.4 lbs; 2-year warranty
Sun Joe 24V-DD-CT 24-Volt iON+ Cordless Drill Driver
iON+ 24-Volt Battery System compatible
0.25" bit size and keyless chuck with auto-lock spindle
24-position clutch + 2-speed gear box
Variable speed trigger switch lets you start slow and speed up as you go
Includes convenient features like the built-in bubble level and magnetic screw tray
1 W LED light improves visibility in dark or tight spaces
Direction of rotation selector switch — right for forward, left for reverse, and center locks the switch for safe storage
Includes double-ended driver bit
Weight: 2.9 lbs (1.6 kg)
Certifications/warranty: ETL/2 year