YOU ARE $125.00 AWAY FROM FREE U.S. SHIPPING!
YOU ARE $125.00 AWAY FROM FREE U.S. SHIPPING!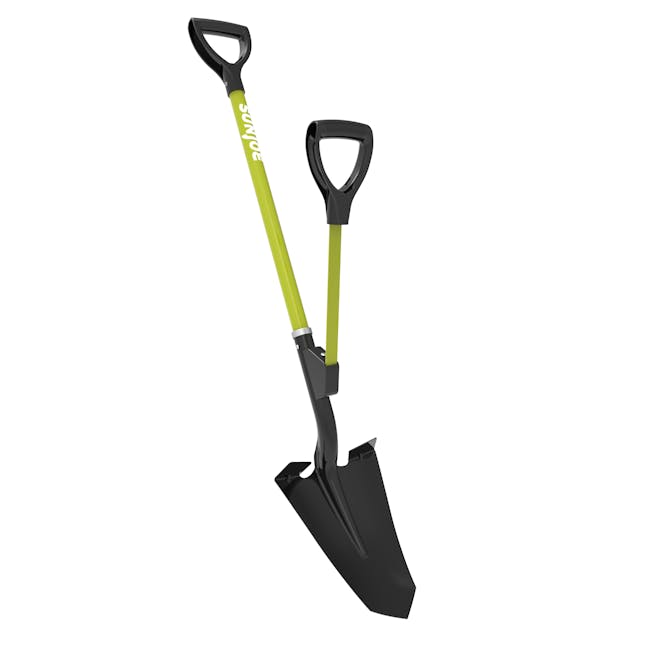 Sun Joe SJ-SHLV07 Shovelution Strain-Reducing Spear Head Digging Garden Shovel | Patented Shovelution Auxiliary Handle | 9-in Steel Head (Green)
PAY AS LOW AS:
$542
/Month
with
with
2 YEAR WARRANTY
ADD A PROTECTION PLAN:
Size: 9-Inch Spear Garden
SPRING IT AND FLING IT!® Dig in - and give your back a break in the yard garden, and shovel smarter - not harder! No more heavy lifting or lower-back strain with the Sun Joe Shovelution 40" Spear Head Utility Digging Shovel. The rugged, forged steel point 9-inch blade easily pierces both sod and soil, while the ergonomically-designed spring-assist handle sends lifting leverage to the lower hand to easily lift heavy loads of dirt and mulch, or dig up shrubs, plant trees and cut trenches with minimal effort. Shovelution greatly reduces the effort, strain and potential injury involved in shoveling, using the powerful muscles of your upper body to do the lifting and throwing to reduce back strain by up to 30%, so you can lift more, and throw farther.  Just spring it and fling it! SHOVELUTION captures the expended energy from throwing sod and soil, and rapidly recoils to instantly reset the shovel, ready for the next load. So, get a handle on your garden chores and Go With Joe® — and dig in with the ultimate strain-reducing shovel.
Download Manuals
Features
Ideal for digging sod and soil, planting trees and cutting trenches
Flexible, spring-loaded assist handle acts as a fulcrum - changes shoveling mechanics and reduces strain
Sends lifting leverage to the lower handle to lift heavier loads with ease
Back-saving design - improves posture, reduces the need to bend
Steel spear head shovel head: 9 in. (22.9 cm)
Comfortable, ergonomic D-Grip handles
Measures 40 in. L (1.02 M)
Weight: 3.7 lbs
Warranty: 2 Year