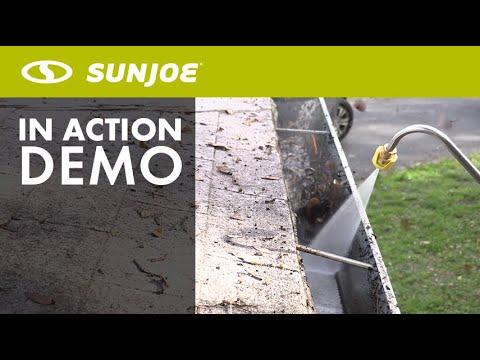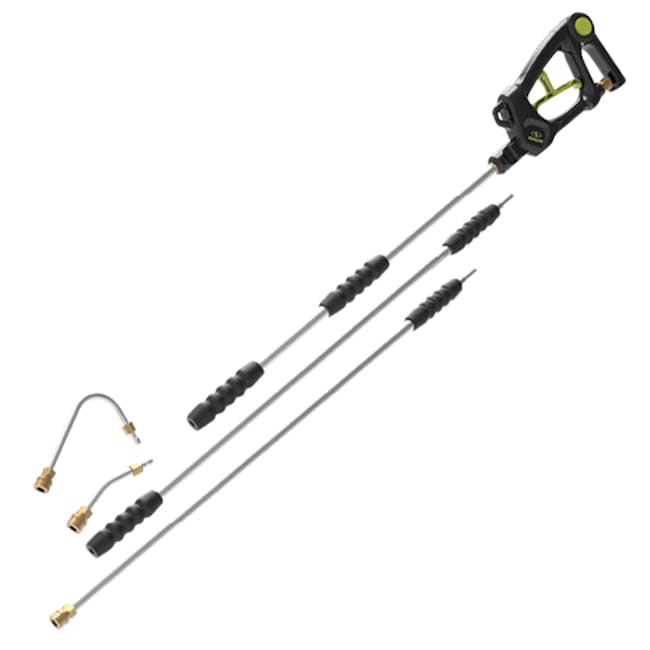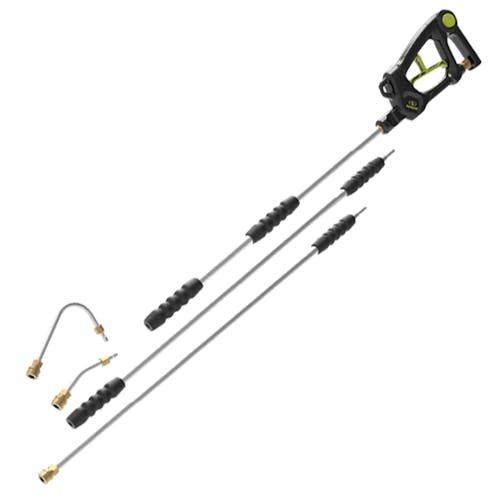 Sun Joe SPX-SRL9 Universal Pressure Washer Sky Lance W/ 4-Piece Accessory Kit | 9-Foot
PAY NOW:
$99.99 $9999 + S&H
OR
PAY AS LOW AS:
$9.04
/Month
with
with
2 YEAR WARRANTY
ADD A PROTECTION PLAN:
TAKE YOUR CLEANING TO NEW HEIGHTS. Skip the ladder and grip the lance to tackle your tallest cleaning tasks with your feet planted safely on solid ground with the 9-Foot Sky Lance from SUN JOE. Designed to work with most gas and electric pressure washers rated from 1800 to 4000 PSI max using quick connect spray tips, Sun Joe's sturdy aluminum Sky Lance extends your reach up to an additional 9 feet to target gutters, siding, soffits, skylights and more. Compatible with all SUN JOE quick connect spray tips, the 30º angled adapter attachment is perfect for removing stubborn roof stains, dirt, mold and mildew from windows, shingles and siding, while the 120º gutter adapter is ideal for blasting leaves and debris from the gutter tub and downspout with a squeeze of the trigger. Comes with a 25º Quick-Connect tip to get you started, too. Lightweight and perfectly portable at just 6.4 pounds, the Sky Lance 4-piece accessory kit includes a shoulder strap to minimize strain and maximize comfort, hose adapter, PLUS the 120º Gutter Adapter and 30º Angled Adapter attachments. So, when grime gets the upper hand – aim high, reach for the sky and Go With Joe®. The 9-Foot Universal Pressure Washer Sky Lance from SUN JOE®. Get Equipped®.
Download Manuals
Features
Ideal for cleaning gutters, roofs, siding, soffits and other hard to reach places around the home + RVs
6-FT or 9FT extension wand — 2 Sky Lance segments + the ergonomic trigger gun offer two extension lengths
For use with most gas and electric pressure washers rated 1800 PSI – 4000 PSI using quick connect tips

Comes with a 25º Quick-Connect tip to get you started, too

Trigger gun and aluminum lance equipped with soft grips for comfortable operation
4-Piece Accessory Kit: 120º Gutter Adapter, 30º Angled Adapter, Hose Adapter, and comfortable shoulder strap
Lightweight at just 6.4 lbs