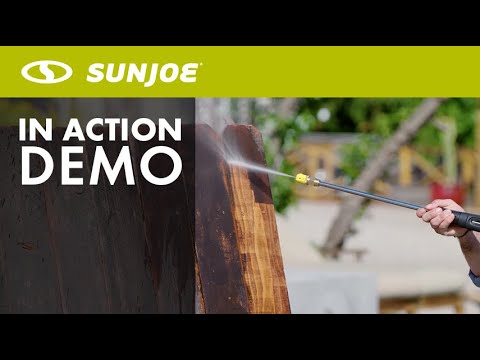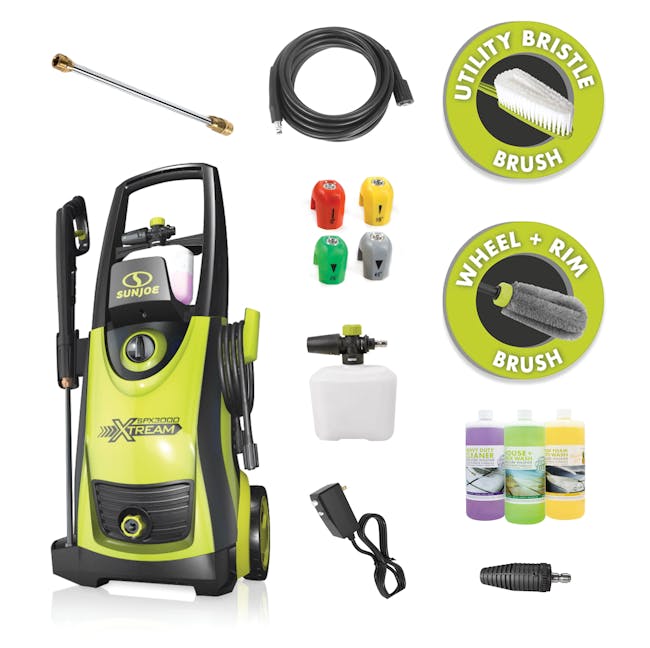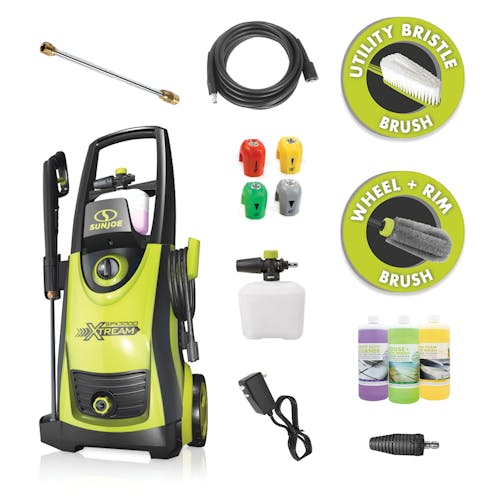 Sun Joe SPX3000®-XT1-MP3 XTREAM Clean Electric Pressure Washer | 13-Amp | Most Popular Accessory Bundle| XTREAM Triple Action Power
Ships Free
Ships Free
PAY NOW:
$259.97 $25997 + S&H
OR
PAY AS LOW AS:
$23.50
/Month
with
with
3 YEAR WARRANTY
ADD A PROTECTION PLAN:
Ships Free
You Name It. You Aim It. Grime is Gone®. When grime gets the upper hand, fight back against your toughest home, outdoor and auto cleaning tasks with the SUN JOE® SPX3000® XTREAM. Combining gas-like power with the ease and convenience of electric, the Sun Joe XTREAM is made for those who demand the most from their machines. Its eco-friendly 13-amp motor packs a powerful punch, quickly generating up to 1700 pounds per square inch of pressure to break down and strip away dirt, grease and grime, and up to 1.2 gallons per minute of maximum flow to rinse away tough oil stains, mold, mildew, caked-on mud, rust, tar and other stubborn dirt and debris.
The secret to the Sun Joe SPX3000 XTREAM's superior performance is its exclusive XTREAM TRIPLE-ACTION POWER:
XTREAM FOAMING: the onboard detergent foam cannon aerates detergent and shoots it up to 15 feet away for maximum coverage and unmatched adhesion to help remove sticky underlying layers of dirt and surface grime.
XTREAM CLEANING: 4 Quick-Connect Nozzles (0º, 15º, 25º, 40º) in a range of spray patterns from pinpoint jet to fan spray tackle heavy, medium and light duty jobs.
XTREAM RINSING: the powerful 13-amp motor generates up to 1700 PSI of pressure and 1.2 GPM of flow to rinse away dirt + grime for a Sun Joe shine.
Packed with a host of handy features, the Sun Joe XTREAM is primed to win the war on grime! It includes a rugged 20-foot, steel-reinforced, high-pressure hose and a durable stainless steel lance with solid brass fittings, the same quality construction you'd expect to find on commercial gas-powered pressure washers. It's also equipped with a 35-ft power cord with GFCI protection and a handy onboard storage compartment to neatly store the two bonus accessories (an all-purpose utility bristle brush and a wheel and rim brush) that come free with your XTREAM as part of this exclusive offer. Plus, its exclusive TSS (TOTAL STOP SYSTEM) technology means the Sun Joe XTREAM, unlike gas-powered pressure washers that run loudly and continuously, automatically shuts off both pump and power when the trigger is not engaged to save energy, prolong pump life, and ensure quieter operation when not in use.
Only the Sun Joe XTREAM provides the versatility you need to tackle a variety of cleaning projects. With 4 onboard Quick-Connect nozzles, you can quickly customize the clean to suit the task. And when your cleaning blast needs a detergent boost, simply click to connect the included foam cannon. Or swap in one of the two included attachments — the soft bristle brush to wash away tough gunk or the wheel and rim brush to break down stubborn road grime.
But don't just take our word for it! The people have spoken – check out the thousands of 5-star reviews that have made SUN JOE America's leading brand of eco-friendly pressure washers! 
Plus, every SPX3000 XTREAM is backed by SUN JOE's rock-solid 2-year warranty for continuous, reliable performance you can count on season after season.
From porch to patio, auto, RV, boat, deck and driveway — when there's dirty work to be done, take it to the XTREAM and Go With Joe®.
Most Popular Bundle: Includes a turbo spray nozzle and detergent three pack to take your cleaning beyond XTREAM!
Download Manuals
Features
Most Popular Bundle: includes wheel + rim brush, utility bristle brush, turbo spray nozzle, 3 pack detergent, 3 Year Warranty, and Free Shipping; $200 Value of Bonus Items
Includes: 34-inch spray wand with stainless steel lance, 20-foot high pressure hose, 35-foot power cord with GFCI protection, garden hose adapter, needle clean-out tool
XTREAM Triple-Action Power: Xtream Foaming, Xtream Cleaning and Xtream Rinsing help you win the war on the grime! 
XTREAM Rinsing: Powerful 13-amp motor generates up to 1700 PSI of pressure and 1.24 GPM of flow to rinse all the dirt away 
XTREAM Foaming: onboard 33.8 fl oz foam cannon aerates detergent and shoots it up to 15 feet to give your cleaning blast a boost 
XTREAM Cleaning: 4 quick-connect nozzles (0°, 15°, 25°, 40°) in a range of spray patterns from pin-point jet to fan spray tackle heavy, medium and light duty jobs
TSS (Total Stop System)

Technology:

automatically shuts off the pump when trigger is not engaged to save energy and prolong pump life

Lightweight + portable:

only 22.5 lbs (weight without accessories) and wheels easily from one cleaning task to the next

We've got you covered! Premium 3-year warranty; CSA Approved