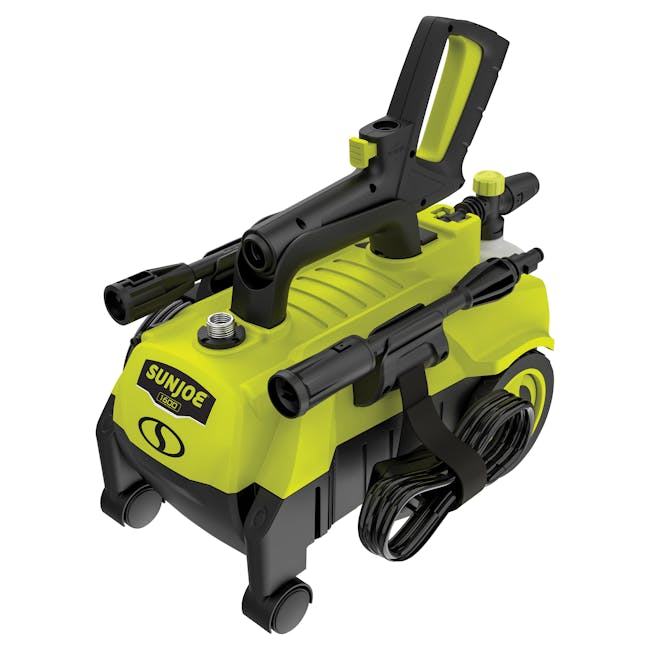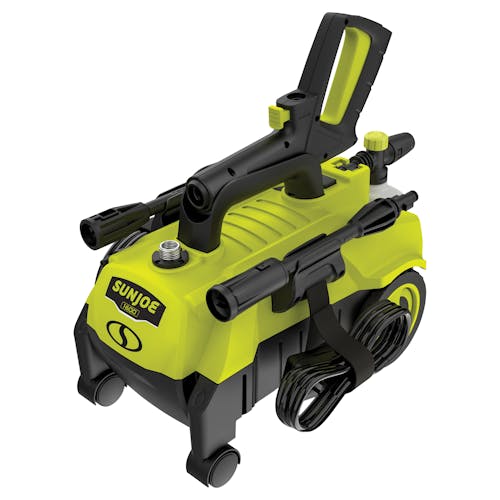 Sun Joe SPX3160P-SJG Electric Pressure Washer W/ Accessories | 11-Amp | Included Brush Set | Ultra Portable | 360º Rotating Wheels
There is a newer model of this item:
There is a newer model of this item:
Sun Joe SPX3160 Electric Pressure Washer | 11-Amp | Ultra-Portable | 360º Rotating Wheels
MADE TO MOVE. You Name It. You Aim It. Grime Is Gone®. Make your cleaning chores more mobile with the perfectly portable SPX3160P-SJG 11-Amp Go Anywhere Pressure Washer, from Sun Joe®. With a compact, lightweight design and sturdy swivel wheels, you'll be able to clean anywhere around your home with less hassle as you roll from one project to the next! Equipped with a peak-performance 11-amp motor, this portable powerhouse blasts up to 1150 PSI max to quickly eliminate greasy residue from concrete, heavy mildew stains, oil stains, caked-on mud, and other stubborn gunk and grime, and 1.1 GPM max to rinse it away. The convenient onboard, 10 fl oz foam cannon is perfect for transporting your favorite soapy solution and aerating the foam for a thorough lather. Adjust your spray to suit the task, too—the 0º-45º twist-adjust spray nozzle makes it easy to tackle a host of household chores, without wrestling with separate fittings. Other superior features include a garden hose adapter (female coupler); wheel + rim brush to bring out the sparkle and shine in wheels, rims, and tires; utility brush for windows, patio furniture, autos, boats and BBQs; rotary brush to spin and scrub away stubborn dirt, debris, gunk + grime; and needle clean-out tool. 2-year warranty.
Download Manuals
Features
IDEAL FOR A VARIETY OF OUTDOOR CLEANING TASKS: the patio, porch, deck, fence, garage, car, boat, siding, driveway, windows and more!
360º, EASY-GLIDE WHEELS for maximum maneuverability! 
0º-45º TWIST-ADJUST NOZZLE is perfect for tackling a variety of cleaning jobs
TSS (TOTAL STOP SYSTEM) automatically switches off the pump when trigger is not engaged to save energy and prolong pump life
ONBOARD 10 FL OZ FOAM CANNON gives your cleaning blast a boost
MORE SUPERIOR FEATURES: 34-inch extension wand; 20-foot high-pressure hose; 35-foot power cord with GFCI protection; garden hose adapter (female coupler); wheel + rim brush to bring out the sparkle and shine in wheels, rims, and tires; utility brush for windows, patio furniture, autos, boats and BBQs; rotary brush to spin and scrub away stubborn dirt, debris, gunk + grime; and needle clean-out tool
LIGHTWEIGHT and easy to maneuver at only 11.9 lbs; 2-year warranty